This content was originally published by the Longmont Observer and is licensed under a Creative Commons license.
In Brief:
We have temperatures a touch above normal through Friday - and dry. Our next storm system begins to dump a prolonged period of snow on the mountains starting today (Thursday) but snow doesn't begin to fall until later Friday night. We'll see a snowy weekend (Saturday and Sunday) but with only moderate accumulation. Next week starts very cold - the thaw will be delayed.
Update 12/12 at 12pm:
Just a quick check-in looking at the snow this weekend. Even it isn't a lot of snow for Longmont, it will be cold and wet from late late Friday night through late Sunday night. The GFS (Figure 1 update) is trending towards more snow for all in Colorado. We are up to 2-3 inches expected for the weekend. Daytime highs will still make it to the mid-30's so it isn't the best for accumulation. It may be more a wet snow that melts as it hits the ground for a while before building up. Old snow surfaces will see the full snow depth. You will really notice the winds on Friday - tie down your Christmas decorations!
The CMC still puts Longmont in the 2-3 inch zone. The NAM, on the other hand, seems to make down slow flow the rule and we get no snow (or rain) at all (not shown). This is an interesting weekend to watch!
You will really notice the winds on Friday - tie down your Christmas decorations!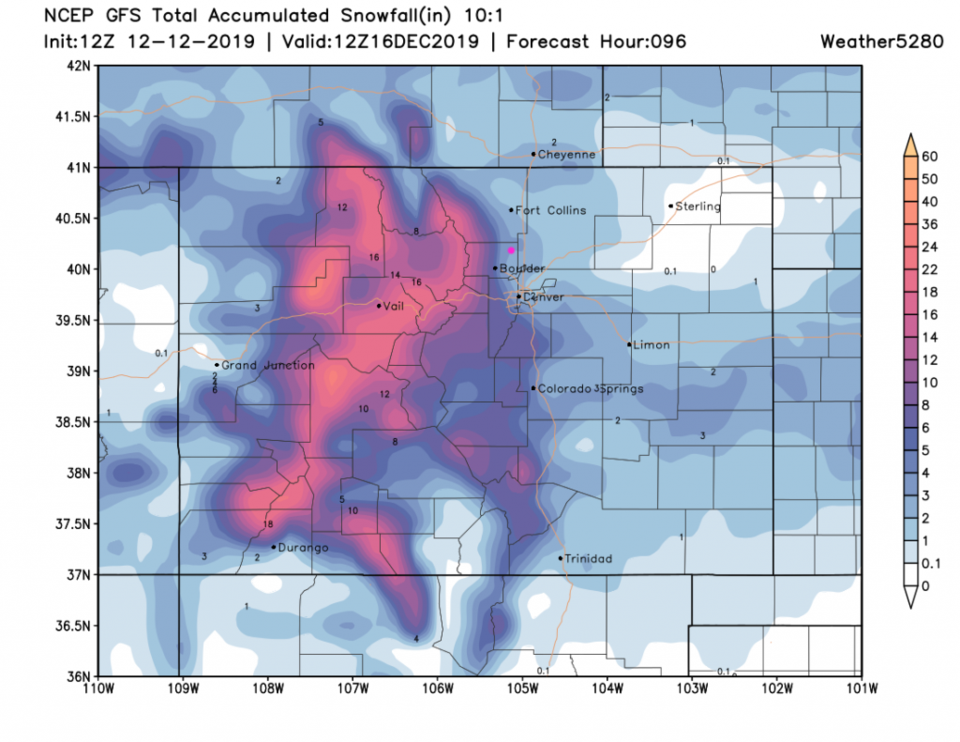 End 12/12 12pm update.
Forecast Discussion:
A juicy low level pacific flow with strong jet stream flow aloft plus three significant short waves will bring winter weather back to the state (Figure 1). I still have snow in the yard and ice on the street out front.
Snow starts today (Thursday) with strong winds and a short wave number 1 (Figure 2) up in the mountains. Snow will continue to fall for almost the next 100 hours up high and out west. Longmont makes it through dry (even if it is very windy Friday) until Friday night when the second short wave moves by and up slope flow begins east of the Rockies.
The Longer Range Forecast:
The precipitation begins in the evening Friday (Figure 3) with snow showers moderate at times and light at times from later Friday night through late night Sunday.
By the end of shortwave number 2 (see figures 2 and 3) there is 1 to 1.5 feet of new snow in the higher mountains. From the NAM (Figure 4) we may have a coating up to 1 inch.
For all three shortwaves - the GFS (Figure 5) gives us a coating to 1 inch with over 1.5 feet of snow over a broad stretch of the mountains.
The GEM - for all three waves - is more bullish with 2-4 inches of snow for Longmont and 2 feet of snow up in the high country (Figure 6).
Fantasy Christmas Snow Watch:
Figure 7 is the closest snow of any kind before Christmas that the GFS is printing out. This time there are a few very light snow showers here and there across the state Christmas Eve evening. Here's hoping!