This content was originally published by the Longmont Observer and is licensed under a Creative Commons license.
In Brief:
We start the week very mild (above average about 10-12F) until fronts hit Tuesday night and Wednesday morning. Temperatures drop and snow will fall from Wednesday afternoon through most of Thursday into Friday early morning. Still, only a few inches if snow is expected to build up. Another storm is showing up on the horizon middle of next week.
11/18 8am update:
This is a quick check in with the GFS concerning the Wednesday/Thursday storm. The trend is away from as much snow in northern Colorado and the NE Plains with the best snow building up in the SW mountains of the state (Figure 1 update). We are still sitting in the, roughly 1-2, locally 3 inch area in our snowfall expectation. It will start as rain before temperatures drop low enough for snow. Thursday will be quite chilly but lows at night will only be in the 20'sF - this is pretty normal for this time of year.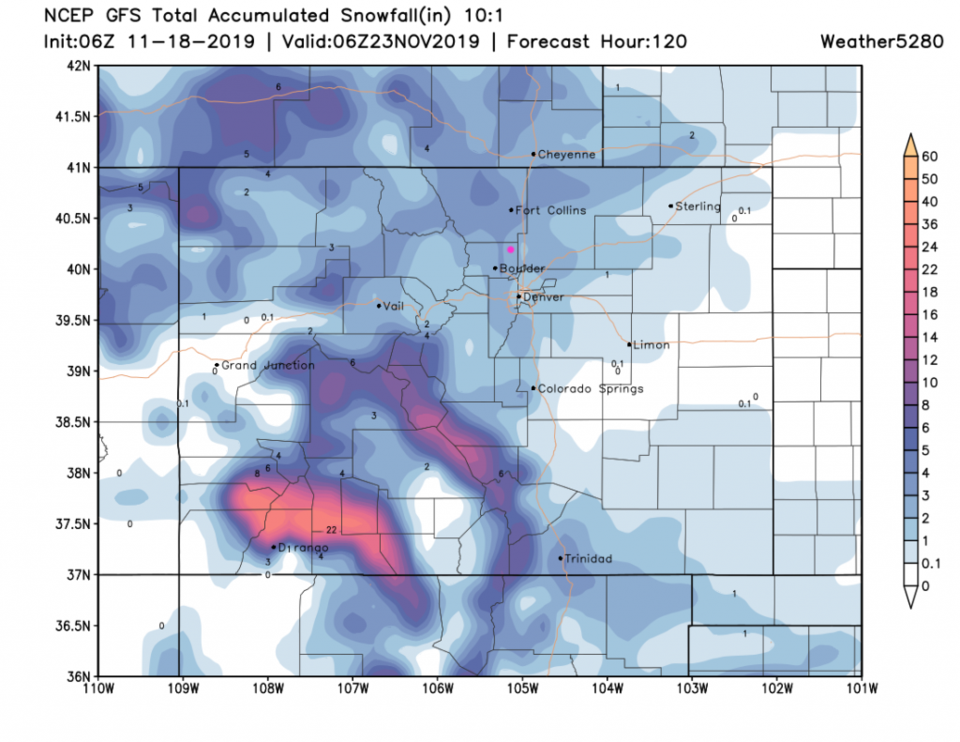 End 11/18 8am update.
Forecast Discussion:
We are high and dry except for some showers in the northern mountains (Figure 1). With a healthy ridge overhead (blue line in Figure 3) we are sitting about 10-12F above average Monday and Tuesday (Figure 2). It is a boring-weather start to the week.
The Longer Range Forecast:
But fun is coming. There is a west coast trough approaching in Figure 3 with a cut-off low pulling moisture into the desert southwest visible to our distant southwest. By Wednesday and Thursday that cutoff merges with the trough and the whole thing slows down giving us cold air, up slope flow, and moisture (Figure 4). Weather underground shows about 2 inches of snow falling from Wednesday evening (after some rain) through early Friday morning. The GFS gives us about 2-3 inches over this storm (Figure 5) while the NAM gives us about 2-4 inches (Figure 6).