This content was originally published by the Longmont Observer and is licensed under a Creative Commons license.
In Brief:
Happy Thanksgiving everyone (Figure 0)! It will remain below freezing today with partly cloudy skies and no new snow (but a foot is sitting around). The mountains get another big snow hit tomorrow but we may see nothing to **maybe** an inch. The big news is very strong winds blasting the state for 12-18 hours on Saturday. This will blow snow around and create hazardous ground conditions, difficulty driving, snow drifts etc. Beyond that we go to the 40'sF for highs and enjoy a boring week with a very slow melt.
12/1 8:30am Update:
We are High and dry today with decreasing winds and increasing temperatures. We break freezing for a bit (but we're starting off in single digits in places around town). This week gives us 40'sF for highs - the melt will be slow. I'm eager to return to the land of snow and ice!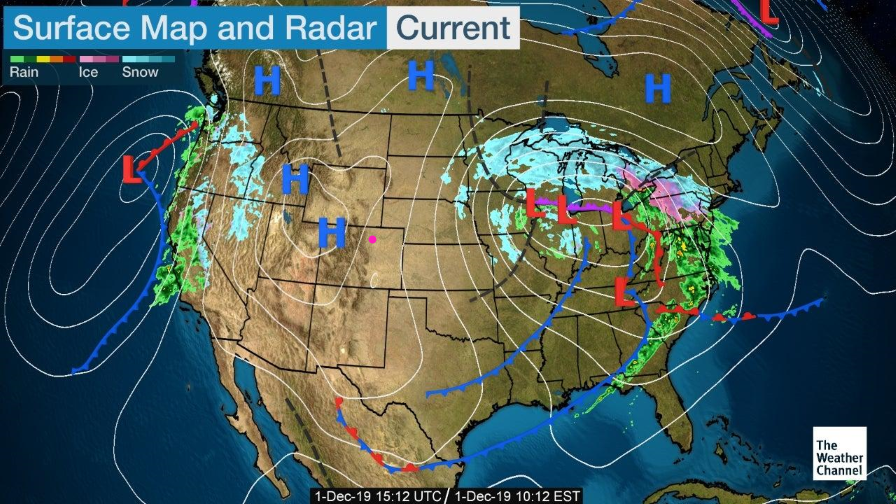 End 12/1 8:30am Update.
Forecast Discussion:
There still is a foot of snow out there - oh boy. A wide trough-y pattern dominates the western U.S. (Figure 1) with short waves rippling through it. A very strong juicy storm will dump about 2-3 inches of rain on me in the desert. By Friday night the next storm is dumping a lot of mountain snows from Montana to Arizona, California to Colorado. We will experience s down slope drying flow. You can see the big 'hole' in the precipitation shield east of the mountains (Figure 2). We have our best chance of snow flurries from about 3pm to 9pm Friday. Figure 4 shows spots of at least a coating to maybe an inch of snow around town. Some neighborhoods won't see any new accumulations.
The big news is the increase in wind speeds over the state as the low wraps up to our east. The period of high winds will dominate most of Saturday (yellow box - Figure 3). Winds start Friday late afternoon into Saturday and continue to evening. Figure 5 shows winds blasting 30-45 mph near town. The National Weather Service has issued the following high wind watch.
High Wind Watch
Issued: 5:00 AM Nov. 28, 2019 – National Weather Service
...HIGH WIND WATCH IN EFFECT FROM FRIDAY AFTERNOON THROUGH
SATURDAY EVENING...

* WHAT...West winds 35 to 45 mph with gusts up to 80 mph
possible.

* WHERE...Northern and Central mountains and foothills to include
Boulder and Jefferson counties.

* WHEN...From Friday afternoon through Saturday evening.

* IMPACTS...Strong winds will blow around unsecured objects.
Tree limbs could be blown down and a few power outages may
result. Travel will be difficult for high profile vehicles.

* ADDITIONAL DETAILS...Areas with snow cover could have reduced
visibility due to blowing snow, especially over the higher
terrain along I-70. Cautions is advised for travelers.

PRECAUTIONARY/PREPAREDNESS ACTIONS...

Monitor the latest forecasts and warnings for updates on this
situation. Fasten loose objects or shelter objects in a safe
location prior to the onset of winds.
The Longer Range Forecast:
We're still pretty cold Sunday (but dry) - then we settle into the 40'sF for the week with no storms on the horizon (but we've seen how that can change, so keep checking back here!).