Longmont abstract-surrealist artist, Sam Stiner, is about to intentionally grace the local art scene with a fleeting new solo exhibition, "An Exploration of Impermanence: Works on Paper," opening on May 5th at Inkberry Books in Niwot.
"This idea of impermanence is currently specific to my work on paper because, of course, paper breaks down so much more quickly," Stiner said. "I really wanted to play with this idea that everything is temporary. Art is not going to last forever."
For Stiner, art takes precedence over comfort. His craft transcends conventional living arrangements where his cozy one-bedroom apartment doubles as a vibrant studio, with manic artwork covering much of the wall space. It's a cerebral hemisphere where creative flair is set free and sleep takes a back seat, or, in this case, a cramped living room.
Stiner's passion for impermanence as a concept is evident in his work and lifestyle. Over a steaming cup of Gong Fu-style oolong tea, Stiner added, "Art isn't going to last forever. Paper breaks down, and even the exact flavor of this tea can't be replicated. Impermanence is everywhere, and I want my art to reflect that."
Stiner's art is deeply personal, drawing inspiration from his experiences with mental illness. He explores abstract representations of people and situations from his life. His artwork is a testament to resilience and solidarity with those affected by mental health issues.
"I have bipolar. Doctors are just trying to figure out the exact (diagnosis), and as far as I'm concerned, my approach to it, is that the name is just for the doctor prescribing the medication. The name doesn't really affect me as an individual."
Stiner's art uses a blend of organic and geometric forms with a rich language of color and movement to tell the story of his journey growing up and living with mental illness.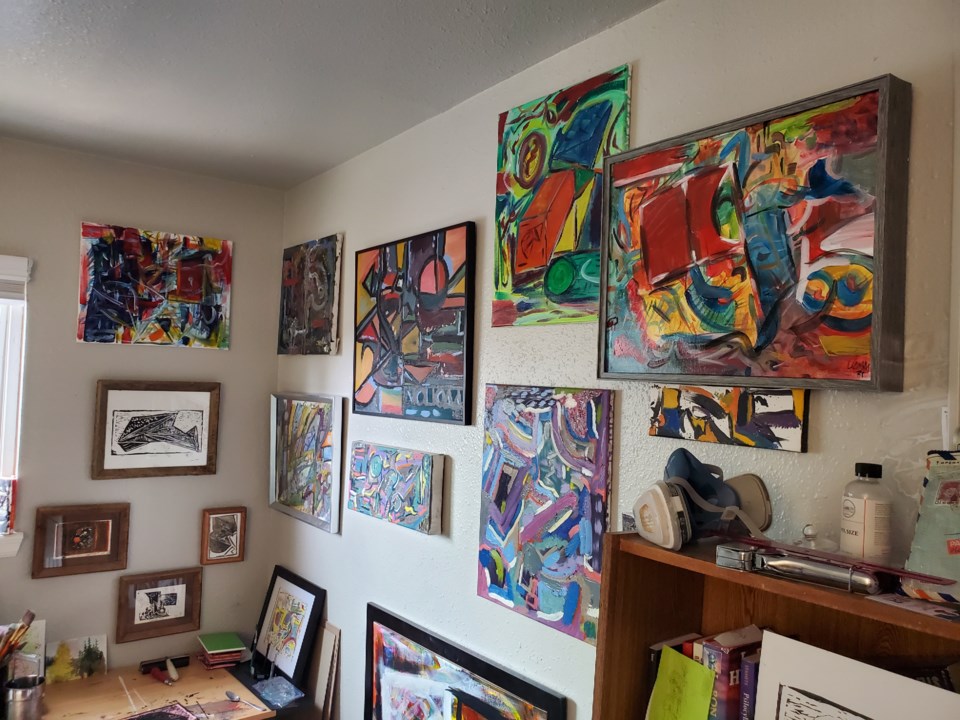 "When I hit the irritability point, I'll lock myself in here. I just have to work through it. It's become my primary coping skill."
Stiner expanded on the distinctions between printmaking and painting in his artistic practice. He explained that printmaking serves as a calming process, while paintings allow for better expression and storytelling. With printmaking, the artist must slow down and carefully consider each step while carving the block, paying close attention to minute details.
He also elaborated on the unique challenges printmaking presents: "For example, the way white works is a little different. It's inverted, so you want your lines closer together for a lighter effect and farther apart for a darker effect. Printmaking is a whole different process; it's almost like working backward."
Stiner has received much-needed support from the Longmont art scene, including Geoff Whitmore at the Walnut Gallery who provided Stiner with a studio space in the basement of the gallery when he needed it the most.
"Geoff has been essential. He gave me a place to paint when I didn't have one. And that's huge for me, not having a space to create is not good. It's something that has to happen, whether it be as simple as drawing or throwing paint," Stiner said. "There's a 150-year-old flagstone down there that's just absolutely gorgeous. The one rule for this space is you don't get paint on the flagstone."
The public is invited to attend the opening reception of Stiner's artwork at Inkberry Books in Niwot on May 5 from 6 to 8 p.m. which coincides with Niwot's First Friday Art Walk. This display runs as long as the paper used in the artwork lasts or until June 2, whichever comes first.