In the heart of Longmont's Old Town Marketplace, Obra Arts, a seemingly secluded yet vibrant 250-square-foot storefront, pulsates with artistic vigor, revealing itself as much more than just a retail space but a major artery for art and human connection.
Owned by Joyanna Rose Gittings, Obra Arts is a reflection of her deep love for art and community, offering an open and welcoming space despite its seemingly withdrawn location. To the average Longmont resident or even the regular visitor to Main Street, this entire marketplace can easily go unnoticed. But for those who venture by her store, it reveals a colorful world of watercolors and a warm, inviting space where stories come to life.
"This for me can be more of a workspace," Gittings said, smiling. "I wanted a place to work outside my house, and this place offers just that, with the added bonus of having a gallery space."
She admits to sometimes keeping the doors closed to let the creative process flow, favoring solitude over commerce. Yet, her haven never repels spontaneous wanderers, and on occasion, a casual visitor walks in and purchases a painting on a whim. In October 2019, Gittings took over the space and initially planned to open in April 2020, but the renovation process was delayed due to unforeseen circumstances.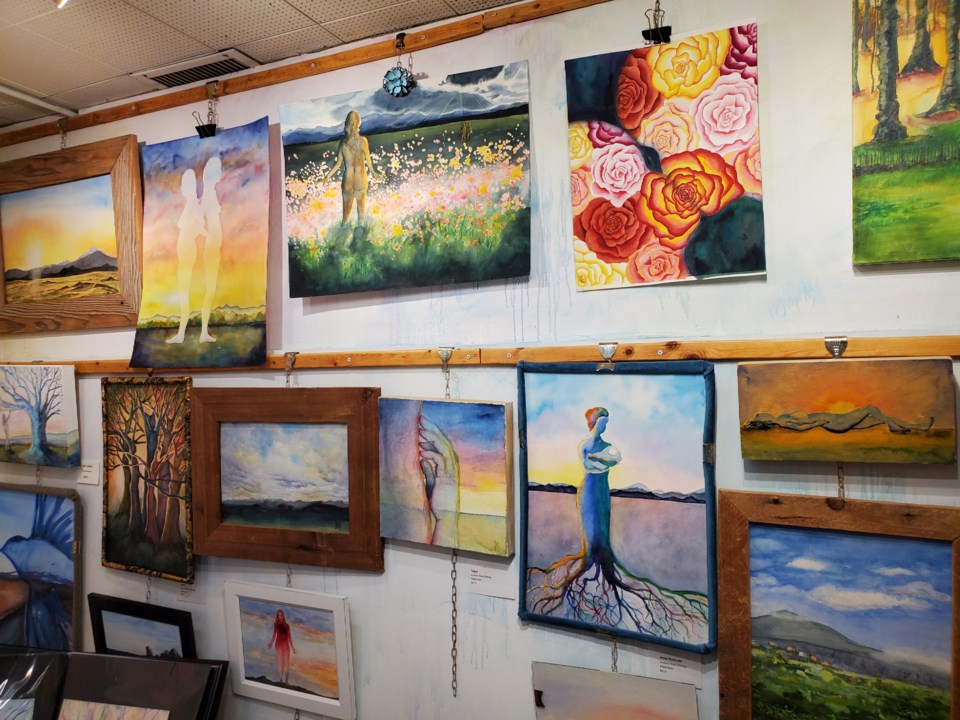 As with many artists, Gittings' work reflects the world around her, and the COVID-19 pandemic was no exception. When the physical connection was a distant dream, Gittings turned to her art as a means of reaching out. Her paintings from this period communicate the human desire for connection—glowing with sought-after touch, tranquility and lively color amid the detached atmosphere of the world.
When people are apart yet yearning to be together, her artwork captured the essence of tranquility in times of strife. The peaceful landscapes, the serene abstracts and the quiet portraits all whisper tales of finding peace in the midst of chaos, of seeking solace in art when the world seemed to be unraveling. They are a rebellion against gloom — a proclamation of finding joy and resilience.
Raised in rural Ohio, Gittings spent her early days enveloped in the raw beauty of the countryside. A stint studying abroad in the Canary Islands broadened her artistic and linguistic horizons. After a hiatus to raise her children, she returned to her love for art about six years ago. The word 'Obra' is derived from Spanish, encapsulating a broad spectrum of work from construction to musical composition—anything that someone labors over.
In addition to managing her studio and creating her own artwork, Gittings also contributes significantly to the local artistic community. She currently serves as Board President of East Boulder County Artists and meetings are often held in the marketplace after closing. She also serves as a bilingual instructor for the Firehouse Art Center's Art Attack program as a weekly art teacher at Casa de la Esperanza, a local community center.
In March, Gittings unveiled a new direction in her artistic journey with her most recent gallery exhibition, titled 'Displaced'. In this collection, she used the pattern of water to represent the unsettling undercurrents that shift us from our comfortable, settled lives into realms of the unknown and unfamiliar.
Each piece in 'Displaced' is a visual narrative of transformation and adaptation, a portrayal of life's constant ebb and flow. Gittings used her signature bold colors to imbue her water imagery with a substantial sense of movement and change. The currents on the canvas are pulling and pushing, uprooting and reshaping.
"Before the last exhibition I did at the Firehouse, I actually did an installation. I hung these drip-painted pieces of fabric along with the art on the walls, creating a vibrant forest-like environment," Gittings recalled. The installation was meant to provide visitors with the experience of wandering through a forest, the colorful, painted strips of fabric acting as abstract representations of trees.
Gittings also is experimenting with different surfaces, swapping traditional canvas and paper for more unconventional materials like metal and wood and even automotive pinstriping. This continual exploration of materials, techniques and artistic expressions encapsulates Gittings' essence as an artist to labor over her love of art with all her heart.