The Longmont YMCA hosted its Annual Bike Giveaway on Saturday, offering refurbished children's bikes free of charge to families in the community which attracted a line of eager participants that stretched the length of the YMCA building.
Organizers kicked off the day at the crack of dawn, as early as 5:30 a.m., when Tom Baker, a teacher from Longs Peak Middle School, arranged the bikes his students had repaired in their bike repair program in the YMCA parking lot.
As families arrived, they were greeted on a first-come, first-served basis for bike selection and no registration or proof of income was required. In addition to bikes, helmets and bike safety kits were distributed to attendees by Boulder County's Youth Transportation Program.
Volunteers from various other local organizations, including Bicycle Longmont, Centura/Longmont United Hospital and Smucker's, as well as private bike enthusiasts, joined forces to ensure a successful event.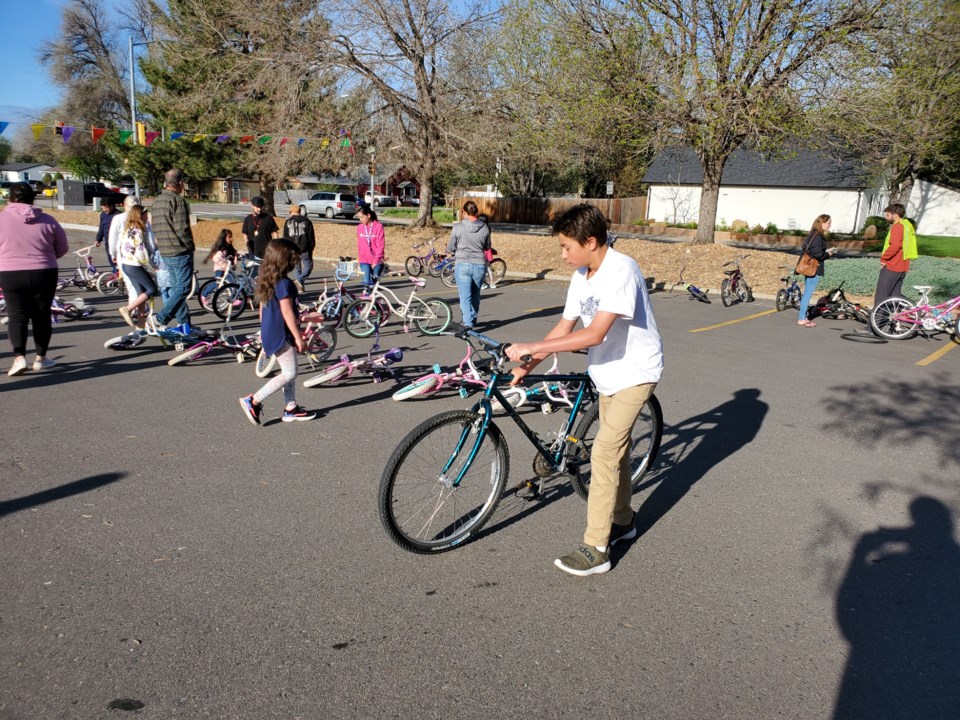 The Annual Bike Giveaway has become a 34-year tradition for the Longmont YMCA. Executive Director Crystal Yepez expressed her enthusiasm for the event, saying, "This is one example of how the community can come together to uplift families in need. Together, we can make sure Longmont's children know the joy of riding a bike. It's such a simple yet special thing we can do for kids."
Since its inception in 2017, the Longs Peak Middle School bike repair program has been thriving. Baker, who is leading the program for the first time this year, expressed his enthusiasm, noting that he learns about bike repair from his students just as much as he imparts his knowledge to them.
Baker has drawn from his own diverse experiences, including managing a gym in Boulder for eight years as well as running a handyman business during the pandemic, he brings a wealth of knowledge and real-world skills into the classroom.
The bike repair program began with students simply fixing each other's bikes after school. Over time, the program evolved into a donation-based system, where donated bikes in need of repair are fixed by students. Not only do students learn bike maintenance and safety, but they also develop valuable business and customer service skills.
"It started from kids just repairing each other's bikes, and then it evolved into this donation program where bikes get donated to the school that need little repairs," Baker said. "And then we donate them back out to the community throughout the year."
The Annual Bike Giveaway showcased the power of community collaboration and the importance of empowering children with the joy of cycling. As these initiatives continue to grow and develop, they will not only provide children with bicycles and safety equipment but also foster valuable life skills and a sense of community engagement.