Boulder County Minister Glenda Robinson was formally recognized Thursday for her devotion to improving her community.
In honor of Black History Month, Rep. Joe Neguse presented the minister with The Honorable Gloria T. Tanner Congressional Award for Outstanding Community Service in a ceremony at the Governor's Mansion.
"I'm deeply humbled that someone sees value in the work that I've done and in what I've tried to do," Robinson said.
A longtime Longmont resident, Robinson is an associate minister and historian at the Second Baptist Church of Boulder. She is also a historian and committee member in the Boulder County chapter of the National Association for the Advancement of Colored People.
The minister grew up in Tennessee, where her great-grandparents — former slaves — worked to improve the lives of Black people. Robinson's ancestors petitioned for the first public schools for all children, regardless of race, in Shelby County.
"They were educators, so that's the legacy of my family," Robinson said. "They helped people and they taught people."
Robinson became involved with the Civil Rights Movement of the 1960s, and marched with many of the movement's leaders, including Dr. Martin Luther King, Jr.
Over the past decade, the minister has served on the Workforce Boulder County Board of Directors, the Boulder County Family Self-Sufficiency Program board, the Longmont Multi-Action Committee and the Boulder Chamber Board of Directors. In all her positions, she strives to improve equality and help those in need.
"We were put on this Earth to help one another," she said.
Robinson was also honored as the Colorado House of Representatives Chaplain of the Day on Wednesday — a role that required her to give the Opening Prayer.
"It was absolutely amazing," she said. "I had Republican representatives and Democratic representatives walk up to me and say, 'Thank you, thank you for that,' and some of the men had tears in their eyes."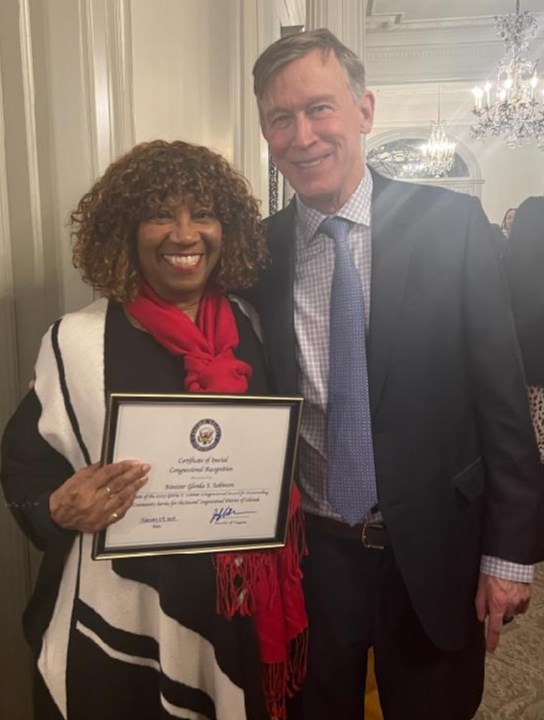 The Honorable Gloria T. Tanner Congressional Award for Outstanding Community Service is named for the first Black woman to become a state senator in Colorado. Tanner was elected to the Colorado State house in 1985 and became the state's second Black House Minority Caucus Leader, then first Black senator in 1994. Tanner was a civil rights leader and sponsored legislation to ban marital discrimination in the workplace, introduce worker's compensation cost savings, advocate for adoptive parents' parental rights and other bills that promoted equality.
Tanner was a co-founder of Colorado Black Women for Political Action and the Colorado Black Roundtable organizations. She also chaired the Colorado Caucus of Black Elected Officials and served as the national executive director of the National Organization of Black Elected Legislative Women.
Robinson also received The Honorable Menola Upshaw Lifetime Achievement Award for 2023 at a Dr. Martin Luther King, Jr. Tribute Concert and ceremony in January.