A local school was filled with colorful bowls, plenty of soups and hundreds of community members Saturday for Longmont's popular Empty Bowls fundraiser.
The 20th annual event, held in the Trail Ridge Middle School, was a fundraiser for OUR Center, which provides local families with food, housing and utilities.
When the pandemic hit, the event had to be modified for several years. Longmont resident Linda Grimes, who has been attending the fundraiser for two decades, said she's thrilled to return to the traditional Empty Bowls event.
"You have to get out and live life, and we have to all take care of each other," Grimes said. "I definitely feel it's mental and spiritual health, and it gives everyone that wonderful community feeling."
Marc Cowell has been OUR Center's executive director for four years, and this was his first time experiencing the traditional Empty Bowls format.
"At my first Empty Bowls, we had to cancel it two days before because of COVID," he said. "We've had hybrid events, which have been successful in their own right, but I'm excited to be here for the first time to see this … it brings community together."
The fundraiser also sheds light on the hardships many local families are experiencing, Cowell said.
"Our colleagues, our neighbors, our friends — they're struggling," he said. "There's a lot of food insecurity that's happening right now in our community, and it's actually growing by the day."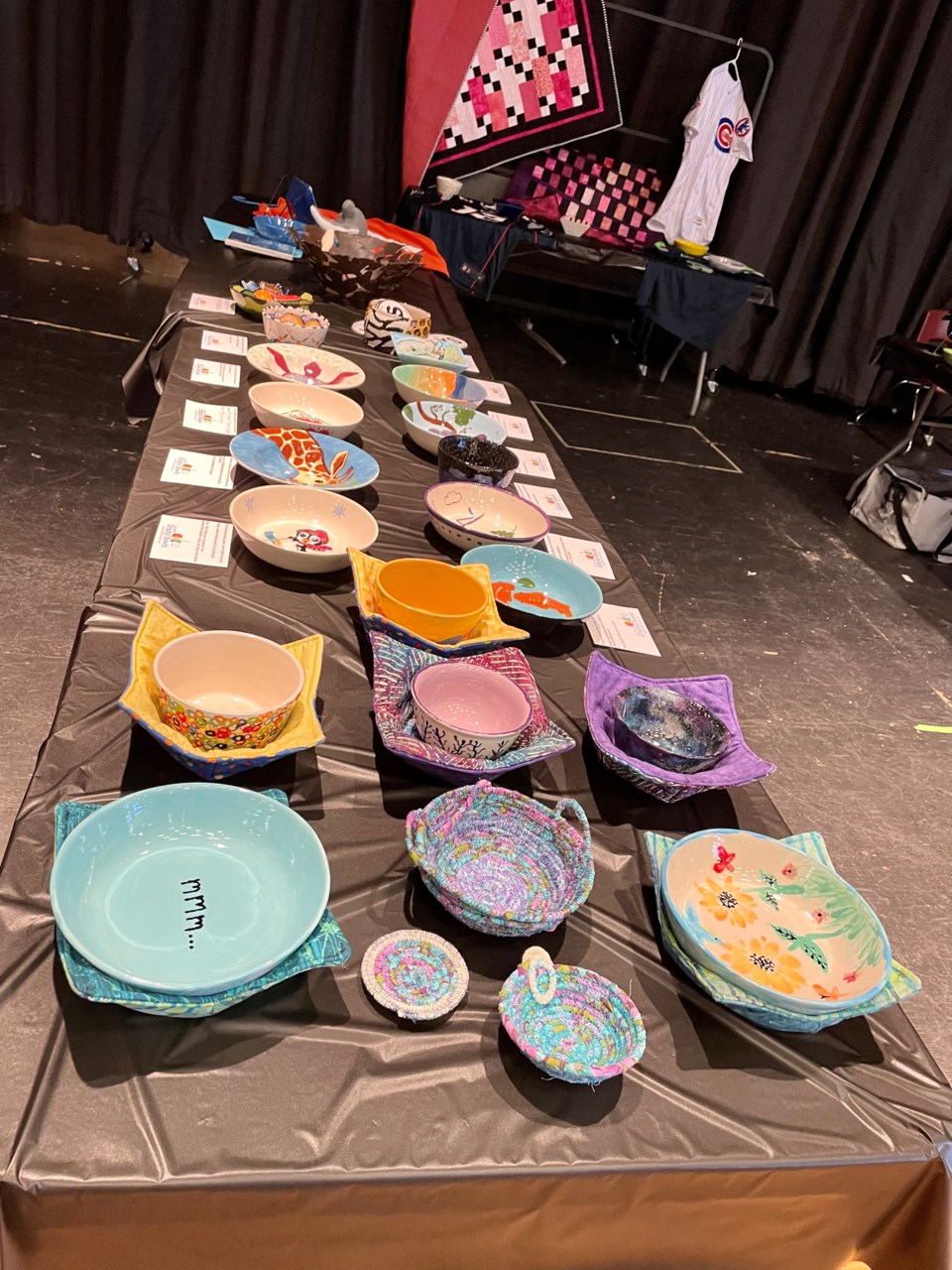 The fundraiser featured bowls painted by community members at Crackpots Studio, and a silent auction. Attendees chose their favorite bowls and filled them with soups from dozens of restaurants and caterers.
All proceeds go to the OUR Center's meal program and grocery market. The center provides free breakfast on weekdays and free lunches every day. More than 70 families visit the center each day to pick up groceries, and the organization serves around 150 meals each day, said Elaine Klotz, the center's development director.
"We're just glad to welcome people back, and our food needs are growing, so it's really important to have people come out and support us," she told the Leader in February.
More than 650 people attended Saturday's event. A silent auction preview of roughly 100 featured bowls was held at the fundraiser, and attendees then placed their bids online after the gathering. Bidding remains open until Monday night, but this year's event is already on track to bring in more than $43,000 and break all previous Empty Bowls fundraising records, Klotz said.
Over the past two decades, the event had raised more than $500,000 to feed people in need throughout the Longmont area, she said.