300 Suns Brewing is blistering the competition in The Denver Post's Best Hot Chicken Sandwich March Madness food bracket, reaching the final four round after pecking out Lea Jane's Hot Chicken with more than 54 percent of the vote.
The annual culinary contest brought together 32 of the best of Denver metro area's spicy poultry purveyors. This year, 300 Suns Brewing is clucking its way to the top, and they need your help in this next round.
Chef Nate Say has been working tirelessly since 2018 to perfect the recipe, which he has refined since spending time in Nashville gobbling up chicken at all the legendary hot chicken spots.
Combining greasy bar food and a thick, hearty tap, 300 Suns Brewing has already built a loyal following in the Longmont food and bar scene. Their Nashville Hot Chicken Sandwich has become a locally sought-after challenge favorite.
"We opened day one with the Nashville hot chicken," Say said. "Originally, we planned on the burgers being our number one seller, but now the chicken has taken over the last couple of years. It's really gaining in popularity."
There are four hot spice levels for the sandwich, beginning at ordinarily intolerable levels with the classic cayenne before stepping up to the "hotter-than-hot" habanero. If that doesn't burn off your taste buds, then there is the next Poultrygeist level which is "screamin'" hot, and then The Reaper which is "lickin' the sun" hot at over 1.5 million heat units on the Scoville scale. The menu even comes with words of caution:
"WARNING: Nashville hot is HOT! We will NOT exchange for free or refund your money if you are too wimpy to eat it."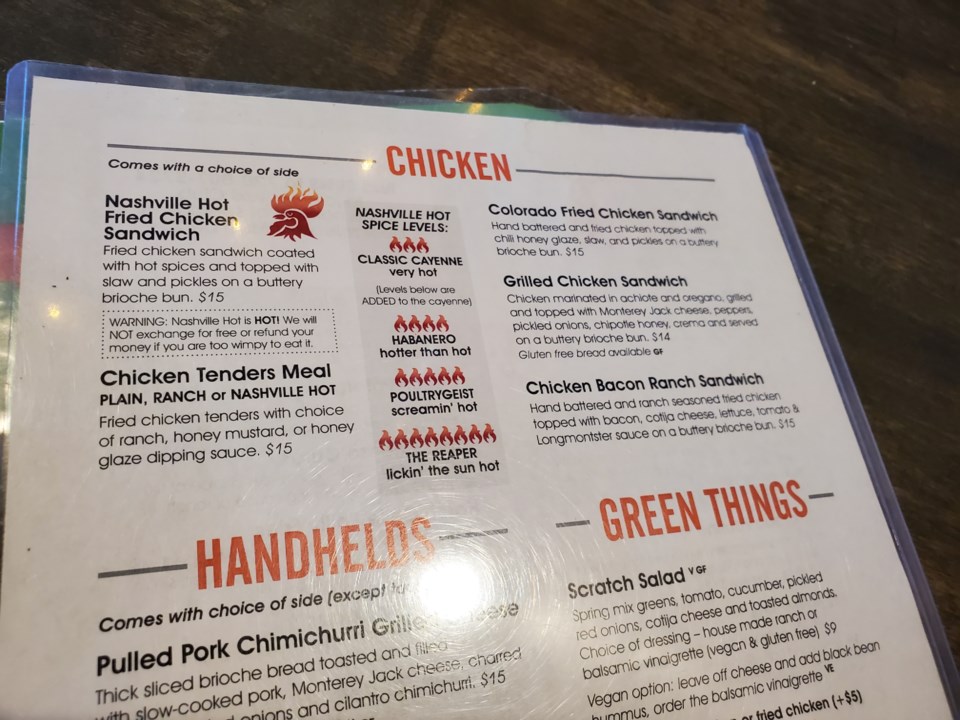 They make their seasoning blend in-house from scratch as well as the coleslaw and pickles. "The staff and I, we're passionate about the food that we make," Say said. "We take a lot of pride in what we do and work really hard to keep our standards high."
Nashville hot chicken is a seasoning blend base of cayenne pepper, salt, garlic, chili powder, paprika, and brown sugar that they brush the chicken with right when it comes out of the fryer which fuses with the hot oil on the surface. "It's not really a sauce. It's not really a dry rub. It's kind of something in between," Say added.
The Denver Post's Best Hot Chicken Sandwich competition is about more than bragging rights. Say believes that getting further in the competition would not only elevate the heretofore award-winning status of 300 Suns but also etch itself further into the burgeoning Longmont food scene.
"This area of town, they call this The Slope because we're on the bottom of where Main Street slopes down into 1st Avenue. We've got a lot of great businesses down here," Say said. "There's growth happening and new restaurants popping up in new places, and things to go do and see. It's really just about shining a light on Longmont as a whole, not just our business."
The Denver Post informed 300 Suns they were part of the March Madness after a bunch of fans of the sandwich had previously nominated them to be in the bracket. They are merely one of two nominated restaurants outside Denver, accompanied only by Music City Hot Chicken in Fort Collins, which has been around the longest in Colorado for donning the Nashville hot chicken since 2016.
"It's been really great to see how our fans in Longmont and the surrounding communities have rallied around 300 Suns to help us get to the Final Four," said Dan Ditslear, co-owner of 300 Suns Brewing.
With just a finger-licking handful of days left before this round of voting closes, 300 Suns Brewing is calling on the local community to show their support and help them move on to the final round. If you love the brewery then this is your chance to pepper them into the Nashville hot chicken map.
To officially cast your vote, go to The Denver Post website. If you dare to bite into their Nashville Hot Chicken Sandwich, visit 300 Suns Brewing at 335 1st Ave, Unit C.