The Longmont Leader accepts contributions, photos, letters to the editor, or LTEs, and op-eds for publication from community members, business leaders and public officials on local topics. Publication will be at the discretion of the editor and published opinions do not represent the views of the Longmont Leader or its staff. To submit a contribution, email [email protected].
A close look at Longmont's energy security reveals we have a serious challenge looming on the horizon. Since 2018, different mayors and council members have decided Longmont will transition to 100% carbon-free electricity by 2030 in response to global "climate emergency," an extremely ambitious goal.
Some experts say it's impossible to achieve without major technological breakthroughs in the renewable energy sector, especially longer-duration battery storage. Longmont's nonprofit utility, Platte River Power Authority (PRPA), has forecasted that a future energy mix featuring 0% carbon-emitting resources and no new renewable energy resources would be radically insufficient to meet the northern Colorado region's growing electricity demand. At present, we are nowhere near prepared to deal with the severe consequences of this projected energy cliff: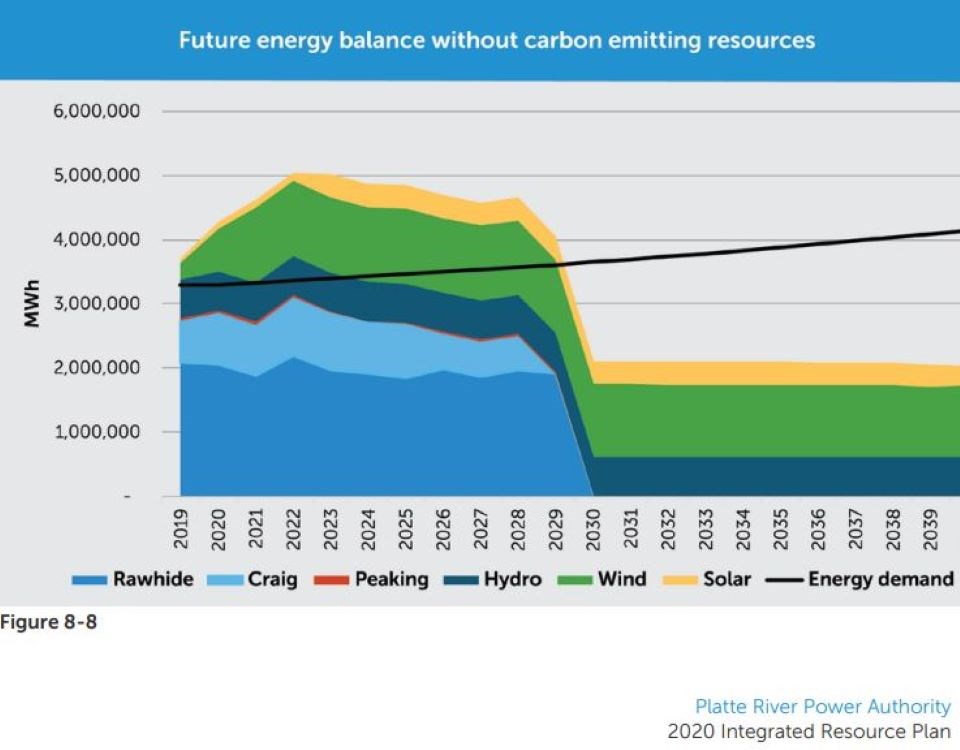 New leadership and innovative ideas are needed to avert the looming energy cliff. While PRPA's entry into the Southwest Power Pool (SPP) on April 1st brings certain benefits to Longmont's electricity grid, it is far from a silver bullet that will completely eliminate energy insecurity and uncertainty about the post-2030 energy outlook.
Before PRPA joined SPP, Longmont's electricity consumption derived from coal typically surpassed 70% on cold, cloudy, calm winter days when little wind and solar power are being generated. While SPP membership provides greater access to renewable energy and decreases (but does not end) Longmont's reliance on coal, it simultaneously increases dependence on gas, a fossil fuel commonly derived from fracking.
About 30% of SPP's energy mix comes from fossil fuels, mostly gas. After diligently working to ban fracking inside Longmont city limits, now we are, in effect, bringing it back through our purchasing power, in much greater quantities. Then again, even with PRPA hooked into SPP, the purchasing pool is not always in use. On the morning of April 18, 2023, for example, PRPA was using 63% coal-fired generation and receiving no purchased electricity from SPP: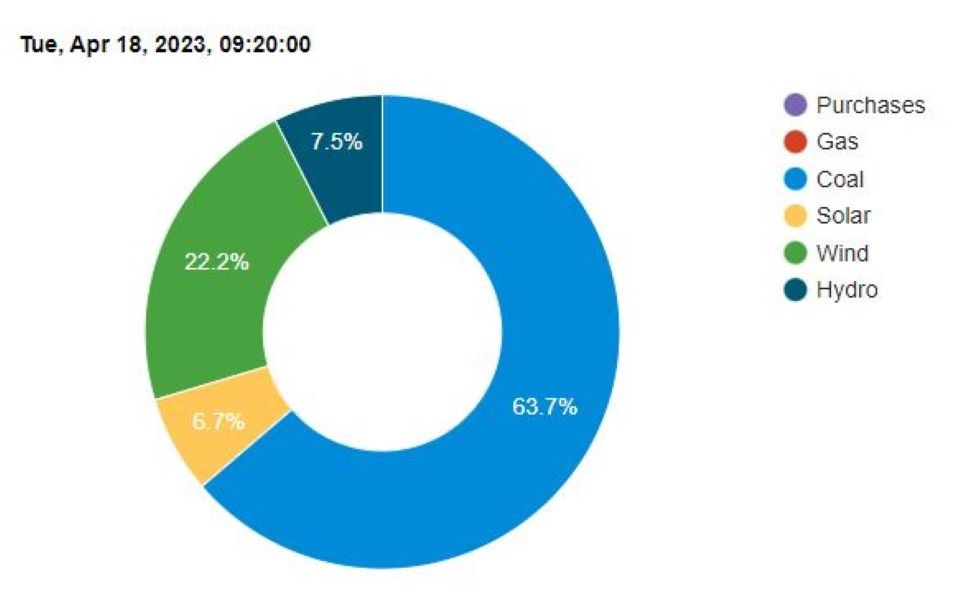 In addition, SPP tends to be criticized by environmental groups for operating with a market design and regulations that can favor fossil fuel generation over renewable energy resources by contributing to years-long delays in bringing new renewable energy projects onto the interstate transmission infrastructure.
Longmont is currently consuming about 50% carbon-free electricity on average, and it will take colossal, concerted effort to increase this percentage to reach the city's goal of 100% by 2030. This transition will require significant investments in infrastructure and technology, and it is not guaranteed to happen without proper planning and implementation.
It's crucial to understand that joining SPP does not guarantee Longmont will always have access to the power we need. There can still be transmission constraints, where the available transmission capacity is insufficient to meet demand. If a transmission constraint were to occur, it could result in rolling blackouts or other disruptions to Longmont's electricity supply. Additionally, weather events such as severe storms or extreme heat can cause power outages, regardless of whether Longmont is a member of SPP.
Our regional energy grid's vulnerability is highlighted by the February 2021 polar vortex that had a significant impact on SPP and PRPA. This polar vortex brought extremely cold temperatures to the Western region, resulting in a surge in demand for electricity as customers sought to heat their homes and businesses.
At the same time, the extreme weather conditions caused disruptions to the generation and transmission of electricity across the region. Natural gas wells and pipelines froze, limiting the supply of fuel to gas-fired power plants. Wind turbines also experienced icing, causing some to shut down or produce less electricity. In addition, transmission lines and substations were damaged by the severe weather, which further limited the ability to deliver electricity to customers.
SPP and PRPA both experienced negative impacts from the 2021 polar vortex. "Unprecedented cold weather and snow is causing a natural gas shortage and impacting availability of energy from Platte River's solar fields and wind turbines," PRPA said at the time, as part of a press release asking Estes Park, Loveland, Fort Collins and Longmont customers to reduce their electricity use.
By relying more heavily on coal, PRPA was able to maintain service to its customers throughout the 2021 polar vortex. But in a post-2030 scenario without coal, where SPP and PRPA power generation are both constrained by extreme weather, it's unclear how Longmont would have sufficient electricity flowing to customers to avoid service disruption during a similar or even more devastating cold weather event. This is just one example how transition to 100% carbon-free electricity incurs risk we have not yet figured out how to resolve.
Amid such an uncertain energy future, one thing we do know for sure is that Longmont is not yet fully marshaling available local resources to meet the challenge. Local renewable power generation is largely an untapped resource for Longmont, and we are not using local resources to the greatest possible benefit. However, there is a wealth of untapped potential for renewable energy in Longmont that we have yet to fully utilize.
Distributed rooftop solar power and solar agriculture, or agrivoltaics, are two examples of local renewable energy sources that Longmont could tap into. First, distributed rooftop solar involves the installation of solar panels on the rooftops of residential and commercial buildings throughout the city. This approach to energy generation has the benefit of allowing energy to be generated and used locally, reducing the need for long-distance transmission of energy.
While there are environmental costs to the mining of materials for and the production of solar panels, many advocates argue the benefits in terms of emissions reduction outweigh those costs. Currently, less than 10% of Longmont residential roofs are equipped with solar panels. This untapped resource, taking advantage of Longmont's approximately 250 days of sunshine per year, marks a prime opportunity for local renewable energy expansion.
Additionally, agrivoltaics involves the installation of elevated solar panels above agricultural land, allowing for crops to be grown underneath. This approach enables landowners to generate electricity while still preserving the land for agricultural purposes. Shading provided by the solar panels can help to regulate temperature and moisture levels, reducing water usage, decreasing evapotranspiration, and providing a more conducive growing environment for crops. Longmont owns more than 1,000 acres of Open Space land, much of it currently leased for agriculture, which could be ideal terrain for solar agrivoltaics and may be suitable to host wind energy as well.
Despite the City of Longmont's idealistic vision to achieve 100% carbon-free electricity by 2030, I am concerned that Longmont's current political leadership has not yet exhibited the focused discipline and competency to manage a responsible energy transition, as evidenced by the lack of progress being made to develop local renewable energy resources.
If we do not get the renewable energy transition right, soaring electricity prices and potential catastrophic blackouts could be the cost of failing to implement a cost-effective, wealth-building, technologically feasible plan to replace Longmont's energy mix coming from coal when our region's 280 MW coal-fired power plant shuts down, as currently scheduled, in 2030.
PRPA is a relatively small nonprofit utility based in Fort Collins with a political, non-professional board of directors and, in some ways, the City of Longmont has more resources at its disposal than PRPA itself. Instead of relying upon PRPA alone to do virtually all of the heavy lifting to attempt to create a "carbon-free sustainable city" by "committing to 100% renewable electricity supply by 2030," in the words of the City of Longmont's climate emergency declaration, we should be willing to bring our city's resources to the table and collaborate with PRPA and other regional partners to chart the best path forward for energy security and climate resilience.
In Longmont's 2023 municipal election, three City Council seats and the Mayor's office will be up for grabs. I hope candidates emerge in each race to help elevate the discussion on energy and climate with serious, thoughtful proposals for local action. Addressing the imminent energy cliff with meaningful solutions means first acknowledging this challenge exists.
Ethan Augreen is a resident of Longmont who completed a master's degree in environmental leadership at Naropa University. He welcomes correspondence and can be reached by email at [email protected].