This content was originally published by the Longmont Observer and is licensed under a Creative Commons license.
Publisher note: This is not referencing the fiber-based NextLight internet service. It is only referencing the wireless/wifi service a handful of customers currently subscribe to.
When Clyde Ioerger got up at the December 18 Longmont City Council meeting, he was concerned that his NextLight service was being degraded by turning off the citywide wireless internet access on December 31 because it "wasn't making enough money, it wasn't making its way."
His concern was that once upon a time, you could access the NextLight provided wireless/wifi service anywhere in town, and now you couldn't. See his comments at the December 18 city council meeting below.
Mr. Ioerger said he was informed a year ago that the city would shut it off, but they didn't. He was able to use his NextLight wireless service at 'another location', likely a business, paying an additional $19.95 a month vs paying higher commercial rates to obtain a wired NextLight connection.
NextLight Commercial Pricing
A symmetrical gigabit (the same speeds uploading and downloading) residential connection from Nextlight is $69.95 per month, $59.95 after a year. A symmetrical gigabit commercial service is $799.95 per month, although slower commercial versions (such as the beginning tier with speeds of 25 MB down, 5 MB up) are available starting at $49.95 per month.
Although NextLight's residential rates are highly competitive, its commercial rates are effectively the same or slightly more expensive, depending on the configuration, than current market rates.
According to Broadband Now, an internet service database that tells customers what internet providers are available in a specific area, Comcast sells 'Business Internet 1 Gig 'no cap' service for $499.95 per month vs. NextLight's $799.95 per month. However, its upload speed is only 35 MB, vs. NextLight's 1000 MB upload speed, with an additional $17 per month modem fee and a two year contract required. It covers over 68% of the businesses in the city.
CenturyLink sells a true symmetrical 1 Gig service with 1000 MB up and down for $279.99  per month with no caps and a $9.99/ per month modem fee (or $150 one time cost). They also require a two year contract. However, they only claim coverage of 5.3% of the city.
NextLight claims coverage of 100% of all businesses in the city.
Tech Note: A symmetrical gigabit is 1,000 MB up and 1,000 MB down. This is why Longmont regularly tops the list of having the fastest available internet in the United States.
Full NextLight residential rates: click here.
Full NextLight commercial rates: click here.
The cost of delivering a residential connection and business connection is very similar. NextLight's wholesale costs for data are identical for both.
NextLight vs. Comcast
Ioerger referenced 'another' service that offered wired internet as well as access to their wireless wifi hotspots all over town, most likely referring to the Comcast Xfinity internet service that uses customers broadband modems with additional radios that provide any nearby Xfinity account holder wifi access. There are about 500 of these Xfinity hotspot modems in use in Longmont at residents and businesses citywide.
If you look at your wireless settings at home, work or on your phone while in Longmont, you may see an open (no password required to connect) 'xfinitywifi' network that you can connect to. Once connected, you'll need to enter your Comcast ID and password to actually get internet access. This service is included with all Xfinity internet service packages at no extra cost and is usable nationally. For a map of these hotspots, click here.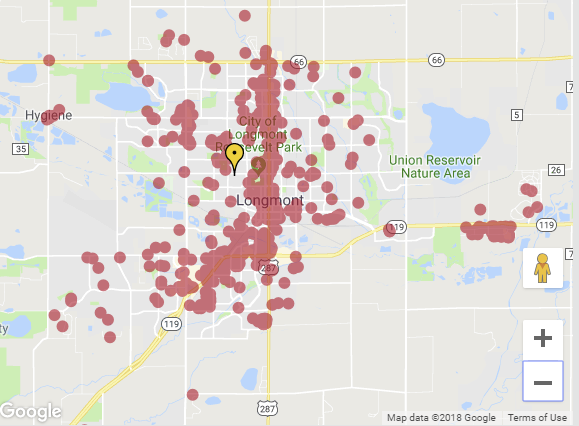 Nextlight and Comcast internet services differ significantly.
Comcast's services (as of 12/23/18) start at $29.99 per month for 60 MB download speeds and 10 MB upload speeds and include the wireless service outlined above. There are additional tiers of service at 150 MB ($44.99), 250 MB ($59.99), and 400 MB ($74.99). Most have a 1 TB cap on data. You will also be charged a monthly fee for the modem as well as additional taxes and fees that may change, usually to a higher number, from month to month. All of their plans include access to the above wireless network (locally and nationally).
NextLight's service offerings are much simpler. Two tiers are available. One for 25 MB up and down at $39.95 per month and one for 1000 MB up and down for $69.95 per month ($59.95 after one year). There is a wireless modem fee of $8.95 per month. A wired only modem has no cost. There are no additional taxes and fees added to these prices. There is no additional wireless network service available to access after 12/31/18.
NextLight's Wifi Service History
The NextLight wifi hotspot service originated as a failed for-profit service from a series of companies trying to create a wireless/wifi based internet service to compete with Comcast. Initially, the companies MobilePro and Kite Networks launched in 2006. Before the build-out was complete, in 2007, the network was sold to Gobility, who was unable to raise the funds to improve and build out the network.
In 2008, Gobility abandoned the network. Under the terms of the agreement with Gobility, the city took over the network, but due to the laws at that time, needed someone else to operate it. Longmont then sold the wireless network to DHB Networks in mid-2008. DHB Networks, it turns out, was in default on its taxes and in the fall of 2009, Boulder County demanded that it cease operations.
Another company, RidgeviewTel, stepped up to take over the network. The city structured a contract that would require the company to provide citywide service and, if it failed, the network would automatically revert to being owned by the City of Longmont at no cost.
RidgeviewTel filed for bankruptcy in April of 2012 and its assets, except for the wifi network in Longmont, was purchased in January 2014 by Hilltop Broadband, who said the Longmont wifi system was 'outdated'.
It's important to note that the service also provided internet access to the Digital Divide program, which according to the city's website, is no longer available. This program offered free service to low and moderate income households with children in middle and high school.
According to NextLight spokesperson Scott Rochat, there are plans to address the Digital Divide services. He said, "We do have some exciting plans there, and they'll be launching soon." More information will be available in the next few weeks.
The City Council does have a work plan for the next two years that mentions what could be a replacement for the now-suspended Digital Divide services.  According to the work plan, one of the goals for 2018-2020 is 'Ensure that all school-age children have access to high-quality internet service'. It goes on to say 'Launch 'Share the NextLight" fiber-to-the-home service for youth who qualify for a free or reduced lunch program. Work with local foundations, service groups, and social agencies to assist with funding this initiative. Determine baseline of students who qualify and already have access to high-speed internet. Set up application process and market the services.'
NextLight, back in 2017, was clear that eventually the system, which was no longer being upgraded or even being supported by the equipment vendor, would eventually come down. According to Rochat, in an email sent in 2017, the official position was: "Much as I would love to see it find a happy home somewhere else... it's not really practical... it would cost more to take it down and put it back up again than it would to simply build a brand new wifi system. Retirement is really all that's in its future."
In a more recent email dated 12/21/18, Rochat said, "In September of this year, we began to give our customers a specific shutoff date. Reminders went out in November and earlier this month. As of today, there are eight customers remaining on the network."
He went on to say, "NextLight is a community-owned, not-for-profit utility, so "turning a profit" was never a consideration in this decision. We hope that the small handful of remaining customers will consider NextLight as an alternative – and a strong alternative, given that it's the fastest ISP in the nation!— but we encourage them to look at all their choices and do what seems best for their situation."
He also pointed out, "We will continue to make wifi available to the public in Clark Centennial Park, Kanemoto Park, Roosevelt Park, and Sandstone Ranch at no charge. The wifi in Garden Acres Park is under repair, but will be brought back into service in 2019."