Just a block away from the main drag, Longmont's newest gem Omnia Vintage Thrift & Collectables isn't merely a shop, it's a time capsule, a treasure chest brimming with an eclectic collection of memorabilia from yesteryears.
In Longmont, Omnia Vintage distinguishes itself from conventional thrift stores by specializing in retro collectibles. At a lively intersection of past and present, visitors can expect to find treasures ranging from vintage t-shirts from the 80s, 90s, and 00s to Magic the Gathering cards, antiques, vintage toys, vinyl records, comic books and just about anything the mind can imagine.
The store's location, which is a little off the beaten path on Eleventh Avenue and Kimbark Street, may mean residents won't stumble upon it during a regular stroll down Main Street. But the owners aren't counting on foot traffic. They're confident in their excellent collection, aiming to win customers over by reputation, quality and the uniqueness of their offerings.
Josie and Daniel Hastings' journey began with a simple, humble garage sale, but as the same faces kept returning to the requisite garage sales, the couple recognized a potential opportunity. They may not have envisioned a future in the world of thrift stores, but their unexpected ability to find nostalgic collectibles compelled them to venture into this realm.
"We started noticing we could perhaps build a customer base based on what we were trying to sell," Josie Hastings explained.
Her fondness for thrift shopping was a hobby cultivated during her youth when she accompanied family and friends on shopping trips.
"The old Savers in Boulder was my stomping ground. In this area, thrift stores are really popular. I was raised on repurposed clothing and items, and it's funny how these things carry on into adulthood," she said.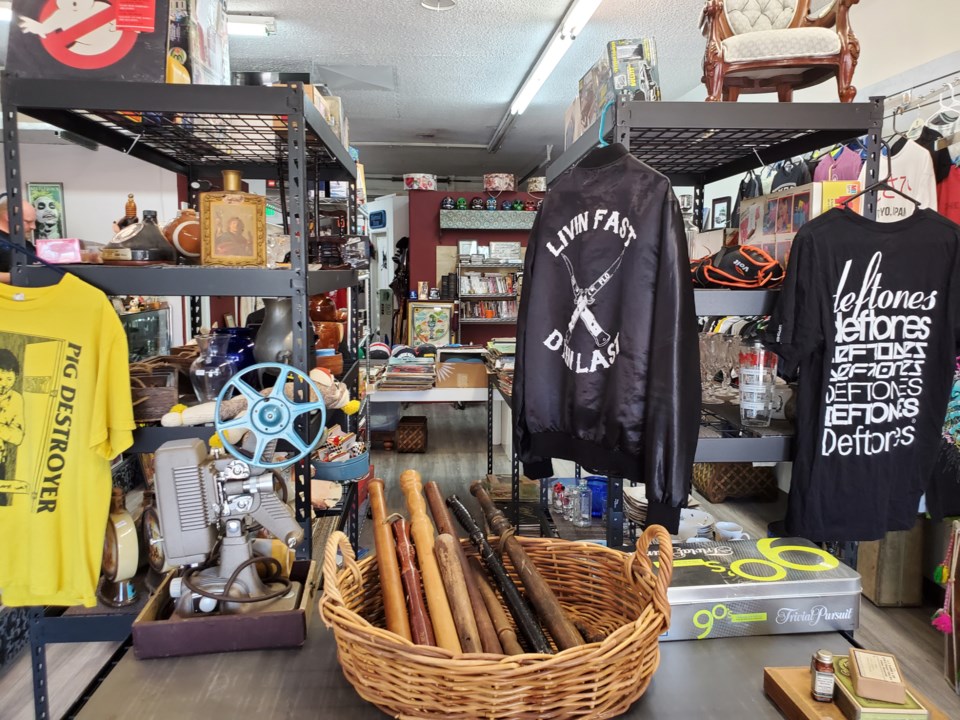 The couple noticed one drawback in larger thrift stores, however: having to sift through a myriad of items to unearth those hidden gems. This observation inspired their vision for Omnia Vintage. The aim was to create a store that catered to all generations, offering both retro and vintage clothing alongside genuine collectible items, thus saving their customers the trouble of excessive rummaging.
"I like the treasure side of it," Daniel Hastings said. "I love learning about the hidden stories, the intricate details that make every item unique."
Daniel's enthusiasm is infectious as he described his interest in learning about the items they acquire. A case in point is an original Tool vinyl album "10,000 Days" a piece that stood out due to its limited legit releases among many bootlegs.
"In the beginning, there were only a few legitimate releases of this album," Daniel explained. "Most of the ones you find are bootlegs, but there are some exceptions. For example, some albums have a label saying 'For promotional use only. Not for resale.' This means some DJ got it directly from the record company. Discovering little details like that is just fun."
This spirit of curiosity and learning infuses the store, and every item carries a history, a story and an exceptionality that they are eager to uncover. The Hastings' passion is evident in the depth and quality of the items in their collection. Each piece is carefully chosen, bringing together a wide array of nostalgic and retro items under one roof.
Only a few weeks since opening its doors, Omnia Vintage Thrift & Collectables has already become a hub of activity in Longmont due to active social media efforts. Whether one is hunting for a vintage collectible, a unique piece of clothing, or a rare vinyl record, one is sure to find something special. After all, this isn't just a store, it's an adventure through the decades.