This content was originally published by the Longmont Observer and is licensed under a Creative Commons license.
The first week of each month, 10 to 20 clients of Carry Out Caravan's grocery delivery service receive a surprise box of gourmet chocolates from Robin Chocolates.
Robin Autorino, owner of Robin Chocolates, heard about Carry Out Caravan from a board member last fall and wanted to pitch in. The daughter of a geriatrics nurse, Autorino volunteered in nursing homes growing up and has a soft spot for seniors. She saw a collaboration with Carry Out Caravan as, "My chance of making more people happy, who might not be able to get to my shop, or to afford it."
Cultivate is a Boulder County nonprofit which serves area seniors who have trouble getting to the grocery store. Volunteers take orders, shop for the items at King Soopers and deliver the next day. Shun-Luoi Fong, Director of Communications for Cultivate, says Carry Out Caravan helps seniors stay engaged.
"That human connection is a big part of it," says Fong. "Getting their groceries is important, a valuable service, but often, getting to engage someone, to have conversation, is a really important part of their week."
Autorino has been making chocolate for 30 years as a hobby and started selling wholesale in 2008. She opened her store in the Meadow View shopping center at Airport and Nelson Roads in Longmont in 2011. She was named one of the Top Ten Chocolatiers of North America in 2013 by Dessert Professional magazine. Her cakes and truffles have won numerous prizes.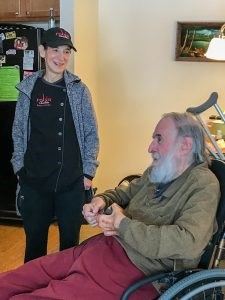 At first, Autorino and Fong batted around different ideas to get the chocolates to the seniors. Cultivate wanted to do it in a "lump," Autorino said, but she preferred every month. One route each month gets chocolates, and Fong thinks all the participants have gotten a box by now. Initially, the deliveries were a one-year project, but Autorino wants to make them permanent.
Although the chocolates have been delivered since September, Autorino rode along for the first time on March 5th and was able to talk with recipients. She was thrilled that all of them "opened the box."
"None of them asked me about making chocolate," Autorino confessed, "they just wanted to talk."
The first man on the route told Fong and Autorino that he was going to give the gift box to his family, but with some persuading from the delivery crew, changed his mind. "By the end," Autorino said, "he was being pretty protective [of the chocolates]."
Autorino said it's especially nice to bring the boxes in March, when the holidays are long over and seniors can be forgotten. "It's freezing outside, and they're housebound because it's too scary to drive," she said.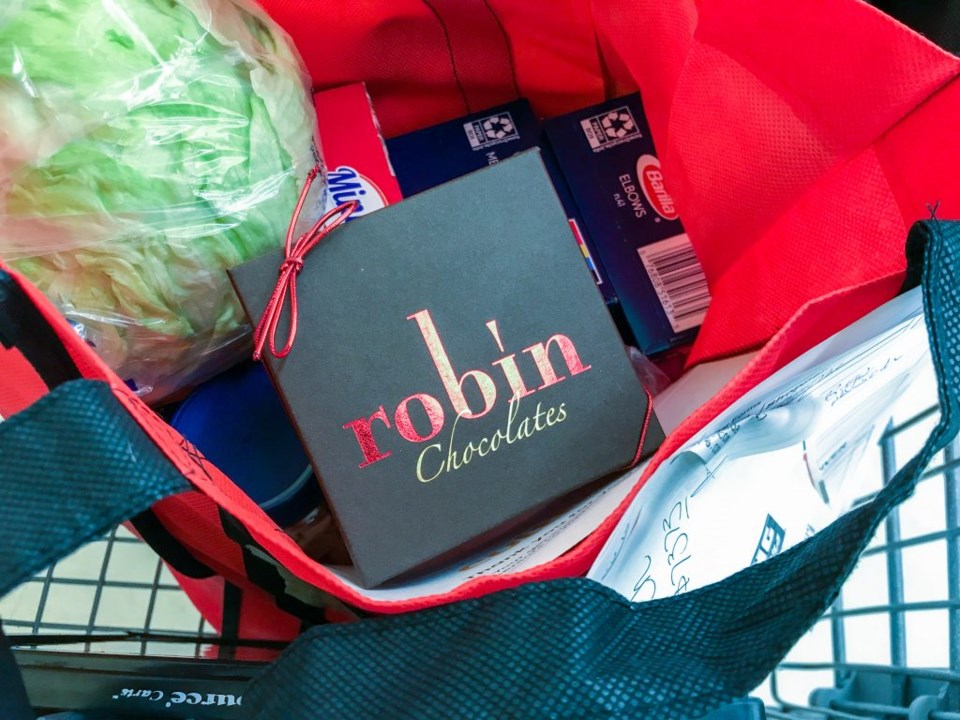 Asked about reactions to the sweets, Fong says that every person who uses Carry Out Caravan has his or her own situation and challenges. Because the chocolates are a surprise, he said, they have less time to say no. After watching participants open the gift boxes, Fong speaks of witnessing "not only the delight of getting to enjoy the chocolates, but the delight of feeling the surprise and being thought of." He says the collaboration is "a small way of caring for [the seniors] above and beyond the groceries they receive."
"It's not really about the chocolates," Autorino says with a smile, "it's about the connection."