This content was originally published by the Longmont Observer and is licensed under a Creative Commons license.
The Longmont Museum's latest exhibit Ansel Adams: Early Works launched Friday, Jan. 28, 2019 with an opening reception, complete with appetizers, a cash bar and live music on the Museum's own Shigeru Kawai piano. Cocktail attire was requested, and many attendees complied, so it was a very happy evening, with a magnificent display of photographs to enjoy as well.
But what goes into putting together such an exhibition for us all to appreciate? Erik Mason, the museum's History curator explained the process of this and the other major traveling collections that the museum presents.
The photographs in this exhibition were from the collection of New York residents Michael Mattis and Judith Hochberg, who also have a similar collection of works by Edward Weston and other notable 20th century photographers. Such collectors of artwork are usually very happy to share and are eager to find the best way to do this.
This is where organizations specializing in circulating or traveling exhibitions come in. While the nationally known museums and galleries have the staff and expertise to initiate and undertake major art exhibitions, smaller regional and university museums turn to companies such as Art2Art Circulating Exhibitions. The Ansel Adams collectors contracted with Art2Art and this is how Erik Mason in Longmont came into the equation.
The Longmont Museum tries to schedule two major exhibitions every year and plans two years in advance for forthcoming exhibits. One of the ways that the museum finds suitable exhibits for their space and likely audiences is through companies like Art2Art. An alternative would be to contact exhibitors in similar museums or galleries and work directly with them. So, two years ago, the Longmont Museum looked at what Art2Art and other companies had to offer for the first half of 2019. The Ansel Adams exhibit fit into the type of showing that the museum wanted to have after the fall and winter hands-on exhibit of Tree Houses – Look Who's Living in the Trees. The museum had had successful photography exhibitions before, so Ansel Adams seemed ideal.
The museum contracted with Art2Art and started reviewing how the exhibit should be presented and marketed. Lectures, films and activities associated with the exhibit will also be presented. These additional components are going to be presented as 'environmental evenings', including a discussion of watershed management at Button Rock on February 7 and a community forum on fracking scheduled for March 21. Additionally, a series of films featuring the Western landscape runs from February through March, and includes such diverse movies as, Valley Uprising on February 7, a film describing the clash between the climbing counterculture and the conservative values of the Yosemite National Park Service, and Hitchcock's seminal thriller, North by Northwest on February 21.
Art2Art provided the framed photographs, plus accompanying titles and supporting descriptive texts, after ensuring that the Longmont Museum had the correct environmental safeguards in place, including heating, light and the necessary summer air conditioning. The museum decided to completely repaint the exhibit space after the Tree House exhibit which closed on January 6, and all other exhibits were taken down so that the area would be pristine for the Ansel Adams opening less than three weeks later. Museum staff were ready when the Adams exhibit arrived on Monday, January 21, and they set to work.
The 42 photographs were carefully hung and placed sequentially by date. A short video, courtesy of the San Francisco Museum of Modern Art, showed the older Adams using his "zone system" to take a photograph of a beach and waves and then produce the image in the dark room. Eric Mason included cameras and other photographic equipment similar to that used by Adams throughout his lengthy career, in the exhibit, including, of course, the Kodak Brownie Box Model, which is a camera from the early 1900s that the photographer used at the age of 14.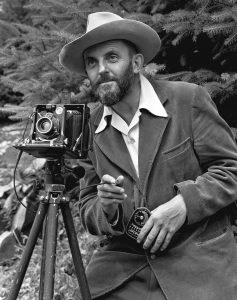 Adams early love was music. He was an extremely accomplished pianist and his family hoped he would one day make that his future profession. Adams gradually realized that he would never be a first-rung concert pianist, so it was not until his late 20s that he committed his life to the camera. In fact, the development of his photographic style has been described as evolving from chamber music to brass. As such, the pieces highlighted in the Longmont Museum, all vintage gelatin silver prints, portray that softer, earlier side of his work.
Adams first used a filter in 1927, and his darkroom expertise and techniques are well known. The exhibition shows a fine example of his technical skills and willingness to experiment with the 1923 print of Monolith, the Face of Half Dome. Shown next to it is a 16 x 20 enlargement from the same negative (rescued from a 1937 fire) but modified in the dark room. The difference is amazing.
Most of the exhibition's prints are of the familiar topics of Yosemite and other wild western scenes. Adams was not interested in, nor was he as good at, portraits or other human-related subjects. The only person shown in any of the photographs is of his friend and mentor, the great Alfred Stieglitz, shown in his New York gallery that he named An American Place. Stieglitz gave Adams an exhibition there in 1936.
Adams also experimented with more abstract subjects, similar to the work of Edward Weston, and a couple of fine examples are on show here as well. Aspens, Northern New Mexico from 1958 is shown in both horizontal and vertical form and is an interesting counterpoint to the more familiar Adams' subjects.
The Ansel Adams estate does not allow his prints to be shared with the media, so this Early Works exhibition is an important and rare opportunity to appreciate and understand the genesis of the evolution of Adams' now so familiar works. This carefully curated and displayed exhibit shows that small spaces (2,500 sq. ft.) can be as significant as those mounted by the "major" museums and galleries. Erik Mason and his talented team have done well, and are already working on the 2020 and 2021 exhibits.