The unemployment rate in Boulder County rose from 2.1% in December 2022 to 2.5% in January, according to statistics released Monday by the Colorado Department of Labor and Employment.
There were 4,171 jobless residents in the county in December, and that increased to 5,009 unemployed people in January, the data shows.
Colorado's unemployment rate for the month was 2.8%, marking a return to pre-pandemic levels. January was the ninth consecutive month of the rate remaining below 3%, according to the state report.
"More entrepreneurs are starting businesses in our state and we are outcompeting other states for businesses and jobs," Gov. Jared Polis said in a statement released Monday.
Despite the state's improved employment rate, no private sector jobs were added in January.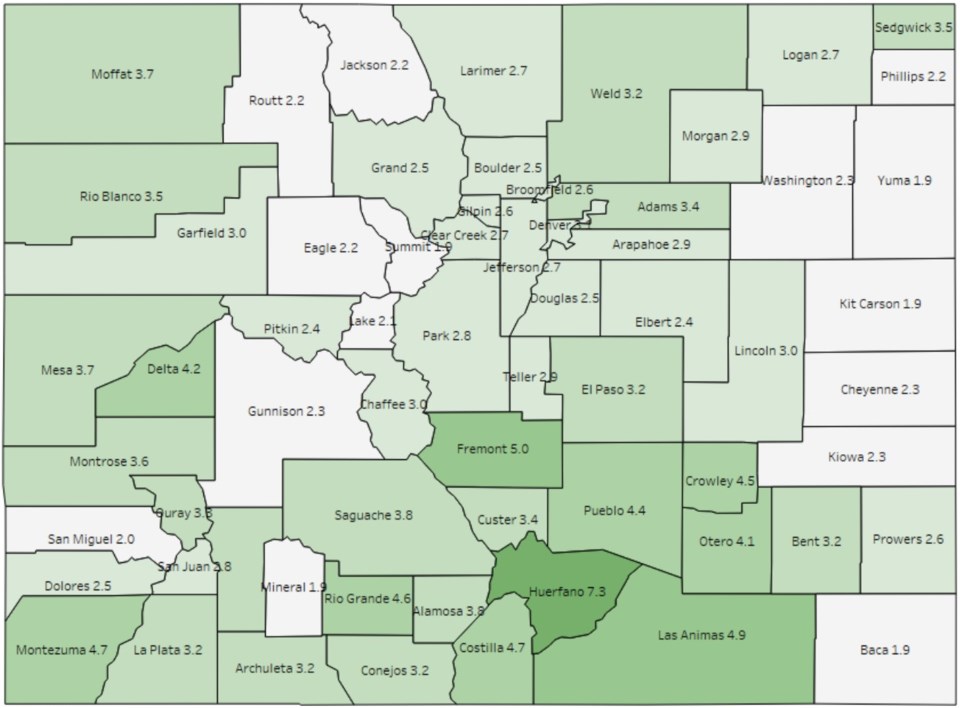 Just over 68% of Coloradans were participating in the labor force in January, the data shows.
The national unemployment rate in January was 3.4%.
In an effort to fill in-demand jobs in Colorado, Polis and state representatives announced legislation Tuesday that aims to provide students free training for associate degrees and industry certificates.
The no-cost education would be offered at public community colleges, technical colleges and local district colleges. Eligible industries include firefighting, law enforcement, elementary and early childhood education, short-term nursing, construction trades and forest management.
"Whether you're headed back to college or switching careers entirely, zero-cost credentials open the door to new, high-demand careers across Colorado," said Speaker Julie McCluskie (D-Dillon), one of the bill's main sponsors, in a statement.
"Our bill makes it easier for aspiring professionals seeking careers as firefighters, nurses and early childhood educators to upskill and reskill through free training, certification and advanced education courses. These new, free pathways will boost our workforce and help fill open positions in critical jobs so more Coloradans can start the professions of their dreams and serve their communities," McCuskie's statement read.
Legislation was also introduced Tuesday that would provide $1,500 scholarships to thousands of students who are attending approved community colleges, trade schools and universities.
Sen. Jeff Bridges (D-Greenwood Village), one of the bill's main sponsors, said the legislation is a "win-win for Coloradans looking for good-paying jobs and Colorado businesses trying to hire for those jobs."
"We have hundreds of thousands of open jobs in this state that require some kind of education beyond high school," Bridges said in a statement. "With this bill we're creating the opportunity for people across Colorado to get trained, get hired, and earn a good life."
Disable checking
Premium suggestions