This content was originally published by the Longmont Observer and is licensed under a Creative Commons license.
Bah humbug. Not everyone is pleased about the holiday season. Longmont postal worker Jason Simmons chuckled when asked if he hated Christmas. "It's pretty tough sometimes. We have a ton of packages; it's a lot. They start throwing at midnight and go until 3:00 in the afternoon so we go out with our morning deliveries and then come back at 2:30 and go out again and do another whole delivery."
Online shopping has changed the nature of commercial enterprise, making it ultimately so simple to click and ship from the comfort of the couch that there is almost no need for any human interaction at all. We can get just about anything in the world delivered to our doorstep or shipped to our gift recipients by barely lifting our fingertips.
Holiday shopping couldn't be any easier, right? In a way, yes; but all that remote clicking doesn't quite replicate the "holiday feeling" of carefully choosing gifts for our loved ones in a more personal manner. Plus, those credit card bills skyrocket before we have anything in our hands to show for it. There is a way to keep your dollars in our Colorado community and to meet the growers and makers who will bring their holiday ideas to the table.
Shop local, yes; all the stores on Main Street appreciate your business but Longmont offers a special festive option to online shopping this weekend. Saturday and Sunday from 9 am to 3 pm the Boulder County Farmers Market morphs into a traditional Winter Market at the Fairgrounds. There will be 100 Colorado local vendors offering fresh produce, specialty meats, eggs, baked goods, preserves, cheese, hot sauces, wine, prepared food, coffee, kombucha, jewelry, skincare, woodwork, home goods, and more. This is your last chance of the season to catch your favorite food truck at the Fairgrounds, so get it while you can.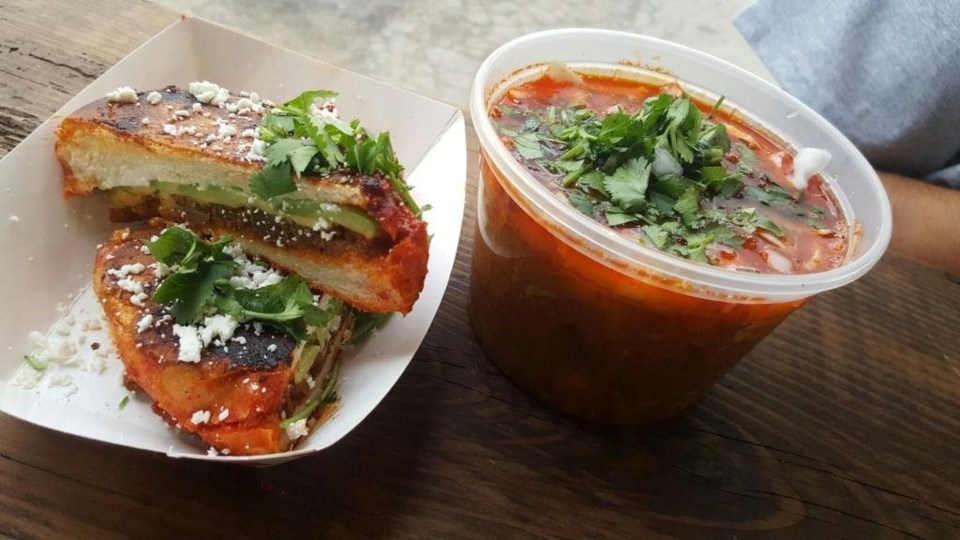 Alejandro Rodriguez and Edward Perea of Summit Tacos will be closing down their taco trailer for the winter on December 14th. The popular team will head to Mexico to recharge their batteries and to seek more inspiration for Summit's Mexico City-style street tacos. Special offerings this weekend include a belly-warming Pozole with pork and hominy that would pair nicely with their Pambazo, a spicy grilled sandwich with chorizo, potatoes, Mexican crema and cotija cheese.
The Boulder County Farmers Market vendors will have fresh vegetables at the market as well, so you can stock up on roots, 'taters, and squash for winter storage. I'm looking forward to one more shot at the Japanese hakurei turnips offered by Aspen Moon, Ollin, and Sunseed Farms to taste their mellow brassica pungency one more time before having to resort to store-bought turnips that are nowhere near as sweet and delicious.
It will be your last chance to grab some bratwurst from Aaron Rice of Jodar Farm, which make such a delicious and easy dinner when topped with lots of minced shallots and anointed with some wine or beer and roasted in the oven. Natural Homestead Beef will be at the market with their extraordinary Scottish Highland beef and you can get info about how to arrange bi-weekly pickups throughout the winter. Hot tip: yes, their beef is amazing but their bacon is hands down the best I've ever tasted. There are definitely snowy mornings and pancake breakfasts on the horizon this winter. Better pick up some peach jam from Morton's Organic Orchards while I'm there too.
It's cold out now and the Longmont Farmers Market is going dormant until spring. Come inside to the Winter Market. Support the local players. Let there be commerce between us.
The Winter Market is open Saturday, Dec 1 & Sunday, Dec 2, 2018 from 9 a.m. – 3 pm.. at the Boulder County Fairgrounds, located at  9595 Nelson Road, Longmont. Admission is free.