This content was originally published by the Longmont Observer and is licensed under a Creative Commons license.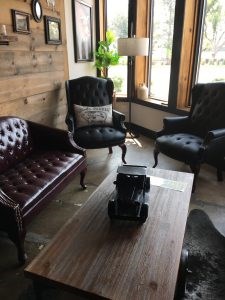 A full year—almost to the day—after Georgia Boys relocated from its tiny, standing-room-only Longmont location to its roomy, remodeled restaurant space just a block away, I finally made it in for lunch. I ordered at the counter and waited in a comfortable seating alcove that reminded me more of a luxurious hotel lobby than a take-out joint. Despite the fact that the place was packed with a hungry lunchtime crowd, I waited less than 10 minutes. I headed home, burnt ends and macaroni and cheese in hand, and enjoyed my meal on my deck.
I told my picky companion how much I loved my lunch, and just two weeks later, he agreed to go there for dinner on a Friday evening.
Here's what we learned quickly: To get the most out of a visit to Georgia Boys, you need to be in the mood to make a few decisions, and the first one must be made as soon as you walk in the door. Do you want a fast-casual experience, ordering at the counter and choosing a seat in the dining room, where your order is delivered to you? Or would you rather be waited on at the end of a long week?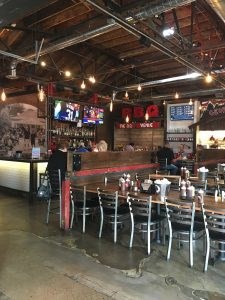 We zipped past the counter and headed straight to the full-service bar.
As it was still early, there was plenty of time left to take full advantage of Georgia Boys' generous Happy Hour (3-5:30 p.m. Tuesday–Friday, all day Sunday). The helpful bartender brought my companion a few craft-beer samples to try, and after agonizing a bit over his decision, he finally settled on a brew from Longmont's own Grossen Bart. Craft beers and well drinks are $2 off at Happy Hour, and wines and domestic drafts are $1 off.
Now it was time for our next decision—what to order from the extensive Happy Hour food menu? The BBQ Nachos ($7 at Happy Hour, $11 menu price) were tempting, as were the Brisket Fries ($8/$12), though we chose to share a BBQ Quesadilla ($7/$10) made with chicken. It was presented to us within minutes and was crispy enough on the outside to pick up like a slice of pizza, yet tender enough to eat with a fork instead. The inside had just the right amount of cheddar-jack cheese to hold the filling together without overpowering the delicious smoky taste of the chicken.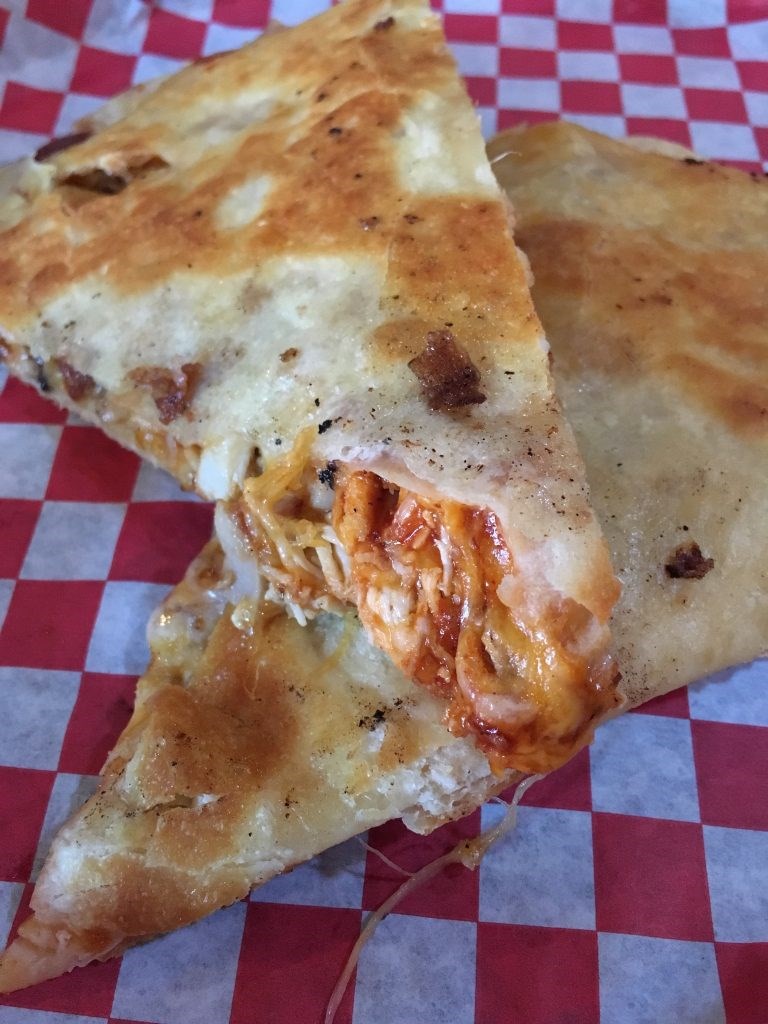 Next decision—which of Georgia Boys' famous sauces to slather it with? There are five to choose from, so you can taste them one at a time or get creative with mixing flavors. The original sauce is my favorite, but since my picky companion was brave enough to try them all, so was I. The Ghost Pepper sauce lives up to its name as far as spiciness goes, but it didn't burn my tongue off or anything. In the future, I might add a few drops of it to the original sauce, rather than trying it straight. The Mop Sauce is a bit thinner than the others, making it perfect for mopping up with meats but not so much with a quesadilla. There's also Carolina Mustard, just a bit more tangy than the original, and Black Jack Sauce, made with local beer.
Appetizer finished, it was time to finally order an entrée, and here we were with even more decisions to make. Which smoked meat (or meats) to get? Pork, turkey, links, chicken, brisket, burnt ends, ribs? Did we want a plate or a sandwich? The Hog Heaven Sandwich ($13) is pretty popular, we were told, with pulled pork and jalapeno cheddar sausage, topped with melted cheddar and traditional slaw. But the plates ($12-$23), which come with one, two or three meats plus two classic sides and Texas Toast, are perfect for when you simply can't make up your mind.
We chose a Brisket Sandwich ($13) to split, served Carolina Style (+$1) with slaw on top. We thought we were done making decisions, but we still had to select a side order, and believe me, it's not easy to choose between mac and cheese, BBQ beans, slaw, potato salad, Brunswick stew, taters 'n gravy, fries, cornbread, a baked potato, or fried okra. There's often a seasonal side as well, like the sweet potato casserole that just landed back on the menu for fall. Most of the sides are vegetarian, which is welcome news for meatless diners should they ever visit this meat-lover's paradise. Many of the sides (and most of the meats) are also labeled as gluten-friendly, and you can also get substitute a gluten-free bun for $1.50, although the menu helpfully advises that the kitchen is not gluten-free and that there is always a risk if you cannot tolerate any gluten at all.
Since we were getting slaw on the sandwich, we went with the potato salad, which was good but not outstanding. The chopped burnt ends on our Brisket Sandwich were delicious, with crispy edges and tender insides, but as soon as my picky companion discovered a large chunk that was more fatty than meaty, he put his fork down and declared that next time he would be trying the pork.
Next time? A return trip is a resounding endorsement, coming from him. So, we'll be back to Georgia Boys for sure… whenever we find ourselves in a decision-making mood again.