The CalWood fire burning in western Boulder County experienced little growth Sunday, mostly due to cooler weather, low relative humidity and strong fire suppression efforts, Boulder County Sheriff's Office Divsion Chief Mike Wagner said in a 7:15 p.m. briefing.
"We're still throwing every resources we have at it," Wagner said. He warned warmer and drier conditions are expected to return on Monday.
The fire. which grew to over 8,700 acres after starting on Saturday afternoon, is 15 percent contained as of Sunday night, Wagner told reporters Sunday night.
The fire forced more than 2,900 residents from their homes in a mandatory evacuation area that included Jamestown and communities to the east. As of Sunday night, 26 homes had been destroyed by the fire with most on the east side of the fire, Wagner said. The county's Office of Emergency Management is producing a preliminary list of the homes destroyed.
Investigators with the Boulder County Sheriff's Office and the U.S. Forest Service Sunday night began probing the cause of the blaze, Wagner said.
At one point Saturday the evacuations stretched to the edge of Longmont at U.S. 36 and Nelson Road and to the north as far U.S. 36 and Colo. 66. By Sunday morning, the evacuation order was lifted for areas east of U.S. 36, but emergency officials shortly before 8 p.m. Saturday advised Lyons residents, including those on Apple Valley Road up to U.S. 36, to be prepared to evacuate in case the fire behavior changes Sunday.
The fire is the largest in Boulder County history by acreage, Mike Wagner stated in an earlier briefing shortly after 12:30 p.m. Sunday.
The cooler weather was welcome on Sunday but the cloud cover, however, prevented the launch of an aerial attack until Sunday evening, Wagner said.
Planes will attack the fire as soon as the weather allows, Wagner said. In the meantime, the priority for firefighters on the ground will be building a direct fireline to contain the blaze's perimeter, he said, adding that COVID-19 safety protocols add a whole other dimension to doing so.
About 250 firefighters are on the ground and more are on order today, including a federal Type 2 team that should be arriving this afternoon, Wagner said.
One firefighter sustained minor injuries Saturday, but otherwise, no one has been hurt by the fire and no one in the evacuation zone is unaccounted for, Wagner said. There are about 1,600 homes in the mandatory evacuation zone, according to Wagner.
He added that officials know how important that information is to the community and updates will be posted as soon as they are available on the Boulder County OEM website and to Facebook and Twitter.
Wagner urged people to be patient as they waited for updates and to resist the temptation to hike into the fire area to try and see for themselves, as people in the area could hinder firefighting efforts, including an aerial attack.
It is still too early to determine the cause of the fire, but Wagner on Saturday said lightning strike indicators did not point to it being weather-related.
An evacuation center was established Saturday at Boulder County's North Broadway Complex at Broadway and Iris in Boulder (3460 N. Broadway). By 9 p.m., the evacuation center had been closed for the night. It will reopen at 9 a.m. Sunday, according to an OEM tweet.
Livestock was being sheltered Saturday at the Boulder County Fairgrounds, 9595 Nelson Road. In his briefing on Sunday afternoon, Wagner said as many as 450 horses were being sheltered at the fairgrounds but that number decreased after the evacuation order was lifted for areas east of U.S. 36.
Pets can go with their owners to the evacuation point at Iris and Broadway or to the Boulder Valley Humane Society, 2323 55th St., Boulder, or the Longmont Humane Society, according to the OEM. The Longmont Humane Society in a Facebook post at 11:34 a.m. Sunday stated it will continue to take in cats, dogs and small mammals and asked people to call 303-772-1232 prior to arriving to confirm a space for their pets. "If you cannot reach us by phone, please come directly to our facility at 9595 Nelson Road in Longmont. We will be open until 6 p.m. tonight," the post stated.
A call center was opened for non-emergency questions about the fire, 303-413-7730, and the OEM asked people to only call 911 with an emergency. The information line will be open from 8 a.m. to 8 p.m. Sunday.
Longmont Public Safety also asked residents not to call the Longmont Communications Center for updates but to visit the OEM website, or follow it on Twitter @BoulderOEM and Facebook. The OEM asked that people not visit the evacuation center in Boulder to volunteer or donate supplies.
A form was created on the OEM website for those who wish to volunteer or donate.
North Foothills Highway between Boulder and Lyons, including access off all feeder roads, was closed Saturday night, as was Colo. 7 between the west end of Lyons and the Peak to Peak Highway, according to the OEM. A number of other road closures were in place. As of 9:13 a.m. Sunday, they were:
Olde Stage at Lee Hill Drive
Lee Hill Drive at Lefthand Canyon Drive
Broadway at U.S. 36
Neva Road at U.S. 36
Nelson Road at U.S. 36
St. Vrain at U.S. 36
Hygiene Road at U.S. 36
Overland Road at County Road 87
Overland Road at Peak To Peak Highway (Colo. 72)
Lefthand Canyon Drive at James Canyon Drive
Peak To Peak Highway (Colo. 72) at Colo. 7
South St. Vrain at Old South St. Vrain
Lefthand Canyon Drive at U.S. 36
U.S. 36 at Colo. 66
Hall Ranch, Heil Valley Ranch, Lagerman Agricultural Preserve, Pella Crossing and the Anne U. White Trail are closed, according to Boulder County Parks and Open Space. Button Rock Preserve also will be closed through Sunday, the city of Longmont announced Saturday night.
Portions of the Roosevelt National Forest also are closed. A map of the closed area is available here.
Xcel Energy in an email sent at 11 a.m. Sunday stated 465 electric customers are out of service in the Jamestown and Riverside areas and that electric service to Raymond/Riverside was purposely interrupted to ensure the lines do not pose any danger to firefighters. Xcel stated it has not found any damage to its assets, but COVID-19 is limiting its direct access to the fire command center and coordination is being done by email and phone.
Level 2 fire restrictions, which ban fires, camp stove use, fireworks and recreational shooting, is in effect countywide and Wagner said officials have been concerned about fire risk because of dry conditions and firefighting resources being stretched thin by not only the Cameron Peak fire burning in Larimer County, but also by wildfires across the west.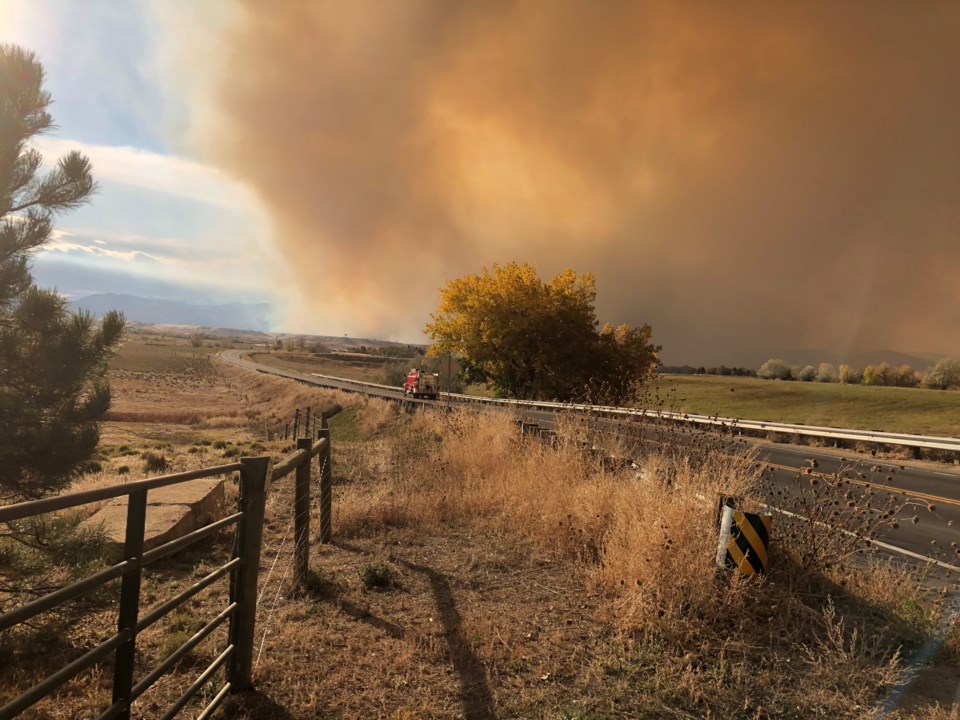 Smoke from the CalWood fire visible from Longmont Saturday. (Photo by Macie May)