NEWS RELEASE
COLORADO STATE PATROL
*************************
A Colorado State Patrol vehicle sustained moderate damage when a company box truck driver, based out of Colorado Springs, failed to properly hold his lane position and struck the cruiser on the driver's side as it was traveling in the right lane.
At 7:10 a.m. on Tuesday, Jan. 31, a box truck traveling westbound on Meadows Parkway (Highway 85) was in the center lane when the driver veered to the right sideswiping a vehicle traveling in the same direction one lane to the right. The vehicle was a Colorado State Trooper going to work in an unmarked cruiser.
While both vehicles were estimated to only be driving at 10 mph at the time of impact, moderate damage occurred to the cruiser when the box truck temporarily hooked onto the car and then separated. Fortunately, both the trooper and other driver were not injured in the crash. The other driver was cited for careless driving due to being distracted.
Lane violations can be switching lanes in an unsafe manner, driving too close and subsequently crossing over lane boundary lines.
"We find a variety of reasons people fail to drive in their designated lane, but some of the most common are driving under the influence of drugs or alcohol, driving aggressively or being distracted behind the wheel," stated Sgt. Troy Kessler, Colorado State Patrol. "In this case the driver wasn't paying attention to where he was headed. He was looking at his GPS because he was unfamiliar with the area and his truck moved into the adjacent lane. No road, weather, or other extenuating circumstance contributed to the crash."
Colorado State Troopers made over 12,650 proactive traffic stops for lane violations in 2022. Driving distracted has consistently been one of the top causal factors for serious injury and fatal crashes in Colorado for the last five years.
As a reminder, a driver's primary or "default" position in normal circumstances is to drive so that your vehicle is in the center of the lane with equal amounts of space on both sides.
Troopers continue to take a low tolerance approach to lane violations while launching a yearlong campaign called "Stay in Your Lane." This campaign is designed to remind people to control their lane position based on their current driving environment. This campaign also aims to bring attention to three of the most common and avoidable behaviors that contribute to lane violations – driving aggressively, driving distracted or driving while impaired.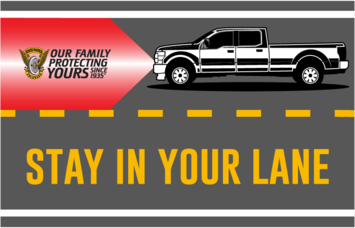 *************************