This content was originally published by the Longmont Observer and is licensed under a Creative Commons license.
Derick Hewlett is passionate about three things in life: fishing, playing music and giving back to his community. But when the fishing season starts, his passion for catching fish takes precedence over everything else.
When Hewlett isn't working, he is scouting for the perfect "honey" spot and casting a line.
"Fishing for me is not only about the fun and the gratification of catching, fishing also teaches me about life. Being in the water waiting for a bite, teaches me patience and perseverance. I might not catch anything on any given day, but I still keep going and I still keep trying, just like in life," says Hewlett
Hewlett is an Arkansan who moved to Longmont two and a half years ago. He has visited Colorado since he was a kid to see relatives. Eventually his grandfather, Mike Hogan, followed family to Colorado and moved to Longmont in the 1980s.
Hogan was a guitar player and singer-songwriter who was well know on the local music scene. After several years in Longmont, Hogan moved to Glenwood Springs where he opened for high profile artists, such as John Denver.
Hewlett and his grandfather Mike were always close. "I remember asking my granddad for a guitar so I could start learning how to play. When I was sixteen years old he sent me a 1973 Stratocaster electric guitar. I was hooked the minute I picked up that guitar."
Mike Hogan died a year after Derick moved to Longmont. He inherited all of his grandfather's musical instruments and four notebooks of songs his grandfather wrote.
A few months before Hewlett moved to Longmont, he spent the summer working for his uncle in Snowmass. Sometimes on the weekend, he would drive over to Longmont to visit a friend from his hometown. It was during one of his visits to Longmont that he decided it was now or never to change the trajectory of his life and he made the decision to move to Colorado.
Within a week after his return to Arkansas he had packed up his car and hit the highway back to Colorado to pursue new adventures and to fish in world class waters.
As soon as he arrived he started looking for job opportunities in Longmont. He found a job immediately working for the Meals on Wheels Program that operates out of the Longmont Senior Center. "Everything just fell into place when I made the decision to move to Longmont. I love living here because I like small town life and I love to fish. Longmont is a place where strangers still say hello when you pass them on the street, and it's a united community where people come together to make Longmont a great town to live," remarks Hewlett.
The grandiose beauty that surrounds Longmont, fishing in Colorado waters and even Hewlett's job are all factors that significantly enhance his happiness. "I was raised to revere my elders, to help those less fortunate than me and to give back to my community. My parents always told me, its not just about you."
Working for the Meals on Wheels program gives Hewlett the opportunity to help and serve customers and community members. It's a rewarding job for him and he enjoys meeting and getting to know all the folks who come in every week.
While waking up before dawn to go to work may not appeal to most, Hewlett is grateful for his 6 a.m. to 2 p.m. hours. As soon as he leaves work, he is driving to one of his favorite spots and fishing till dark.
"Recently I headed over to the St. Vrain in Lyons. I wasn't catching much, just a few small fish. I was standing in the river when a storm blew in. It started raining. But I could see clear skies behind me, and I decided to wait it out and keep fishing. I turned around at one point, and there was a deer standing on the river bank staring at me. And when I turned back around, a double rainbow had appeared so close to me I could have reached out and touched it. When the rain stopped a few minutes later, I caught the biggest fish of my day."
According to Hewlett, fishing is best when you don't have attachment to outcomes. With fishing, like life, you never know what the day holds for you. And it is often in those moments of surrender and contentment that the magic happens.
Hewlett grew up on a lake. He remembers fondly the first time his dad, Bill, and his dad's best friend, Leonard, took him out fishing when he was five-years old. "We were in my dad's small fishing boat. It only had 2 seats, so I sat on the cooler and watched and learned."
While Hewlett's grandfather taught him about music it was his father who taught him all about fishing. His dad taught him how to catch trout with a spin cast rod. By the time Derick was seven years old he could steadily handle a rod and reel and catch his own fish without any help from anyone. And when he was eleven, his dad let him take the boat out alone for the first time. He was only permitted to fish in a large cove not far from the lake shore.
"I remember him telling me to take the .22 with me in case I had to shoot some snakes to get past them to where the fish were swimming. Sure enough when I got to the cove there was a pile of water moccasins in my way." Hewlett's primal instincts kicked right in. His first solo trip out in the boat as an eleven-year old boy was a life changing event.
Hewlett, who is a quarter Cherokee, describes it as the first time he felt like an authentic adventurer and explorer living off the land like his ancestors, as he courageously cleared the water moccasins out of his path so he could move to where the fish were and catch his supper. It was an adrenaline high he never forgot, and the moment he realized that fishing was going to be a way of life for him.
Hewlett and his dad were fishing buddies for years. He misses fishing with him now that they are 800 miles apart. Recently he sent photos to his dad of some big trout he had just caught. His father texted back, "the student has become the teacher."
After all these years, Hewlett still prefers spin fishing. His dad's best friend, Leonard, told Hewlett once that there are two kinds of people who fish. Those who fish to fish, and those who fish to catch. Hewlett is a fisherman who loves to catch.
Like his father before him, Hewlett has passed on his knowledge and passion for fishing to his daughter, Gigi, who is eight years old and can handle a rod and reel and independently wrangle in a fish. Hewlett is also passing onto daughter, his reverence for Mother Earth. Even as a kid out fishing he was always aware of the trash he encountered in nature and it saddened and disturbed him. So he just started picking it up and discarding it.
Derick keeps trash bags in his car and his vest at all times so he can pick up litter when he is out fishing, and out and about in town. He is often filling up trash bags with beer bottles, cigarette butts, a lone shoe or boot, food wrappers and containers, plastic bags and general trash that gets blown around and deposited into the rivers, lakes and on the land.
Litter is everybody's problem. No matter how big or small, litter negatively impacts the environment for years. Plastic bags in our waterways can asphyxiate fish. Cigarette butts thrown to the ground take twelve years to decompose, while leaching toxic substances into our land and water. Animals who eat trash can get sick or even die. Except rats. They are nearly immortal, carry many types of diseases and love eating trash. Littering can even be dangerous. It can start fires and kill plants. And trash on the highways can even cause motor vehicle accidents and injuries.
Hewlett believes that as a resident, and as a fisherman, he has to do his part everyday to keep Longmont and Colorado beautiful. He thinks that people who fish need to do their part too by picking up trash in all the public and secretive places they fish.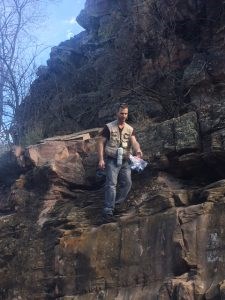 "If all of us in the fishing community just did a little bit everyday to clean up trash, not only where we fish, but where we live, work and play, we could help prevent trash from accumulating and have safe, pristine natural environments to enjoy," states Hewlett.
What's next for Derick Hewlett? He wants to launch his own business teaching spin fishing lessons, and taking folks on guided spin fishing trips. He would also like to learn how to fly fish.
Fly fishing is something he has been contemplating since he moved to Longmont. Hewlett has been out a few times with friends who are accomplished fly fishermen. He was intrigued with the gear, the finesse and the art of the sport.
However, he thinks it a goal for next year and says, "This fishing season, it's already prime time to catch them. I don't want to spend my time learning to fly fish when I can catch them the way I already know." Spoken like a tried-and-true spinning rod fisherman.
Hewlett's recommended fishing spots:
The St. Vain at Button Rock Preserve. Lyons
Lavern M. Johnson Park. Lyons (Take a left at "Welcome to Lyons" sign)
Ralph Stanley Reservoir at Button Rock Preserve, Lyons.
For more information on purchasing required fishing licenses and permits please visit:
https://www.fishinglicense.org/colorado
https://www.longmontcolorado.govttps:/departments/departments-n-z/parks-open-space-and-trails/fishing-information/ralph-price-reservoir-fishing-program
Written by Shay Tibbits- Shay is a new volunteer for the Longmont Observer. She enjoys writing and attends the local writer's group at the Longmont Public Library. Currently, she is exploring what kind of articles she would like to write before deciding if she would like to become a columnist.