This content was originally published by the Longmont Observer and is licensed under a Creative Commons license.
Stay-at-Home Public Health Orders come into operation for Boulder, Jefferson, Adams, Arapahoe and Douglas counties at 8:00 a.m. Thursday, March 26, and the Longmont City Council is holding an Emergency Work Session on Wednesday, March 25 which may well introduce additional measures.  While existing local, state, and national guidelines cover all citizens, we are all aware that additional steps need to be taken to protect the more vulnerable among us, particularly seniors.
The Longmont Meals on Wheels service, which operates out of the Senior Center on Long Peaks Avenue, is at the forefront of caring for seniors during the current emergency.  Instead of the usual daily delivery, beginning this week, Meals on Wheels will deliver a week's worth of food but only one day per week. Most of all meals will be frozen for clients to heat up as they need throughout the week. Volunteers who are well and fully trained on social distancing norms and rules will deliver. Perhaps of equal importance, on the days that there is no delivery, agency staff will call clients for a tele-wellness check instead of the regular face-to-face wellness check.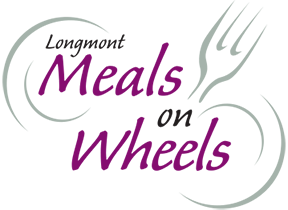 And how can clients be sure that current social distancing and contagion requirements are being followed?  Kitchen staff will be preparing the bulk of the week's meals in just two days with local restaurants helping.
This week Texas Roadhouse, Which Wich and Fuzzy's Tacos will prepare meals for Meals on Wheels as well. Next week Texas Roadhouse, Parry's Pizza, Pinocchio's and Georgia Boys will also help prepare some of the meals.
Longmont Meals on Wheels is working to find other restaurants who can prepare several hundred meals on a regular basis. They are asking that these restaurants charge as low as they can without hurting themselves, but Meals on Wheels is budgeting that it will double their food costs. They believe that partnering with restaurants now not only helps their social distancing efforts today but prepares partnerships should there be a quarantine in the Meals on Wheels kitchen in the future.
Starting March 30th, Meals on Wheels will only deliver on Mondays and will rotate drivers each week among all their drivers, not just Monday drivers. If you are healthy and comfortable and would like to volunteer to do a route, please email Meghan here.
While Meals on Wheels is caring for the bodily health of seniors, the Boulder County Area Agency on Aging has some advice and guidelines for keeping the mind and soul healthy during trying times. The Agency knows that the outbreak of COVID-19 may be especially stressful for older people, but successfully coping with stress will make both individuals and the community stronger.
Of course, everyone reacts differently to stressful situations and fear and anxiety about a disease can be overwhelming but being aware of this and following some simple practices can help seniors (and others) cope.  They suggest the following:
Take breaks from watching, reading, or listening to news stories, including social media. Hearing about the pandemic repeatedly can be upsetting.
Take care of your body. Take deep breaths, stretch, or meditate. Try to eat healthy, well-balanced meals, exercise regularly, get plenty of sleep, and avoid alcohol and drugs.
Make time to unwind. Try to do some other activities you enjoy.
Connect with others. Talk with people you trust about your concerns and how you are feeling.
The Agency also recommends that those caring for seniors either at home or in a residential environment follow the guidelines issued by the Boulder County Communicable Disease and Emergency Management Division.
While emergency situations such as this bring out the best in so many people, others are not so agreeable. The Longmont Public Safety Division has issued warnings about COVID-19 scams that can particularly affect vulnerable seniors.
Here are a number of things that scammers are doing:
- Calling, texting, sending emails and creating social media posts to entice you to buy a bogus testing kit for a fake product or to offer vaccinations.
- Setting up fake websites to sell unproven treatments or to offer cleaning and disinfecting products at exorbitant prices.
- Creating fake investment opportunities.
- Setting up fake efforts to take donations for victims in hard-hit areas.
As always, never provide personal information over the phone for a call that you did not initiate. If you receive a call from a business that you did not call but have a concern that this may involve you, hang up and check the phone number with documents you have for that company. Call them directly. Scammers may have devices that make the call appear it is coming from a legitimate source. And if you are a caregiver for a vulnerable person, make sure that they are aware of possible scams like these that are requesting money, in whatever amount.
These are troubling times, but all of us, especially seniors, should know that there are many people ready to help and advise.  A good place to start is by visiting www.boco.org/COVID-19 for more information around COVID-19.