This content was originally published by the Longmont Observer and is licensed under a Creative Commons license.
The photo below, taken by reddit user 1Davide, showing a single windmill blade passing through Longmont on Friday, August 2. It was mounted on two train cars with a sliding 'sling' that allowed the train to take turns without snapping the blade.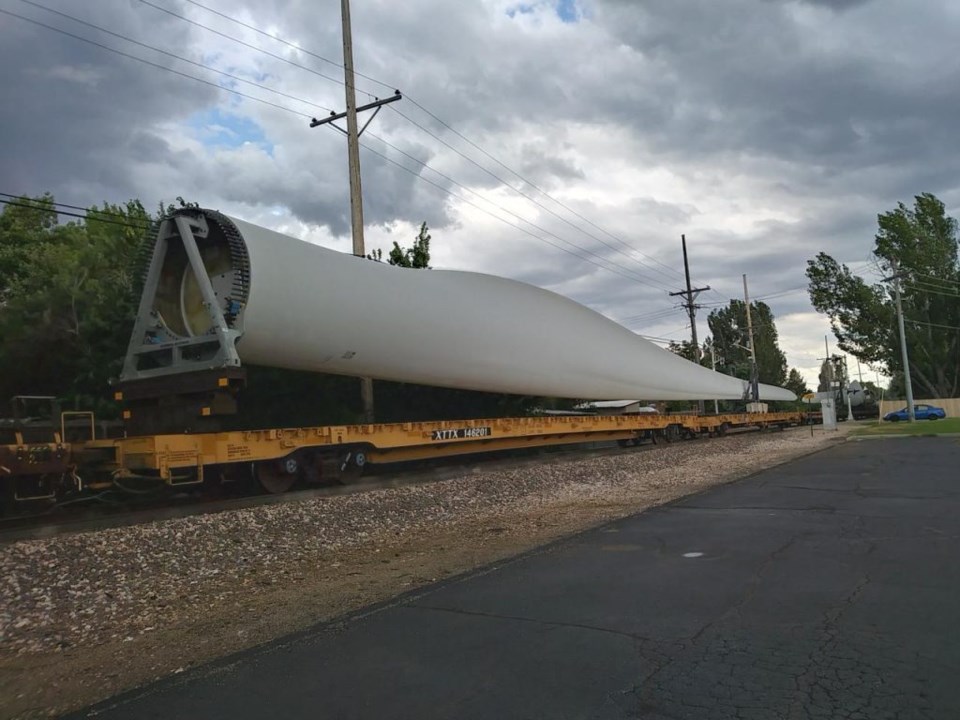 Colorado is one of the leading states for wind power. Across the central and eastern plains, nearly 2,000 wind turbines operate contributing to the 17% of the state's energy produced by wind, one of the highest percentages in the country.
Colorado has an aggressive renewable portfolio standard that requires 30% of the state's electricity come from renewable sources by 2020.
Longmont's goals are even higher with a target of using non-carbon sources for its energy of 50% by 2022 and 100% of its energy from renewable sources by 2030.
Longmont's electricity comes from the Platte River Power Authority, which is owned by Longmont, Estes Park, Fort Collins, and Loveland and has a Zero Carbon Model that lays out how it will reach this 100% goal, including use of wind power, by 2030.
The Longmont City Council also put out a resolution in 2018 supporting the 100% number by 2030.
Vestas and Xcel Energy are working to raise that percentage and announced agreements in recent years to build large wind farms in Texas, New Mexico, and Colorado.
Vestas North America builds 295-foot towers and has a facility in Southern Colorado that builds more towers than any other facility in the world. It also has two turbine blade manufacturing operations based in Brighton and Windsor as well as a nacelle plant in Brighton. Across the four Colorado facilities, there are approximately 4,000 employees working in various roles from welding to engineering to data and systems specialists. Vestas creates these massive windmill parts and ships them across the North American continent from its plants in our state.