This content was originally published by the Longmont Observer and is licensed under a Creative Commons license.
"Longmont Power & Communications customers enjoy some of the most reliable electric service in the country, with far fewer and shorter outages than the vast majority of utilities, according to the American Public Power Association (APPA). The achievement places LPC in the top quartile of electric utilities nationwide," states a press release from LPC.
Established in 1912, Longmont Power & Communications has been a community-owned, not-for-profit electric and internet services utility. The Longmont City Council directs its operation.
"LPC was one of 128 public power utilities nationwide to receive a certificate of excellence from the APPA. Out of the more than 2,000 not-for-profit community-owned utilities that make up the APPA, only about 6% received this recognition," announces the press release.
"This recognition helps demonstrate public power's commitment to reliable electrical service," said Michael Hyland, APPA senior vice president of engineering services.
After an outage, LPC crews average less than 38 minutes to restore power. This time is compared with public power utilities at 62 minutes and 129 minutes for a national average.
LPC also works to keep the number of outages customers experience to one every 19 months, however some customers have never experienced an outage.
"For the utilities surveyed by the APPA, the average was one outage every 14 months; the national average was about one outage every seven months," is stated in the press release.
"Reliable power is vital to a successful community," LPC general manager Tom Roiniotis said. "For over 100 years, we've focused on reliability and affordability so that our customers – who are also our owners – can count on us at work, at home, and at play."
"The power behind that reliable and affordable service has increasingly come from non-carbon sources. At present, about one-third of Longmont's electricity comes from wind, water, and sun, and that's expected to reach 48% by 2020 when another 150 megawatts of wind is planned to come online. In addition, Platte River Power Authority (LPC's wholesale provider) is considering a further 75 megawatts of wind and taking bids to add 20 megawatts of solar energy as well. This also supports Longmont's sustainability plan, which encourages the increased use of renewable energy, and the City's goal of reaching 100% renewable energy by 2030," is included in the press release.
NextLight, LPC's community-owned fiber-optic internet service, has also experienced success after seeing a 99.999% uptime in 2017.
To learn more, visit www.longmontcolorado.gov/lpc.
Open Door Brewing to Release New Beer: Coquettish Cryomancer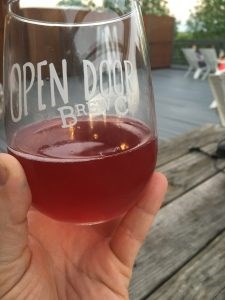 Open Door Brewing is releasing their long awaited new beer: Coquettish Cryomancer tonight.
Billy McDivitt was hoping to release this beer in March when Open Door Brewing celebrated their first anniversary, however it was not perfect so he decided it was best to wait.
The Couesttish Cryomancer is a "sour aged in barrels with blueberry and key lime," states McDivitt. It is a 8% ABV.
Open Door Brewing Company's Galactic Headquarters are located at 2030 Ionosphere St. Unit G, Longmont, CO 80504.
Draft Staff Recommendation for E-bikes on Boulder County Trails Now Available
The following is a news release issued by Boulder County Parks & Open Space and is published by the Longmont Observer as a public service.
Boulder County, Colo. - Boulder County staff released a draft recommendation for e-bikes on county open space and regional trails. The recommendation would allow e-bikes on all regional trails and certain trails on the plains. E-bikes would continue to be prohibited on all other trails. The recommendation can be viewed at www.BoulderCounty.org/e-bikes.
Staff will presented results of the Phase I e-bike public engagement surveys and the drafted staff recommendation for e-bikes on county open space and regional trails to the Parks & Open Space Advisory Committee (POSAC) on Thursday, May 24. This item is for information and was not scheduled for a public hearing.
On Tuesday, June 12, the public is invited to demo e-bikes.
What: E-bike demo
When: Tuesday, June 12, 4-5 p.m.
Where: Lagerman Agricultural Preserve, Longmont
Details: An open house will follow from 5-7 p.m at
the Ron Stewart Parks & Open Space Building.
Staff will make a brief presentation at 5:30 p.m.
Phase I public engagement started in January and ended on Feb. 28. Phase II Public Engagement is now open through June 17. Comments can be submitted at www.BoulderCounty.org/e-bikes.
For more information, please visit E-bikes on Open Space or contact Tina Nielsen, Special Projects Manager at 303-678-6279 or tnielsen@bouldercounty.org.
Intercambio and the Longmont Public Library Collaborate to Share Stories of Friendship and Success through New Photo Exhibit
Intercambio and the Longmont Public Library are partnering for a special photography exhibition. The exhibition highlights the "lasting friendships that have developed as a result of its English education work in Boulder County," states a press release by Intercambio.
The photography will be displayed during the month of June at the Longmont Public Library, located at 409 4th Ave, during normal library hours.
"The photo exhibit is a firsthand look at the long-lasting human-to-human connections that are built among people who might otherwise not have occasion to get to know one another.
English education is the vehicle for sparking these connections, but the connections go much deeper than language learning; they are a true bi-directional cultural exchange," is stated in the press release.
Many of these relationships were formed through Conversation Team activities hosted by Intercambio. "These structured social events allow community members to meet someone new while providing conversation practice for adult English language learners," is mentioned in the press release.
For more information on Intercambio or their Conversation Team activities visit: Signup.com/go/HviygLp. Conversation Team activities require registration and fill up quickly.
CocoMichelle Salon & Spa Throws Farewell Event for Employee
Nancy, an employee at CocoMichelle for the last 23 months, is leaving CocoMichelle.
The staff at CocoMichelle want to celebrate Nancy by hosting a farewell event tonight from 5:30-7 p.m.
Snacks and drinks will be provided along with a 23% off discount on everything. The 23% discount is in honor the the 23 months that Nancy has been with the company.
CocoMichelle Salon and Spa is located 717 Emery Street, Longmont. For more information please call 303.485.5700.