The Latino Chamber of Commerce of Boulder County (LCC) held its new board training on Saturday, January 28, 2023.
This year, we are pleased to welcome a Board of Directors with diverse backgrounds and experiences.
Jonathan Galindo - Chair of the Board of Directors at the Latino Chamber and Program Manager at EforAll Longmont.
Jonathan works at EforAll, a business accelerator that offers programs in both English and Spanish to Longmont's diverse entrepreneurial community. With his experience and knowledge of serving the Hispanic and Latino communities, he hopes to continue the Chamber's goal of assisting underrepresented businesses in the community in gaining access to connections, capital, and other opportunities.
Linda Bueno- Vice Chair of the Board of Directors at the Latino Chamber and Owner of Dulceria BomBon in Longmont Co.
Linda Bueno is the founder of a party supplies and events company that provides authentic Mexican candy, sweets, piñatas, homemade cakes, and full-service theme party options to the local community. Through her continued leadership and work as a cultural broker, Linda hopes to further the Latino Chamber's goal of helping small businesses find success.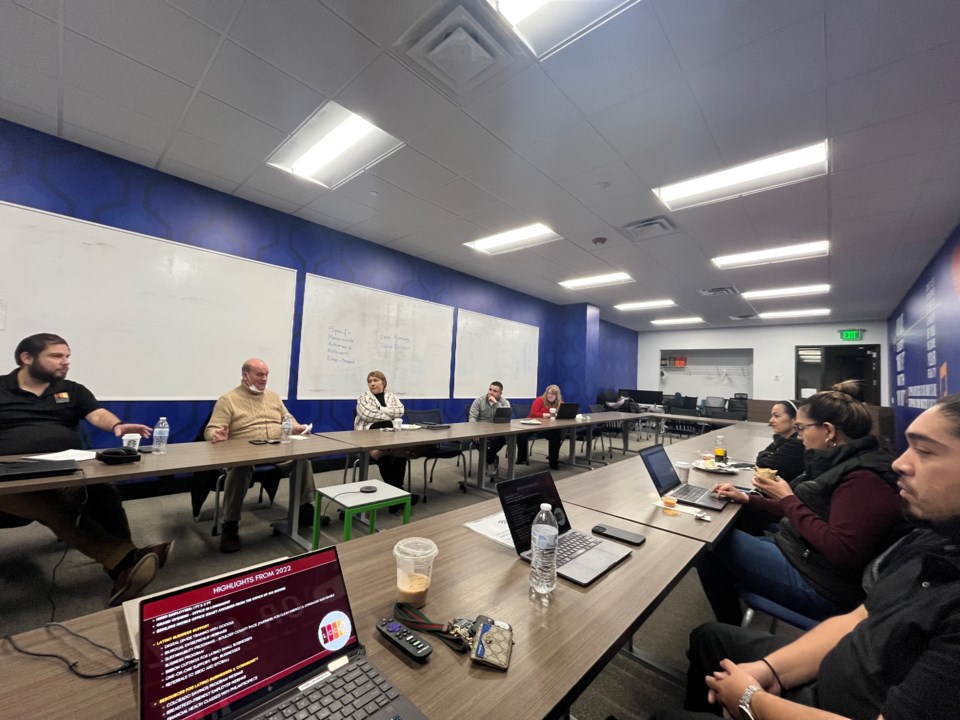 The LCC also welcomes five new members to the Board of Directors:
Blanca Rojas - Board Member and owner of Blanca's Tax Services LLC.
David Lopez - Board Member and Co-founder & CEO at Gritly
Eric Ruiz - Board Member and Loan Officer at Bank of England Mortgage
Philip Inzerillo - Board Member and Community & Investor Relations Specialist at Longmont Economic Development Partnership
Gabriel Lopez - Board Member and Coordinator of Equity and Engagement at Boulder Country School
Returning Board Members:
Kari Palazzari - Secretary to the Board of Directors and Executive Director at Studio Arts Boulder
Jaime Moreno - Treasurer to the Board of Directors and Founder and CEO of Frontera Group
Norma King - Board Member and Bilingual Business Sustainability Advisor at Boulder County
Jim Vernon - Board Member and Academic Dean for Business and Technology at Aims Community College
Jorge Navarrete - Board Member and Founder of BC Home Services
Esteban Martinez- Board Member and Business Owner at Martinez Law, LLC
The LCC Board of Directors and staff are excited to continue to support the state's Hispanic and Latino communities.
Through a variety of events, webinars, and key partnerships, the LCC will continue to assist Hispanic and Latino-owned businesses by providing them information, helping them navigate resources, and by providing one-on-one consulting services.
The LCC also plans to continue its collaboration with Boulder County, state partners, and the community to bridge the digital divide and raise awareness about federal laws and local ordinances that affect Hispanic and Latino-owned businesses in Colorado.
"I am extremely grateful for the opportunity to serve as Chair of the LCC," Jonathan Galindo says. "The Board of Directors and I are excited to continue providing the assistance and connectivity that our community needs in order to thrive."
ABOUT THE LATINO CHAMBER OF COMMERCE OF BOULDER COUNTY
At LCC, our vision is to support and advance the interests of all Latino-owned businesses. We are an identity-based organization made up of entrepreneurs, civic leaders, and members from a range of professions while promoting and advancing the growth of Latino/a/x businesses. Whether you are a new or existing business, the Chamber can assist you in expanding your reach and growth In the Community.
For more information, please contact Astrid Villalobos at [email protected] or visit them online here.