It's the Longmont Chamber's longest running event, and for very good reason. Unity in the Community brings together residents, business owners, non-profits and elected officials in a fun, interactive and positive way.
"This is a free, public festival," explains Karen Stallard, Membership Director of the Longmont Area Chamber of Commerce. "The event has grown substantially over the last 30 years. In 2019 we decided to move Unity from the convention center to the streets of Longmont. That changed the whole atmosphere of the event and created a really welcoming showcase of what makes this community so special. We had to postpone the event in 2020 and 2021, but now that it's coming back, we can feel the excitement and energy from the community."
The August 26 event involves family friendly activities, food, a beer garden and plenty of ways to engage.
The Longmont Living Room offers a comfortable outdoor parlor for conversations with local, state and federally elected officials. Local funk band The Pamlico Sound is on hand to close out the event.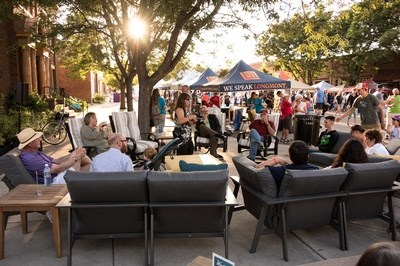 Stallard says, "Chambers have a reputation for being stuffy and corporate. We challenge that image. Unity in the Community is not like a boring business meeting. This is a celebration! We have a recycled regatta, world winning robots, a climbing wall and innovation lab – there is a lot to take in and enjoy. Everything showcases all the opportunity, connections and avenues available in Longmont. This is a fun and relaxed way for everyone from all walks of life and aspects of business and politics to get to know each other. It helps everyone see how we function as a community – together."
The public can also engage with local non-profits in a particularly unique way.
Five non-profits were selected to receive a grant from the Unity Funds the Community non-profit grant program, created in partnership with the Longmont Community Foundation and High Plains Bank. These non-profits will each receive a $1,000 grant, but it doesn't stop there.
Funds raised through drink token sales at Unity in the Community will be added to the grants, and the public gets to help decide how much of those additional funds each non-profit will receive. How will they vote? Well, the surprise won't be spoiled here but it involves a ping pong ball and a lot of fun for the voters!
Unity in the Community's presenting sponsor is High Plains Bank, an institution focused on creating thriving communities. See the other sponsors, along with more event details, online here.
Communities are at their strongest when they pull together as a team. So, come out to the festival and meet your teammates on August 26.