This content was originally published by the Longmont Observer and is licensed under a Creative Commons license.
Once every 400 years or so, we'll experience a total solar eclipse in a path of 'totality' about 100 miles wide.  The next one in the US is August 21st, 2017.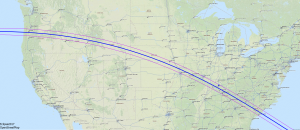 Mr. Baron speaks, at the Longmont Public Library on May 12th, 2017, about the life changing experience of a total eclipse and how it changed him into an eclipse chasing.
https://youtu.be/tLqCcIrwSvY
David Baron is an award-winning author, journalist, and broadcaster. A former science correspondent for NPR and former science editor for PRI's The World, he has traveled to every continent and more than 50 countries for work and pleasure. Baron is also an umbraphile—an eclipse chaser—who has witnessed five total solar eclipses. He lives in Boulder, Colorado.