This content was originally published by the Longmont Observer and is licensed under a Creative Commons license.
It's time to garden, well not really, but soon.
Established in 1998, Growing Gardens is a Boulder-based non-profit organization. According to their website, their mission is, "to enrich the lives of our community through sustainable urban agriculture. Growing Gardens envisions people experiencing a direct and deep connection with plants, the land and each other."
There are three community gardens currently in Longmont (refer to the map below). Boulder County has 11 locations including more that 535 individual community gardens, all of which are managed by Growing Gardens. The community gardening program people have the opportunity to grow their own fresh organic produce. Resident garden leaders assist gardeners by serving as resources as growers navigate the Colorado growing season.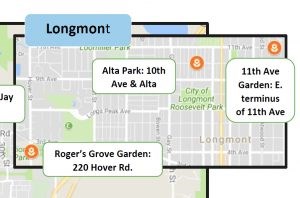 Mid-February marks the time of year when new plots are leased. Existing gardeners who wanted to renew their plots did so in January. New gardeners on the wait-list are contacted mid-February.
The costs vary, but a 10X20 foot plot is less than $70.00, there are also reduced price options for those who qualify. This includes water and hand tools - you have to provide the sweat and motivation. To put your name on the wait-list visit the Growing Gardens Wait-list.
In addition to offering plots for gardeners, Growing Gardens has established The Food Project. The 1-acre Food Project Farm in Longmont (at the Ed & Ruth Lehman YMCA at 950 Lashley  St., Longmont) is the result of a partnership between Growing Gardens and the YMCA of Boulder Valley. It was established to provide produce donations, gardening and nutrition-based education to the surrounding neighborhood.
Among other accomplishments in 2017, Growing Gardens grew, harvested, and donated 10,297 pounds of fresh organic produce, including 2,985 pounds of greens, serving 8,029 individuals.
To learn more about The Food Project and Growing Gardens visit their website http://www.growinggardens.org/.