The freshly painted mural under Ninth Avenue and Alpine Street radiates with vibrant colors and engaging designs, a tangible testament to the power of community creativity which saw dozens of residents, friends, family and neighbors joining forces to turn the obscured area into a work of art.
In a vibrant display of community spirit and artistic collaboration, residents of Longmont joined artist Pat Milbery in a five-day community mural project. This event, organized by the Art in Public Places, or AIPP, breathed new life into Milbery's original 2018 painting on the exterior of the tunnel at Ninth Avenue and Alpine Street.
Continuing the artistic journey, the community didn't just touch up the old masterpiece but extended the narrative of color and creativity through both sides of the walkway tunnel, transforming it into a veritable canvas of community expression.
Milbery, who steered the artistic vision and execution, guided the participating community members, regardless of their painting experience. The community embraced the opportunity to not only witness art in progress but actively participate in its creation, breathing new life and color into their shared space.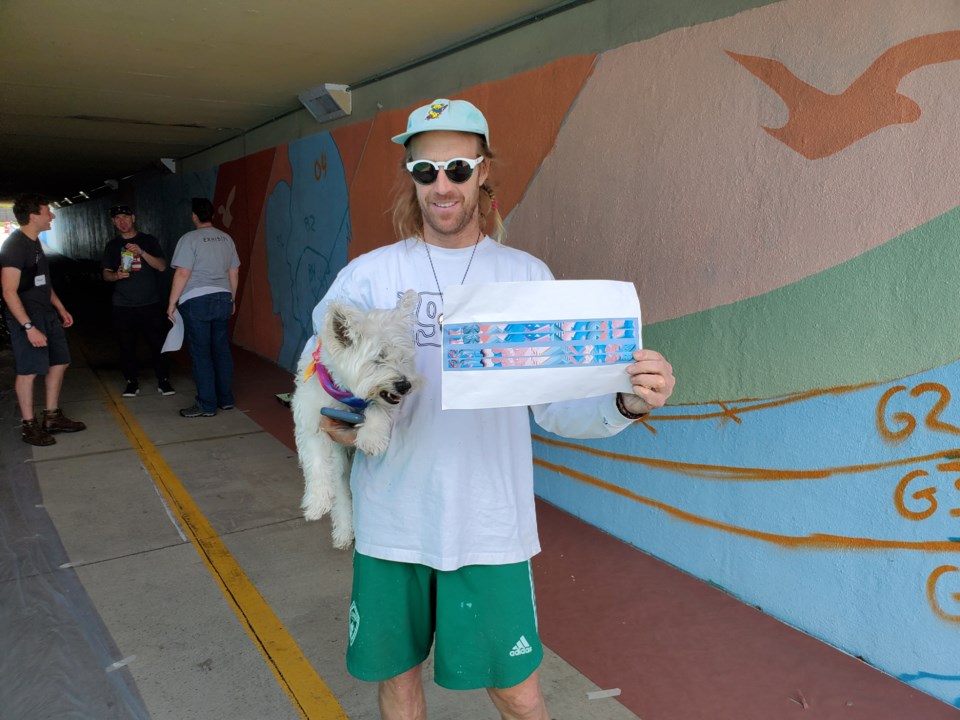 Accompanied by his 14-and-a-half-year-old dog Tora, who has been with him on art projects across the country, Milbery worked on the project while trying to be mindful of the space.
Detailed planning and instruction enabled community members to contribute to the project effectively.
"Everything needs to be sketched out. We went through and sketched out the design, making sure that everyone understands what lines are what and where to paint. And if they make a mistake, it's not the end of the world," Milbery said.
This mural project was not just about creating a beautiful piece of art, but also about fostering community spirit, inspiring participants to try something new and reminding everyone that making mistakes is a natural part of the creative process and life in general.
Emphasizing the inclusive nature of community-based art projects, Milbery shared his belief that art can unite people, regardless of their artistic abilities.
"You don't have to be a master artist to come down here and help out. That's what's beautiful about community-based art projects, everyone can be a part of it and also feel a part of it," Milbery said.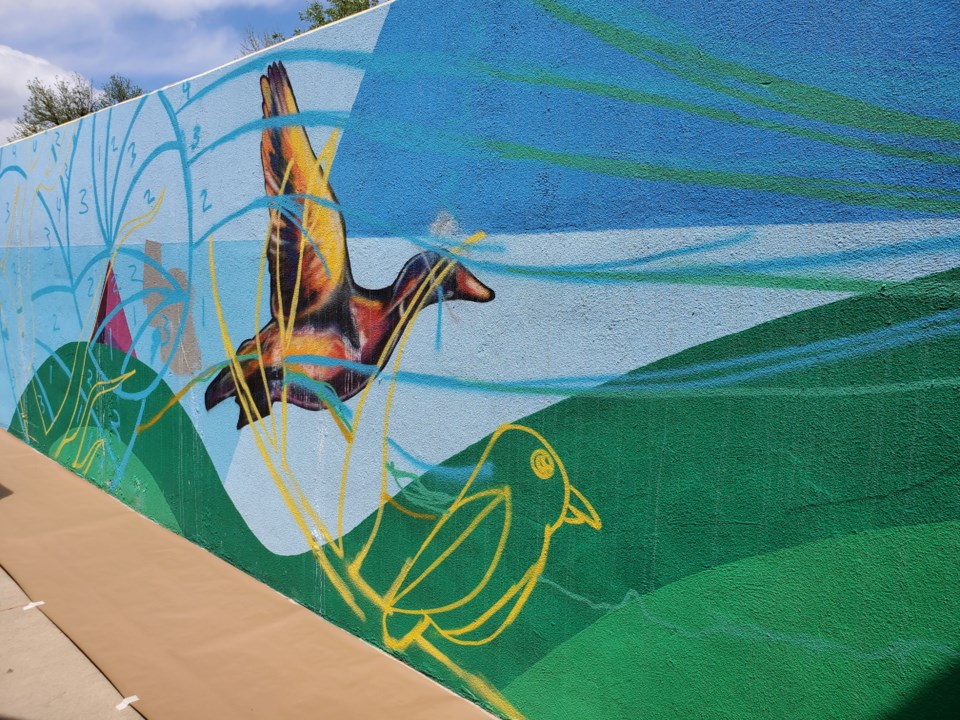 Angela Brill, an AIPP administrator, underscored the important role public art programs play in Longmont, both as creative outlets and as bridges to other aspects of community life. Public art, according to Brill, isn't merely an aesthetic addition to the cityscape; it's a tool for community engagement, mental health and a medium to highlight the broader socio-environmental initiatives in Longmont.
"Good public art programs serve as a connector to some of the other things that we're doing in the community," Brill said. "It's a very therapeutic experience. It helps people connect, express and unwind."
As a display of community spirit and shared creativity, this mural project attracted residents from all walks of life. Sage Alexander, a Front Range Community College at Boulder County graduate, and local painter eagerly joined the community of painters.
Alexander cherishes these community painting events as they offer a break from daily routine, enable engagement with new people and serve as valuable platforms for developing connections within the community.
"This is really special, I feel proud to be a part of that," Alexander said. "If you make a mistake, or if there's something you don't like, you can just paint over it once it dries."
Providing a space where people can express their creativity, connect with others and contribute to beautifying their local environment, events like this mural project prove that art is more than just a medium for individual expression, it's also a powerful tool for community engagement and growth.