This content was originally published by the Longmont Observer and is licensed under a Creative Commons license.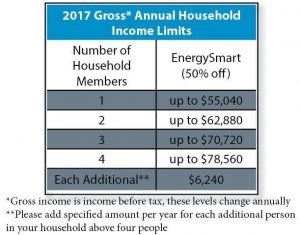 Boulder County works to make sustainability accessible to all which is why Boulder County's EnergySmart offers home energy efficiency upgrades to income qualified homeowners in Boulder County at a greatly reduced cost - 50% off. Upgrades may include insulation, air sealing, furnace replacement, water heater replacement and more.
To see if you qualify, take a look at the income qualifications table or visit http://www.energysmartyes.com/141-income... to learn more. There is limited funding for this service and homes are accepted on a first come, first served basis. Call 303.544.1000 today to get started!
Above these income limits? EnergySmart offers free home energy advising and energy efficiency rebates to all Boulder County residents.
If you'd like more information, contact Brad Smith, from Boulder County, at sustainability@bouldercounty.org
The Longmont Observer regularly prints or reprints press releases or announcements from local government and non-profits that are of interest to Longmont residents.