This content was originally published by the Longmont Observer and is licensed under a Creative Commons license.
Johnny Depp used a guitar strap and Alice Cooper wore a belt on stage during their recent Hollywood Vampires tour in May. Master leather artist, Dustyn Bustos of Longmont, fashioned both art pieces with a well-versed freehand.
Bustos' creations have found their way into more than just Longmont homes but to places around the world such as Germany, China, Australia, and now rock stars of the vampiric variety in Hollywood. His leather pieces exhibit a dark and deviating impression with a textual depth of detail and realism.
He got his start in leather as a teenager in a furniture store where he began working with leather artistically in his free time, experimenting with unused scraps from around the upholstery shop. This passion for working with leather grew naturally with his love for motorcycles and the riding culture. He's not as involved with the riding culture these days, but it's certainly where his artistic endeavors got too large for a 9-5 paycheck.
Dustyn is self-taught and developed techniques in a non-traditional manner which is much in line with his eccentric, rebellious personality. Down in his workshop, he works with specialized tools and used machinery, including a hundred-year-old Singer sewing machine, to create powerful yet practical creations.
"I was dead, dead, dead for a lot of years. Then all of a sudden, I just did like one project and it got out into certain communities. Next thing you know just everybody started knocking my door down. I started taking all the jobs because I was used to never being that busy," said Bustos.
"I just got the backlog done. It's been like three years now. One year I got booked up. One year I quit taking orders. The third year, I finished all those orders. Now I'm like, 'Okay, I need to just take less orders because it's only me.'"
After years of carving out that backlog, Bustos was itching for a new creative journey far from the daily grind of order after order. He was looking for something different, something exciting, and he found that impulsive creative spark in the music world with Hollywood Vampires, more specifically Alice Cooper and Johnny Depp.
"My dad was playing Billion Dollar Babies for me when I was eight," said Bustos. "The one thing I remembered was Johnny saying that Hunter [Thompson] always called him Colonel. He never called him Johnny. He said in an interview somewhere, he would call him up at like 2 a.m. and be like, 'Hey, Colonel, Colonel, what do you know of the black hairy tongue disease?'"
Since Depp's and Thompson's friendship reminded Bustos of a friendship of his, he decided to cut out and inlay the name Colonel in the strap as the first step to bringing the piece together. He added a macabre raven's skull that would sit at the chest and then the rest of the designs until it looked like a guitar strap that he wanted.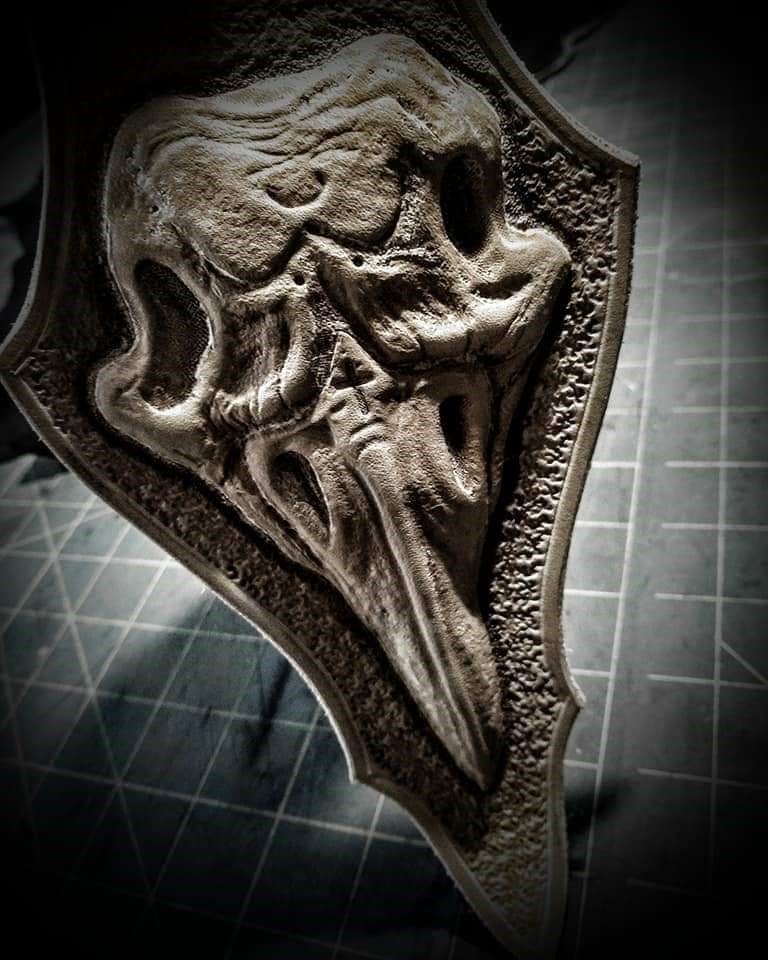 "I figured if I like it, he'd like it. It was great. When I got done, I was like, 'This is the coolest guitar strap I've ever made right here,'" said Bustos.
"There's so much reference to pull from Alice Cooper. You could do demon skulls. Oh, man, twisted vaudeville, whatever. So, I did a really deeply tooled, carved, embossed skull that I did out of heavy leather, and I put the face paint on it. I lightly hand carved the Vampires logo in the forehead. Again, I did it the way I wanted to do, thinking about him. What do I think he would like? What do I want to see him wear? It was a project that I had worked on for a couple hours here and there and then I'd push it aside, think about it."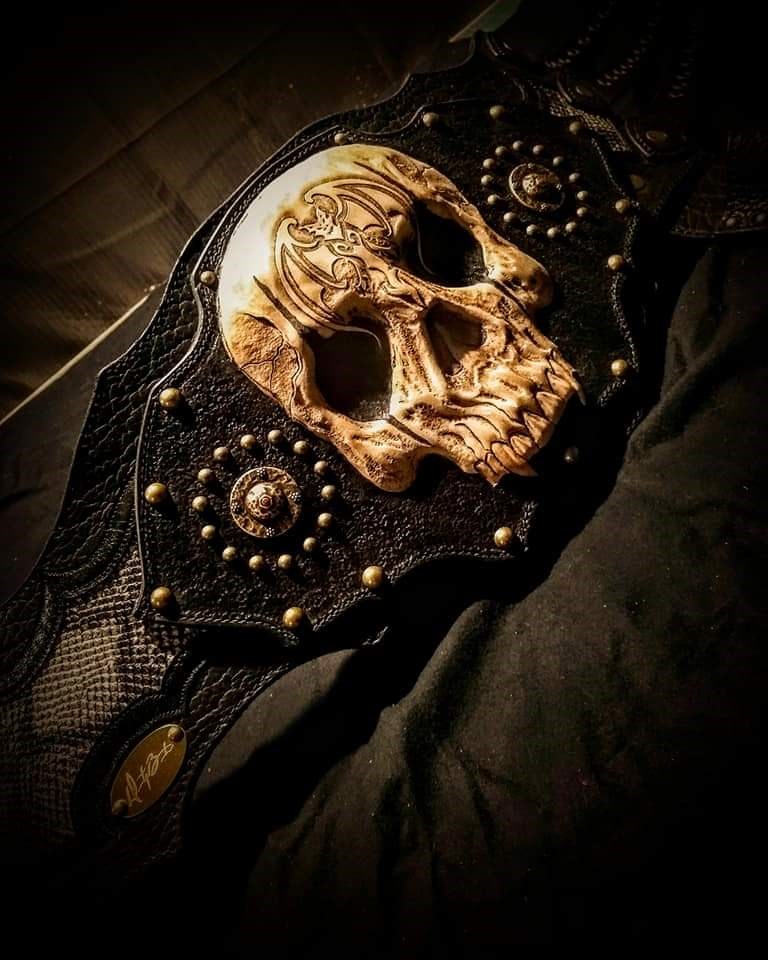 Bustos held onto the guitar strap and the belt until he found out Hollywood Vampires were going on tour. At a Meet & Greet, he whipped the guitar strap off, held it up so the Colonel inlay was showing, and told Depp he made this for him. Then Bustos' partner, Dawn, unstrapped the belt and gave it to Alice Cooper.
"He was all excited. He lit up. He's like, 'It's even got the mic holder." Then says, 'This is going on stage tonight.' So, they ran the stuff back and they hooked the guitar strap up to the guitar. That was the coolest thing, they wanted to use them that night," said Bustos. "He walked out on stage wearing the belt, and I was just so happy to see that it fit him perfectly and everything fit and worked."
The guitar strap and the belt became a part of Alice Cooper's and Johnny Depp's stage attire for the remainder of their tour. Cooper also wore the belt for the Jimmy Kimmel Live! performance on June 19th.
Bustos continues to create his leather masterpieces from his Longmont studio with a new creative recharge. You can see more of his work at DustynBustos.net.