This content was originally published by the Longmont Observer and is licensed under a Creative Commons license.
The Longmont Museum held its 19th Dia de Los Muertos Exhibition Opening Reception on Thursday, October 10 with food and informative displays. Reception visitors got a first look at traditional altars made by community members and skeleton (calaca) sculptures created by artist Ricardo Soltero.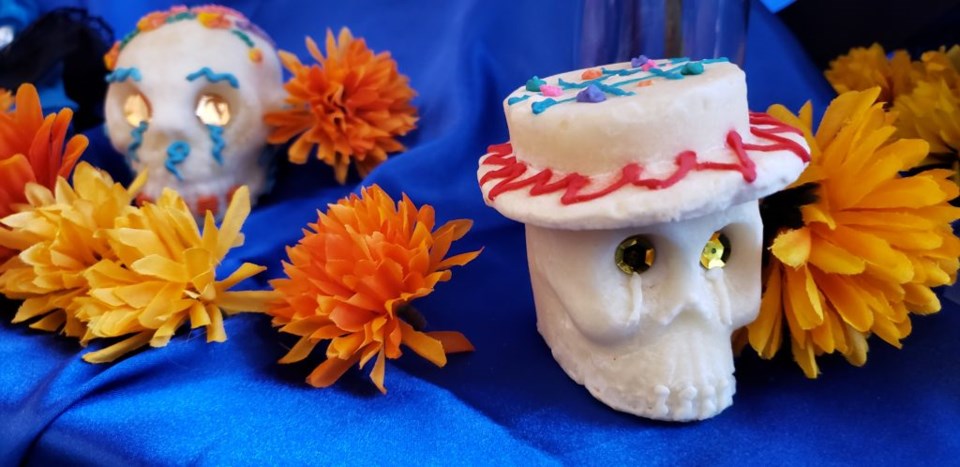 Elaborate altars (ofrendas) filled the gallery space, replete with traditional sugar skulls (to represent the vitality of life), photographs of the dead, candles, food items, and small bottles of spirits. Each altar object has special meaning which ties the dead to the living.
According to Mexican tradition, the altars contain cherished items and candles so that the dead souls may come home during the holiday, which takes place October 30 through November 2. For family still living, the items are cherished and carefully chosen.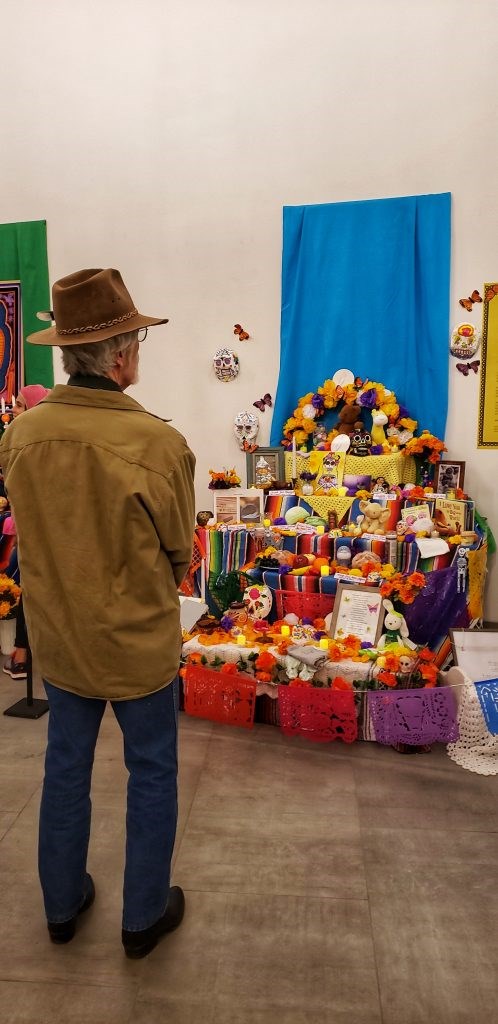 Kari Davenport stood with family members near an altar she helped build. "I am here because I contributed an altar to an event, with my sister, Kim. We honored the strong and courageous women in our lives - those who helped shape us. Some of them we knew and some we did not. We tell their stories through items and pictures."
Several family members who built the altars were present and talked about the Latinx tradition to visitors. Natalie Villalobos said it's her first year building an altar. Her family built three of them for the exhibition opening. Each one honors deceased people in her family.
"My grandfather passed away last year. It's so nice that Longmont does this. His passing was a year ago in July. It's been an emotional year. My five aunts are here. Another one is flying in to attend a baby shower and to see this altar," Villalobos said.
Her sentiments of Longmont's tradition of cultural appreciation were echoed by Ann Macca, Longmont Museum curator of education.
"The City of Longmont is committed to honoring and celebrating the heritage and cultures of the people who live here. Dia de los Muertos at the museum is one that has grown in popularity and prominence over the past 19 years, ultimately becoming one of the biggest and best in our region. We are so proud to say that this exhibition and celebration are deeply grounded in respect and education," said Macca.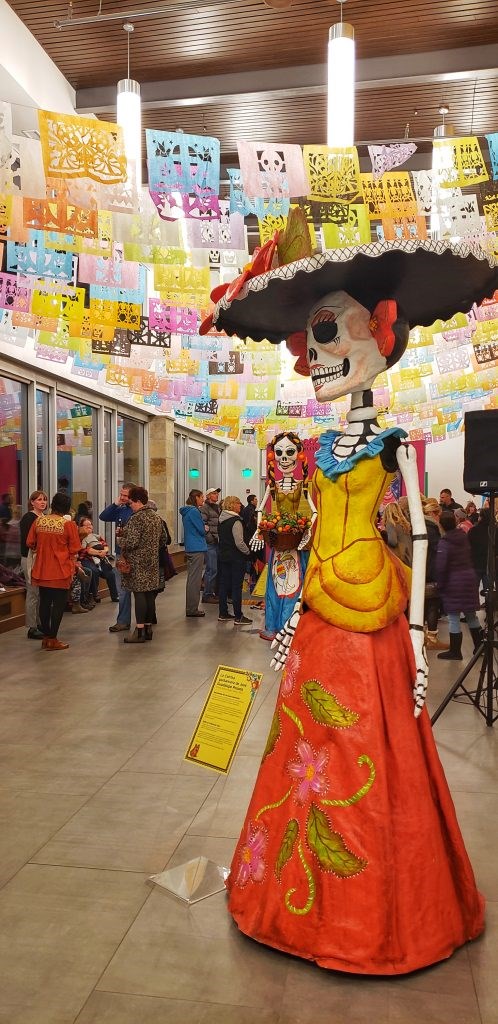 "One of the first projects was to hold a Dia de los Muertos celebration. the first year, it was small and intimate with food, music, dancing, and altars," Macca recalled. The celebration grew until it became a full exhibition with several programs. Each year focuses on various aspects of the holiday.
Macca said it is important to the Museum to stay true to the history and spirit of the holiday. She also remarked that by working in collaboration with the Latinx community to develop the program, the museum's celebration is both more authentic and has stronger ties to the Longmont Latinx population.
"We've done everything from recreating a cemetery modeled on cemeteries in Oaxaca to giant Catrina skeleton sculptures," Macca said. "The Longmont Museum fosters a community that is culturally educated and creatively inspired."
The exhibit remains open until November 4. It is held in partnership with Denver Botanic Gardens and Elevations Credit Union.