This content was originally published by the Longmont Observer and is licensed under a Creative Commons license.
The Longmont Theatre Company (LTC) never fails to line their season up perfectly with appropriate holiday productions. Just in time for Halloween, LTC is running Carrie the Musical.
Most of us are familiar with the story of Carrie, a high school misfit who is bullied by the "in" crowd at school and at the mercy of her over-protective but loving mother at home. As she copes with all this hardship, Carrie discovers that she has a gift that will aid her if she is pushed too far.
Admittedly, while chatting with friends prior to seeing the show, I was unsure of how the story of Carrie was going to work as a musical. But as usual, Faye Lamb and her amazing team always manage to not only find amazing scripts but a cast with outstanding voices.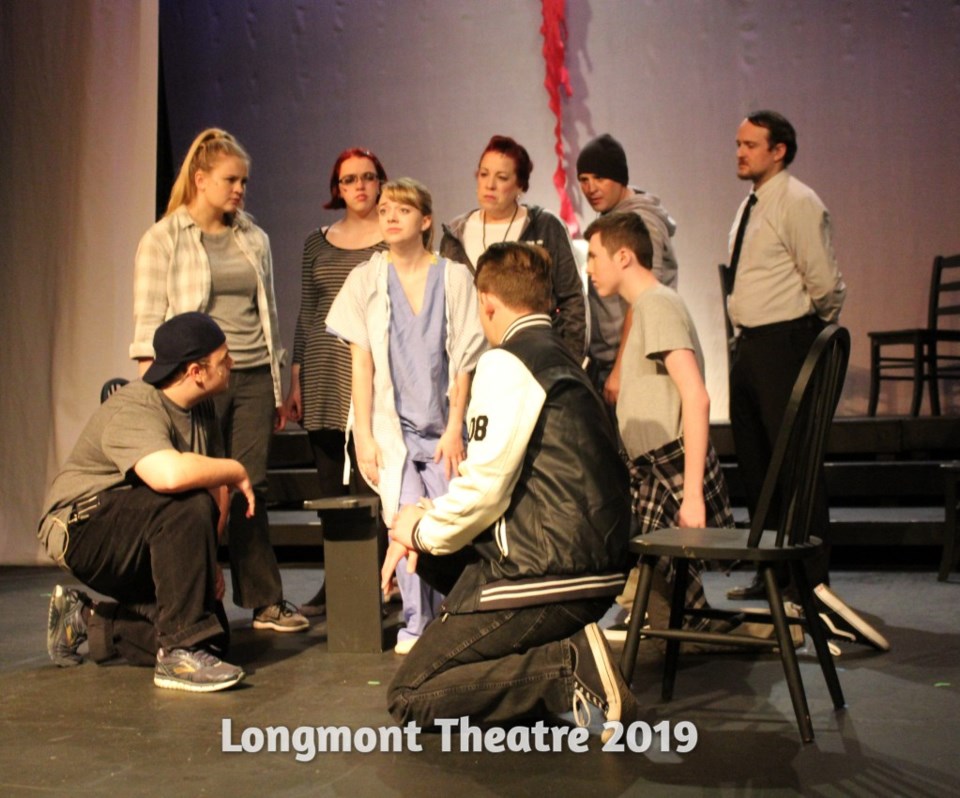 First, let's talk about the cast and crew.
If you follow community theatre you start to see similar names and faces reappear in multiple shows. For this particular production, Lamb was excited to see nearly half of the cast and crew were new to Longmont's community theatre, among whom is director Christopher Mullens.
This cast required a majority of younger actors and each represented their roles with energy and commitment.
Sue, played by Hannah Haller, is present on stage throughout the show. She does an amazing job of embodying the role of the narrator and yet remaining out of the main action when needed.
Melissa Williams, who plays Margaret, Carrie's mother, has one of the most amazing voices. Rumor has it that she once sang in a Longmont Opera many years ago. Williams brings a depth to her character that will bring tears to your eyes and chills down your spine.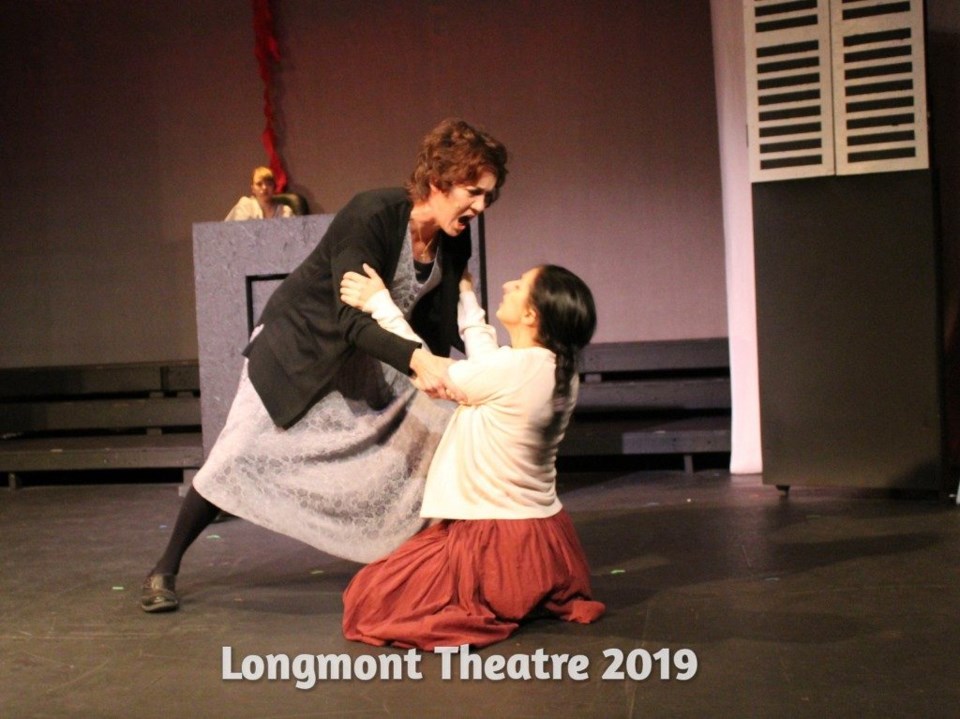 Williams and Robin Zavala, who plays Carrie White, by far hold the best scenes of the play. Playing the roles of an over-protective and sometimes abusive mother and her daughter, the interaction between the two can get very uncomfortable. This discomfort is exactly the emotion intended by the play and I found it difficult not to squirm in my seat from the feeling. These are really scenes that should not be described by words and need to be felt.
The music stressed the awfulness that is high school, expressing the feeling of trying to fit and find yourself at the same time. The orchestra includes Judy Henderson, Morgan Siders, Mathieu D'Ordine, Will Morrison, Michael Bloch, David James, Evan Jones, and John Curtis Sevy. This team of musicians excelled at keeping the cast on cue for each of the numbers.
Matthew Deets, lights and sound operator, and light operators, Branden Ward and Sam Saliba bring the show to a whole new level through lighting. His use of intensity, color, and flashes intensify the emotions being delivered by the cast.
While we may all know how the story of Carrie ends, The Longmont Theatre Company has produced an ending that is inferno hot and simply to die for. In all of the shows I have had the privilege of seeing at LTC, this ending is the best in the creative use of props and special effects.
Carrie the Musical runs October 18-26 on Thursday, Friday, and Saturday nights at 7:30 p.m.at the Longmont Theatre Company, 513 Main St. Tickets can be purchased by calling 303-772-5200 or by visiting longmonttheatre.org.
I do want to warn parents that there is some use of profanity in the show and the content may be too intense for younger audiences. Please use your judgement when bringing your children, however LTC welcomes all audiences to each of their shows.