This content was originally published by the Longmont Observer and is licensed under a Creative Commons license.
Every evening is enchanting at the Longmont Theatre Company (LTC). How could it not be when each performance starts with an enthusiastic speech by LTC's president, Faye Lamb.
Lamb has a skip in her step as she takes the stage to announce LTC's latest news, some interesting information about the production, and sometimes a great story. You definitely want to be sure to be in your seat when the speech begins.
For this particular show, the evening continues to sparkle and delight the audience. The set to Some Enchanted Evening The Songs of Rodgers and Hammerstein reflects an elegant stage with chandeliers and draping of two grand pianos, borrowed from American Classic Piano. Lamb remarked that it may be a first time in LTC's history that two grand pianos have graced the stage at the same time. The curtains were silver but under the correct lighting, they reflected tones of gold.
On each side of the stage the appearance of a romantic sunset was carefully painted to further enhance the mood of the show.
The show itself was a musical representation of the songs of Rodgers and Hammerstein. Lamb was excited to announce that this performance was unlike any that have shown at LTC in her tenure and that she feels that it is one step closer to growing the theatre into something grand.
This isn't a play nor is it a concert. The entire performance is song after song sung by the cast. The songs are carefully placed together to sing a story of love.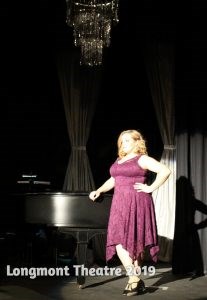 This particular show was chosen this season due to the amazing talent that has volunteered to produce the shows on LTC's stage. The cast for Some Enchanted Evening include some familiar faces to LTC, Fiona Wohlfarth from Young Frankenstein and Rocky Horror Show, Jay Moretz from Don't Dress for Dinner and Fiddler on the Roof, Julia Jacober from Gypsy and Carrie, Melissa Fike from Gypsy and Sweeney Todd, Tiffany Gruman from Chess and Suds, Tanya Jean Daugherty who directed Standing Room Only, and Robert Bubon who has a long, astounding history in the acting world and has contributed to LTC throughout his 18 years of living in Longmont.
These six cast members have strong, beautiful voices that can move you to tears. Their gorgeous voices are all that is needed to fill the stage, which are showcased further by keeping the set so simple.
This performance makes for a wonderful date night. The elegant set lends itself to dressing up a little for a nice evening out, you definitely will not feel out of place in a nice suit or a stunning dress.
The show runs January 10-19 with shows Friday-Saturday at 7:30 p.m. and Sunday at 2 p.m. Tickets are available online at longmonttheatre.org.