With events like the art walk, Main Street, Longmont has long been the destination for art lovers, and now, thanks to the Tumbleweed Art Collective, the art community has a place to kick back and rest its feet.
The Tumbleweed Art Collective is more than just an art gallery, it's a multifunctional space that serves as a gallery boutique, a studio space and a creative learning center for art classes.
Upon entering the gallery and boutique, visitors will be greeted by an array of local artwork that showcases the variety of styles and expressions unique to our local artists. The boutique features a carefully curated selection of handmade crafts and art pieces, making it an ideal place for art lovers to discover original artwork.
The Tumbleweed Art Collective is not just about making and selling art, it's about making connections. Amy Ellis, owner, operator and potter, noted that during their opening weekend in early May, customers had the chance to meet the creators behind the work.
"Everyone wants to support other humans, and it feels good to do that. But when you can really put a face to the work, it's a more meaningful experience," Ellis said. "And I think everyone wants more of that — more connection and more human interaction in our lives."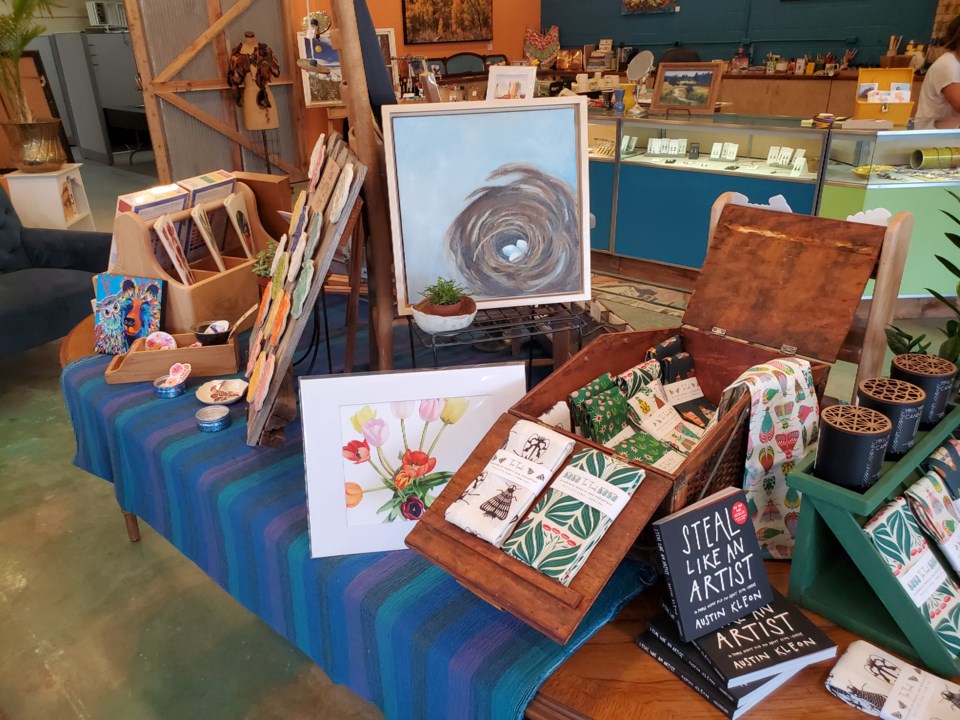 Beyond the walls of the boutique, an array of studio spaces bustles with activity. These studios, Ellis described, cater to a wide range of artists including painters, jewelers, assemblage artists, mixed media artists and more. Even a welder, whose little bird creations have found a home within the collective, has set up shop here.
The collective's studio spaces offer artists a nurturing environment to work on their creations. These spaces have been filling up rapidly if they haven't filled up already. Lisa Barton, a local artist and passionate teacher, has found her creative oasis in the collective. Not only has she started setting up her own studio space for her range of artwork, but she is also spearheading an educational initiative for young artists in the community.
"I love to do art, but I had all my stuff in storage," Barton recalled, shedding light on her situation before she joined the collective. "So, I needed a spot for my stuff. But I also love to teach art to kids in particular."
The educational aspect of the Tumbleweed Art Collective isn't limited to Barton's classes. Other artists renting space are planning to share their expertise, contributing to a wide variety of classes in all types of artistic disciplines.
"Having a spot where I could set up to do my own work and simultaneously be a part of the education process was very appealing," Barton said. "I was excited when I met Amy, and together, we're focusing on kids from underserved areas, specifically those in the foster care system."
This collective marks a significant chapter in Longmont's artistic evolution outside of galleries and art walks. It represents the artistic community's deep-seated commitment to fostering the arts and furthering the reach of the creative district.
Ellis's vision was to create a more sustainable, continuous model for local makers — a place where creativity and community coalesce and remain consistent year-round. Ellis acknowledged the nomadic nature of art markets and the amount of work it takes to participate in them.
"Doing markets is a lot of work," Ellis said. "By the time you find them, apply for them, take pictures, get all your stuff there, set up, do all the sales and then take it all down and bring it all home, it's a lot."
Ellis recognized that local makers need a platform to display and sell their work, not just during the holidays or at sporadic shows throughout the year, but consistently at 1333 Coffman Street.
"Everyone needs a place to show their work. And I think that the community wants to come and support and buy work from local people," Ellis said. "I felt like there was just room for a space like this. And I just wanted to be around other makers more often."