Technological developments in prosthetic limbs have been on the rise in recent years. But such devices are expensive and not always available to those who need them. One Longmont youth has the directive as well as the perspective to join the volunteer effort for accessibility.
Silver Creek senior Max Scherer is a member of the executive committee of Silver Creek's National Honor Society, the Silver Creek Leadership Academy and a fencing coach. As part of his capstone project and in his free time he makes prosthetic limbs by hand with the use of his 3D printer.
Scherer has first-hand experience in knowing what is important to creating a good prosthetic, he has only one hand.
"The main realization that I have experienced from having one hand is that I know what I want to get out of my prosthetics. While very durable, my carbon fiber prosthetics are often heavy and cumbersome," Sherer said.
He was inspired to begin the work after witnessing engineers using meta 3D printing to make industrial hands at the Universtity of Colorado Anshutz Medical Campus.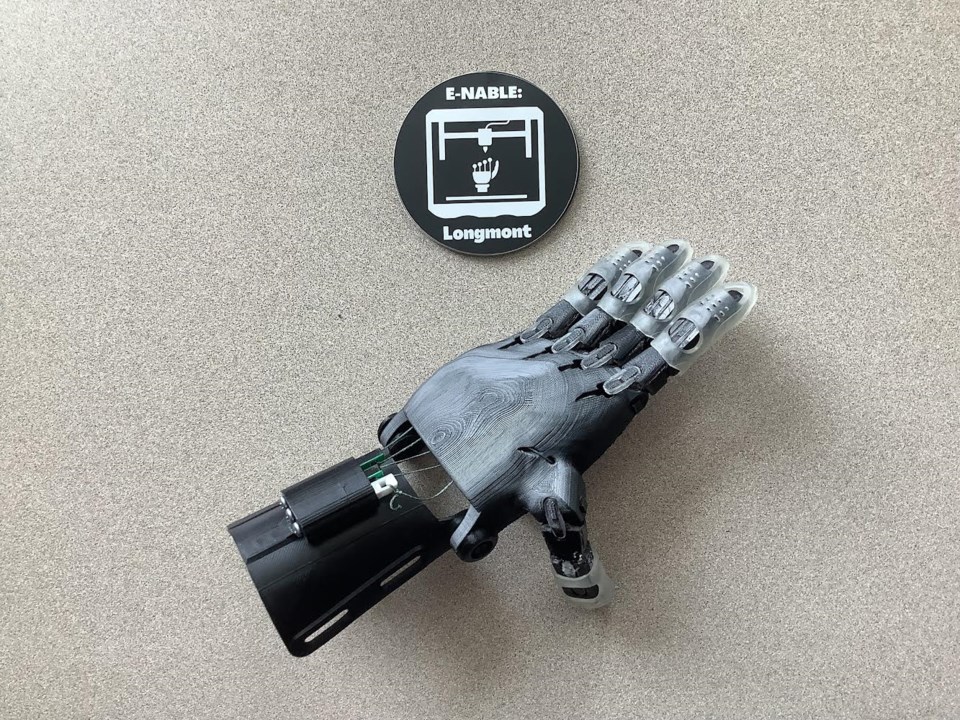 As part of his capstone project, Sherer decided to get involved with E-Nable — an online global community of volunteers who make free or low-cost prosthetics with their 3D printers for children and adults, according to its website.
Before long he was creating a Longmont chapter. He connected with Nate Munro who is a volunteer for the organization and "coordinates an international team of 35 people across chapters and continents," according to the website.
"Nate has really been the cornerstone of my project and has made time to help me out while dealing with a very busy schedule. Nate donated one of his printers to me to get me started, and has been there every step of the way, answering any questions I have. He is also an incredible engineer and advocate for the disabled community," Sherer said.
Sherer uses his personal experience to design prosthetics for several situations.
"I have had to teach myself how to tie my shoes, or ride a bicycle, or play the French horn. All of these activities require me to adapt and find outside-the-box solutions. I believe that because of this, I will be able to see opportunities for prosthetic that are difficult for two-handed people to see," he said.
Identifying that not just one prosthetic is needed to fulfill all the needs of the person using them, Sherer hopes to use his research to prove the importance of why insurance should provide individuals with more than one prosthetic. This goal began last week when Sherer spoke at the Colorado State Capitol about his project.
"I explained how most people have two devices: one for cosmetics and everyday life, and one tailored for more specific activities. Because of this, I argued that HB-1136 was vital in that it required insurance coverage for a second prosthetic device," he said. "I also discussed e-NABLE, and how, despite the amazing work being done by volunteers, individuals shouldn't have to turn to volunteer work because of the high cost of professional devices," Sherer said.
HB-1136 would require insurance carriers to cover additional prosthetic for people under age 26 if their physician determines that it is necessary in order for that person to engage in physical or recreational activity, according to the Colorado General Assembly website.
This project is only the beginning of the engineering work Scherer hopes to pursue and the legacy he aims to leave behind in Longmont.
"As I apply to colleges and await decisions, I hope to bring e-NABLE to whichever university I attend. I hope to use engineering to build better prosthetic devices. Additionally, I am working hard to find interested classmates to carry on e-NABLE: Longmont when I graduate," Scherer said.