This content was originally published by the Longmont Observer and is licensed under a Creative Commons license.
There are 57 electric utilities in Colorado, and Longmont Power & Communications (LPC) has the second lowest residential rates in the state. Even with this admirable attainment, LPC is committed to making sure that its Longmont customers continue to get the best bang for the buck.
Energy is supplied for the people of Longmont by the Platte River Power Authority (PRPA), which provides energy not only for Longmont, but also Loveland, Fort Collins and Estes Park. Formed in 1973, it is a not-for-profit utility that generates and delivers environmentally responsible and financially sustainable energy to its owners. This includes includes thermal, hydro, wind and solar resources, as well as more traditional power sources.
Longmont and the other three Front Range cities have all collaborated with PRPA to create Efficiency Works, another not for profit entity whose aim is to provide energy savings for their customers.  As Scott Rochat of LPC puts it: "Everyone likes saving money. And with electricity that generally means saving energy.  It's one of those things that benefits everyone – you get lower bills, we get less demand on our system."

So how does Longmont go about saving us money? The main way of doing that has been through Efficiency Works, where residents can get a $60 energy appraisal (a $400 value) and then rebates on a number of home energy efficiency measure. The energy appraisal includes checking insulation, windows, furnaces, water heaters, door seals and so on. Efficiency Works also has similar offerings to help businesses save energy. An online Efficiency Works store has discounted products like LED lightbulbs and smart thermostats.
How is the Efficiency Works program doing? From 2015 to 2018, PRPA customers saved over 97,000 Mega Watt Hours or MWh. A MWh equals 1000 Kilo Watt Hours (kWh), where a kWh one unit of electricity. Perhaps a simpler and more understandable way of assessing this saving is that it is the equivalent to the total energy saving of 11,500 homes. Over 5,800 homes and 3,500 businesses have participated in the Efficiency Works energy saving program to date and LPC is pushing for even more involvement in 2020 and beyond.
Scott Rochat told me that "we know that for some households money can be tight. And so we're working with Platte River Power Association and Energy Outreach Colorado to offer a low-income energy efficiency program. If you meet the low income qualifications, you can get a free home energy visit, which may in turn lead to free home upgrades such as air sealing, furnace and boiler safety checks, or insulation in the crawlspace, walls, and attic".  This CARE program (Colorado's Affordable Residential Energy program) had its pilot in 2017 with 10 Longmont homes.  The current take-up is 40, and LPC wants to encourage more low income residents to sign up.  Information and signup forms are offered in both English and Spanish, to help the 25% Hispanic population in the city.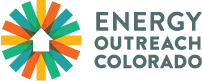 Longmont's Just Transition Plan aims to transition to 100% renewable electricity that is reliable and affordable by 2030, and so the City and County both contribute to these efficiency programs that help work towards this goal. Boulder County contributes $30,000 per year, and Longmont provides $40,000, which comes out of LPC's revenues. So how can Longmont residents find out about these energy saving programs?
Call Efficiency Works to schedule a discounted energy saver assessment at 877-981-1888 or get online at efficiencyworks.org/homes/efficiency-audits/
Check out the Efficiency Works store to view energy saving devices at efficiencyworks.org/homes/retail-products/store/. Most products are discounted from standard retail.
To find out about lower income energy savings call 303-226-5061 or online at care@energyoutreach.org
View the City of Longmont's webpage that explains the Just Transition Plan to attain 100% renewable energy by 2030 at www.longmontcolorado.gov/community/sustainability/areas-of-focus/energy/just-transition
To find out about Longmont Power & Communications ongoing activities not only about energy news, but also about NextLight progress, take a look at their blog at www.longmontcolorado.gov/departments/departments-e-m/longmont-power-communications/lpc-blog. There is even a little humour here, as well as important information.