This content was originally published by the Longmont Observer and is licensed under a Creative Commons license.
A Longmont landmark closed its doors last month.  The Thompson House Inn and Tea Room run by Cee Dolenc on Terry Street closed down after 18 years in business.
The five-room B&B catered to both business and pleasure guests and earned a consistent 4.5 TripAdvisor rating. Returning guests appreciated the Inn's proximity to Main Street, as did out-of-towners who often just shuttled from the airport and walked Longmont during their stay in the city.  Dolenc hosted guests from all 50 states and from 37 countries during her time at the Thompson House. 
All of the individually furnished rooms were furnished with antiques and then decorated by Dolenc at holiday time, with each room even having its own Christmas tree.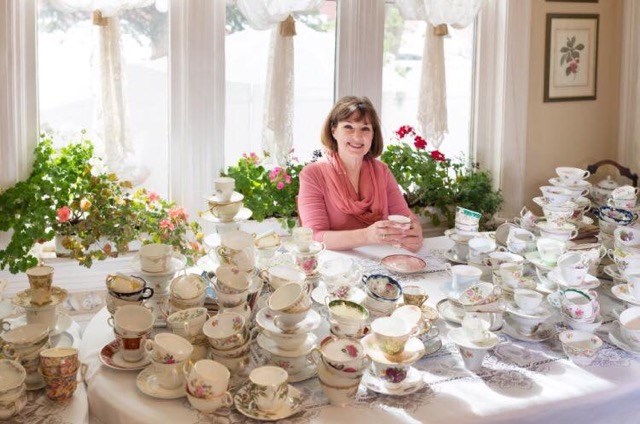 Perhaps even more popular with Longmont residents was the Tea Room. Fine bone china always complemented the traditional afternoon tea offerings of dainty sandwiches, scones, cakes, and pastries. And Dolenc always offered guests a choice of teas, served from a china teapot. 
The Tea Room saw many special occasions celebrated, from Valentine's Day to birthdays, from graduation celebrations to Mothers' Day family gatherings. There were special decorations, fresh flowers, embroidered tablecloths, and cake stands to add to the elegant atmosphere.
Although this was definitely a labor of love for Dolenc, she had made herself a schedule for leaving the Inn and starting another phase of her life, so she decided to put the Inn and Tea Room on the market over a year ago. She wanted to make sure that the Inn would go to a good home and had many interested potential buyers. 
Unfortunately, most of the people interested in buying the Inn to continue the business did not have the financial backing to complete the purchase. The Tea House was even an attractive proposition to a group of English ladies, but that didn't work out either. So now the beautiful house is going to be a beautiful home for a private individual.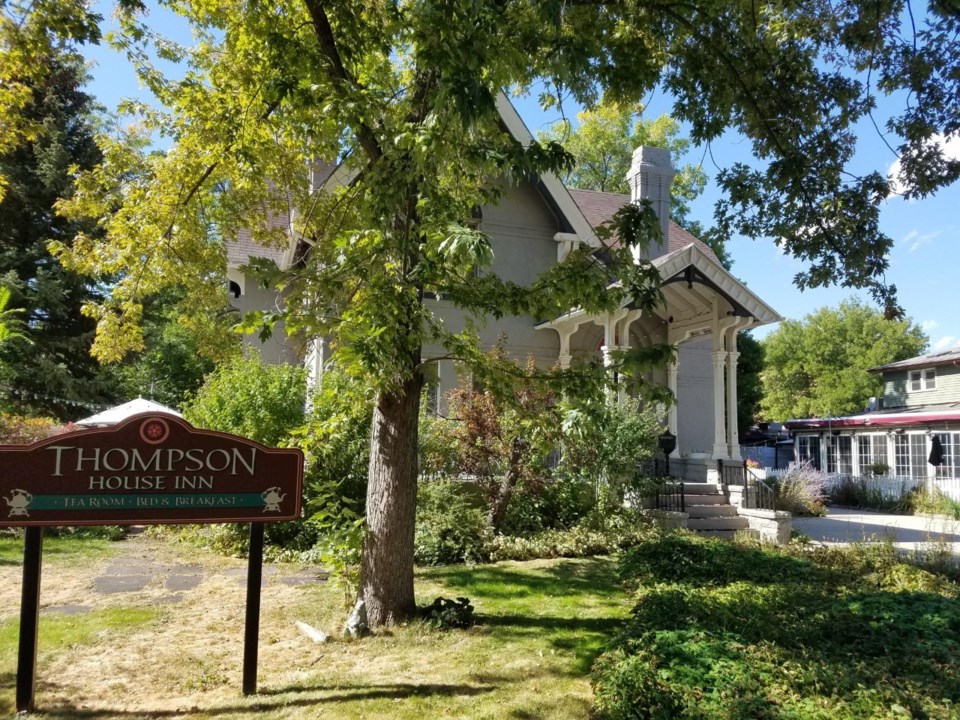 The Thompson House is not only beautiful but has a fascinating history.
John B Thompson arrived in Longmont in 1871, the same year as Longmont's incorporation, along with his brother-in-law Royal M. Hubbard and their wives. The families bought two side-by-side lots on Terry Street, and built two of the earliest catalog houses.
Thompson was appointed town clerk in 1875, went into the hardware business in 1877, and was an incorporator of the narrow gauge Longmont and Erie Railroad in 1878. He was elected mayor in 1888 and was active in local banks, businesses, and churches throughout his life.
A man of Thompson's local standing required a more impressive residence than a catalog house, so he built the imposing Queen Anne style house on the Terry Street lot in 1887. The house received landmark designation in 1980 and will continue to be called the Thompson House in perpetuity.
Thompson also had connections with another landmarked Longmont property. His hardware business, developed along with Hubbard, the Longmont Postmaster at the time, was run from 346 Main Street, on a lot purchased for $375 in 1874. The Hubbard & Thompson building, along with Thompson's business, was bought in 1915 by C.A. Traylor, who continued to run the hardware business under his own name. Traylor Hardware became the oldest continuous business in Longmont's history. The building is now the home of the Used Book Emporium.
Dolenc is sad to leave the Thompson House but is looking forward to new adventures in the Longmont area, and she is proud of being part of such an important piece of Longmont's culture and history.