This content was originally published by the Longmont Observer and is licensed under a Creative Commons license.
Amid vendor booths, tents, and food trucks, the future of the automotive industry was on display at the Longmont Electric Vehicle Fair on Sunday, September 15.
Electric car owners showed off their vehicles in a colorful parade, then parked as attendees wandered between the rows at the Boulder County Fairgrounds.
The Fair also included kids' activities, food baked by solar power, and demo drives during the event. They were also treated to live music by local musicians whose electric instruments were powered by people riding bicycles.
But cars weren't the only showstoppers, John Tempest was proud to talk about the boat he converted to electric power.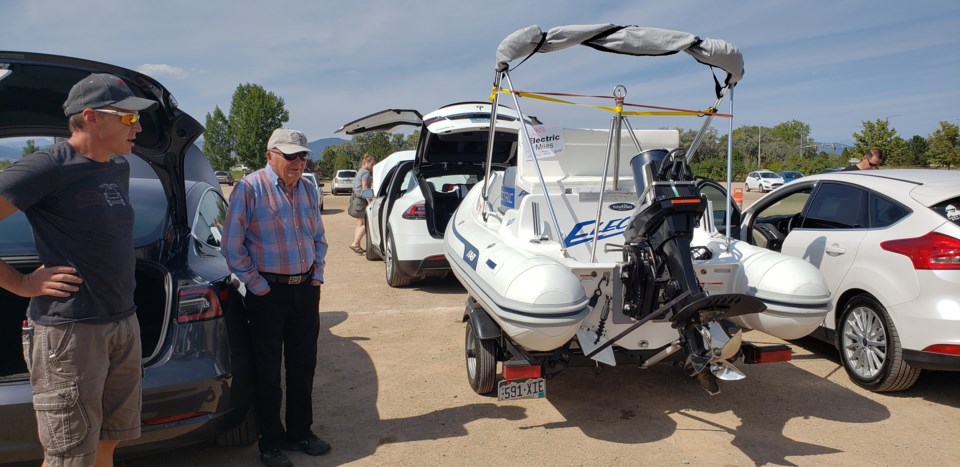 "It's a quick little boat. Altitude doesn't affect it as much as some gas motors get affected. I've taken it to Aurora Reservoir and Lake Dillon. It's quiet and idles at any speed," Tempest said of his boat. "Everybody thinks this is great."
Speakers included Mayor Brian Bagley, County Commissioner Elise Jones, State Senator Mike Foote, Director of Colorado Department of Transportation Shoshana Lew, Joel Levin from Plug in America, among others.
Lew reminded the crowd that "it's a particularly good time for zero emissions. As you can see looking around this parking lot, there are a lot more options than ever."
"One of the things that was unique about how we did this in Colorado is that we worked with the auto industry," Lew said. "We have a really hospitable market for EVs, with all parts of government working together," she continued.
Lew also reminded residents that the state agencies are focused on the commuter and transportation sectors - such as bus and railway. The Colorado Dept. of Transportation's goal is "one million EVs on the road by 2030."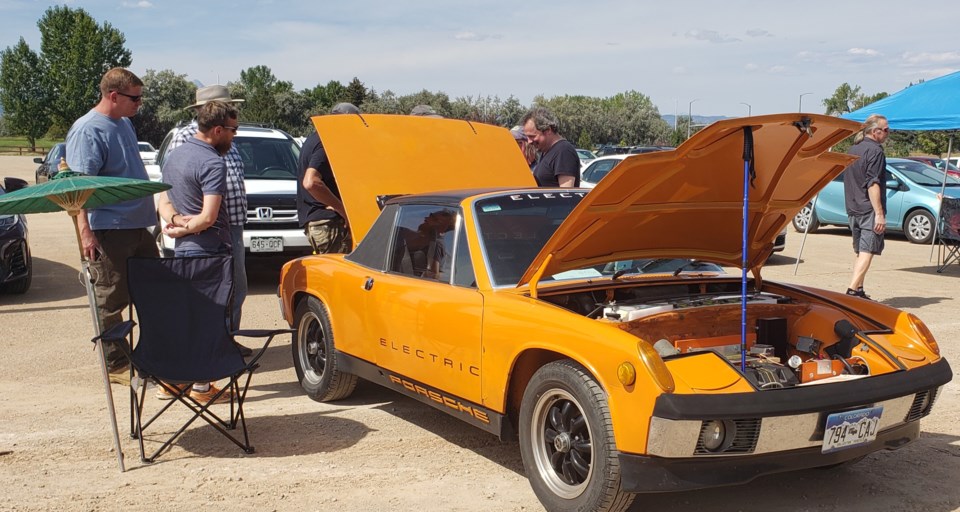 Joel Levin, executive director of Plug In America, was hopeful about Longmont's participation and future in electric vehicles. He reminded the attendees that several hundred cities participate nationwide now, and that the industry is global. "We even have an event in Larimie, Wyoming this week," Levin says.
Levin said that Colorado is leading the way as a "clean car state." He explained that Plug In America is the national voice for EV consumers and that Drive Electric Week is happening in all 50 states this year.
Abby Driscoll, executive director of Sustainable Resilient Longmont, the organization which co-sponsored the event, was thrilled with the early turnout. Despite the warmer weather, over 300 people were in attendance within the first forty-five minutes. More people showed up by one p.m. Driscoll says she is confident the event will happen each year. She sees this as a harbinger of environmentally aware industries and jobs to come in Longmont.
The event is held in conjunction with National Drive Electric Week, and was hosted by Sustainable Resilient Longmont.