This content was originally published by the Longmont Observer and is licensed under a Creative Commons license.
In previous years, HOPE, along with the cooperation of several local churches operated a Nighttime Navigation Center with access to a shelter during only the coldest months of the year, November-April.
In the last year, HOPE has teamed up with FaithPoint Baptist Church, journey Church, The Heart of Longmont church and the City of Longmont to provide shelter and navigation services throughout the year.
This change came about when HOPE conducted a survey among those they serve who stated that "the six-month break from May to October was preventing them from moving forward out of homelessness," states a HOPE press release.
According to the data collected by HOPE, 309 clients were able to receive navigation services and shelter between April 30-November 1, 2019.
In order for these 309 individuals to receive services they had to meet with a case manager weekly and look for work, if they were able, or work towards capturing benefits, if they were not able to work.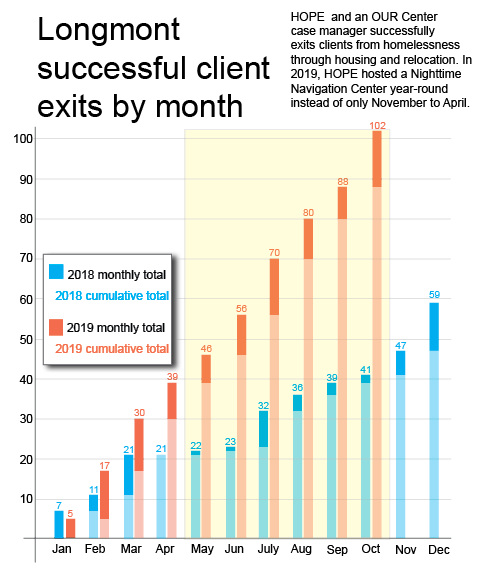 The year-round program has seen an uptick in the amount of people who have been able to exit the program and find a way to get back on their feet.
Case managers from HOPE and OUR Center work to help individuals experiencing homelessness find housing or through relocation, usually referred to as diversion services.
Relocation happens when a client would rather take advantage of opportunities that usually lead to employment and housing. Often relocation includes residential treatment for mental health or substance abuse issues. These references are verified by staff before a client is considered for relocation.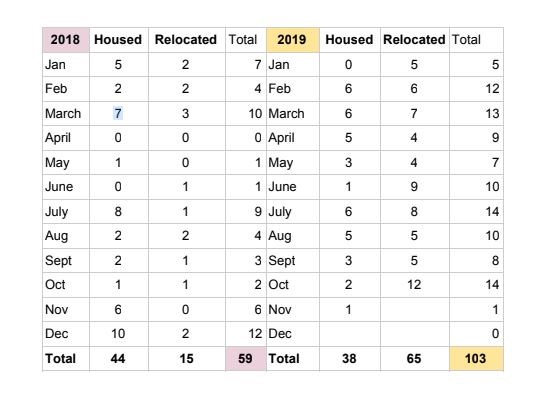 "Implementing year-round sheltering for our most vulnerable residents in Longmont this year was a big win for us and our community as it truly allowed HOPE to offer a stable environment for those wanting to get back on their feet," Joseph Zanovitch, HOPE executive director, said. "All too often, we think of those without homes in the coldest months, but life on the streets is still incredibly difficult every single day, regardless of the weather. Knowing there is a place to stay each night is really a blessing to anyone who is working on a path toward self-sufficiency. When our basic needs are met, it allows us to focus on the next steps to a better future."