This content was originally published by the Longmont Observer and is licensed under a Creative Commons license.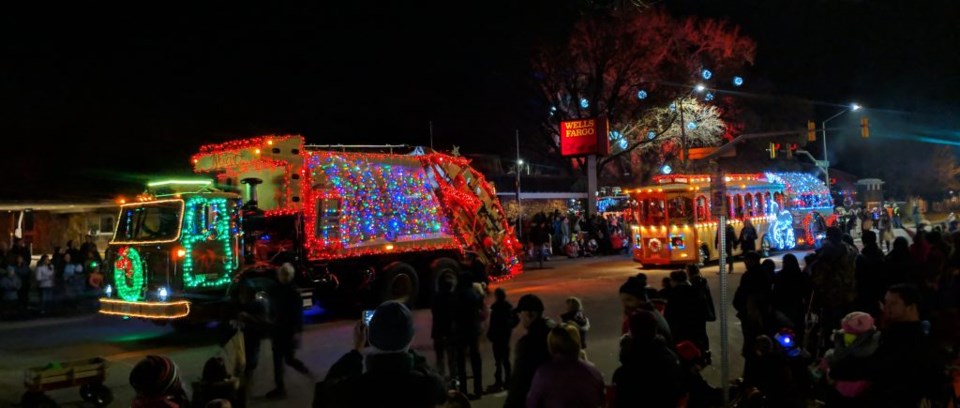 The Longmont annual Parade of Lights was held on Saturday, December 8, featuring floats, dancing and displays from 74 community groups and businesses. The parade lasted about 90 minutes and was followed by the Display of Lights in Roosevelt Park. Thousands of people lined up along the parade route, which ran south from Long's Peak Avenue on Coffman and returned north from 3rd Street on Main.
"It's always a great night," said Jeff Friesner, Recreation and Golf Manager for the City of Longmont, who was working his 20th Parade of Lights. "People that come to the event always have a good time. And the weather is perfect."
Before the parade began, participants lined up west of Coffman on Long's Peak Avenue and north on Bross Street. There were representatives from a wide array of local profit, non-profit and civic groups. While some groups hoped to raise awareness for themselves or the causes they served, many are simply in the community and were excited to be a part of the annual tradition. Here are just a few of those groups.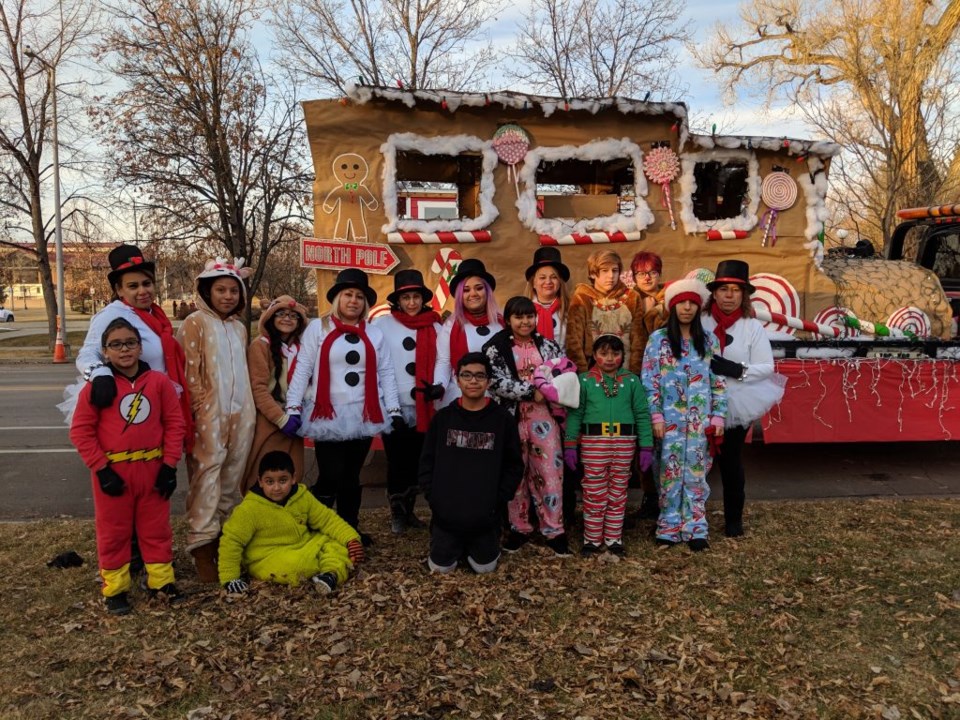 Karen Solis, President Nahucalli Mexican Folkloric Dance. "We're a Mexican dance group. We've been around for over 20 years. We've been doing the parade all that time. Most of 'em are relatives, so we have kids, the parents are in the group but also the grandparents, so we have three generations in the group. We will be dancing, it's not going to be a Mexican type of dance like we always do. It's going to be a Christmas thing, just because of the theme of what we're doing this year. Our float is a gingerbread train with candies, we all made it ourselves."
Hugo Esquiber, Mexico Lindo. "We are from Longmont, Colorado. We've had this group for 6 years already in Longmont based at 21st and Main. We do a Mexican folklore dance, today a dance from Jalisco in Central Mexico to mariachi music."
Conor Hagy, Drum Major for the Skyline High School Marching Band, "We're just a lot of friends that come together, this is our favorite parade. We get to dress up and wear a lot of lights, we just play some music and provide entertainment for the people. We're playing Jingle Bell Rock today."
Paul Hill, TLC Learning Center. "The TLC Learning Center is for special needs kids that have autism. This firetruck used to belong to the Times Call, Ed Lehman [former publisher of the Times Call]. So this is one of his firetrucks that he used in parades for the Times Call. It's a 1929 Ford Model A, it's been in the Christmas parade since the 1970s. I've been driving it in the parade for 12 years now."
Salowa Salzer, President of Left Hand Artists Group. "We're a local artists community group here in Longmont. This is our second year in the parade, we're a five-year-old group. We're out here just being part of Longmont. The float is all about music and art -- Carl Reeder made the guitars and Patty Fabian and Amy Hannigan made the records. We're also a group that's working with reused and recycled materials, so our float is all reused and recycled materials."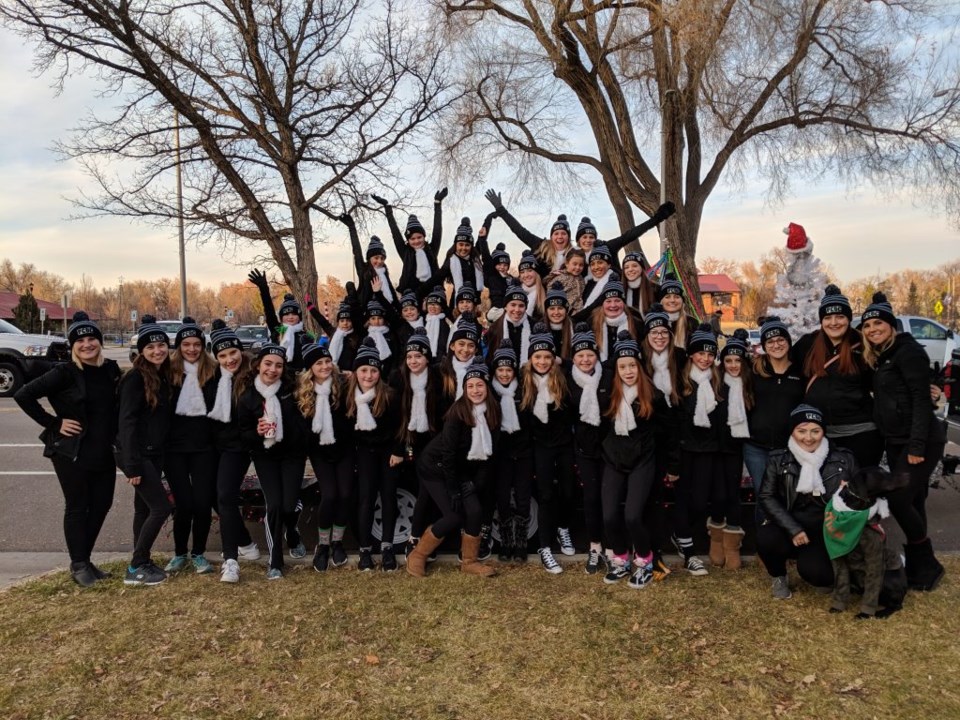 Stephanie Odenbach, Production Company Dance Center. "We're a dance studio located in Longmont. We've got kiddos aged 6 all the way up to 17 dancing in the parade this year. We're a dance studio for Longmont youth, we offer jazz, ballet, tap, hip-hop, contemporary, pretty much everything. This is our 6th year in the parade. We'll be dancing in the parade with little ones in the trailer."
Calvin Keim and Anne Marsolek, Special Needs Trike. "We ride for children with disabilities and terminally ill children year round. Tonight we're collecting stuffed animals for first responders here in Longmont to give out to children in crisis. This is our first year in the Longmont parade, last year we were in the Berthoud parade." When asked what motivates him, Calvin said, "My son is 23, and we've been doing this for 23 years. My son's got fragile X syndrome." Added Anne, "And I have two boys on the autism spectrum who are 12 and 13." To learn more or contact Calvin and Anne, use their Facebook page.
Katie Whitson (Troop 76100) and Amanda De Herrera (Troop 70381) of the Girl Scouts of Colorado. "This is our first year [making a float for the parade.] We are doing the Cookie Express, so we've got our little Daisies dressed as bakers, our Brownies are going to be dressed as cookies and our Juniors are going to be reindeer and Miss Claus. For the last two years have been leading the parade holding the city banners, this year [the girls] decided they wanted to make their own float. Katie helped them put in the work they did this in the meetings. It's something that they've enjoyed doing, it's one of their favorite activities, being in the Parade of Lights. For them, it was really just wanting them to be able to build their own idea and incorporate Girl Scouts of America in it. A big thing this year is trying to get more parents to be involved to be leaders, it's not as hard as some people think it is to be leaders for their daughters. We're trying to incorporate new volunteers because if we don't have new volunteers, we won't be able to form new troops, and that means girls won't be able to be in Girl Scouts of Colorado. We have three troops at Twin Peaks Charter Academy and we normally have to close admission because we have so many girls interested and we don't have enough parents to help."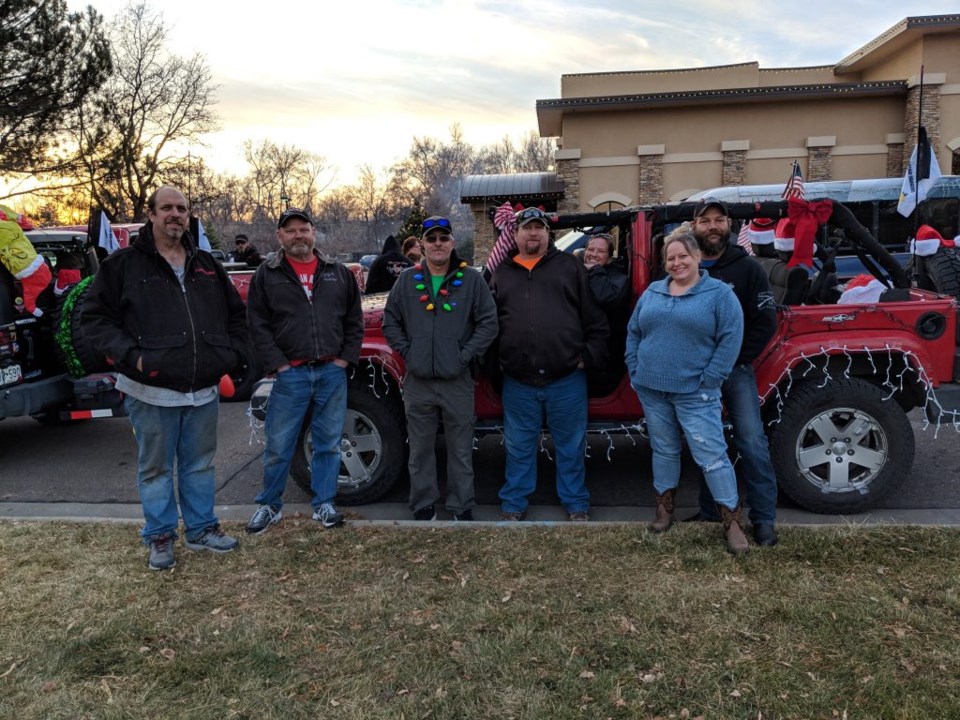 Jeff Pike, High Mountain Rangers Off Road Group. "We do get-togethers for four wheeling, camping, cleaning up the forest. We decided that this is the time to get our name out there -- this is our first year in the parade."
Richard Craighill, Cambridge Animal Hospital. "Cambridge Animal Hospital is one of Longmont's veterinarians. They service all sorts of small animals and some reptiles. My wife is a vet tech. My wife is the one in charge -- [Teena Craighill]'s the one that organized us. This is our first year in the parade. We've always watched it, sat on the side we haven't seen many vets go through so we talked to Natalie Durbin [owner of Cambridge Animal Hospital] and they said 'oh yeah let's do it'. So [one person] contributed their flatbed trailer, and we started building."
Kristin Kingsley, Centennial State Ballet. "We are showing off Clara's Dream, because we are putting on our 18th annual production of the Nutcracker at Niwot High School Auditorium on December 21, 22 and 23. All of these dancers are actually in the production and we wanted to show and celebrate with the community what we're doing with the youth company for everybody to see. Clara is the main protagonist of the ballet The Nutcracker, and [the story of the ballet] is that she has fallen asleep after a beautiful Christmas party with her godfather who has given her a beautiful nutcracker. And she falls asleep on Christmas Eve and the full dream is the second act of the ballet."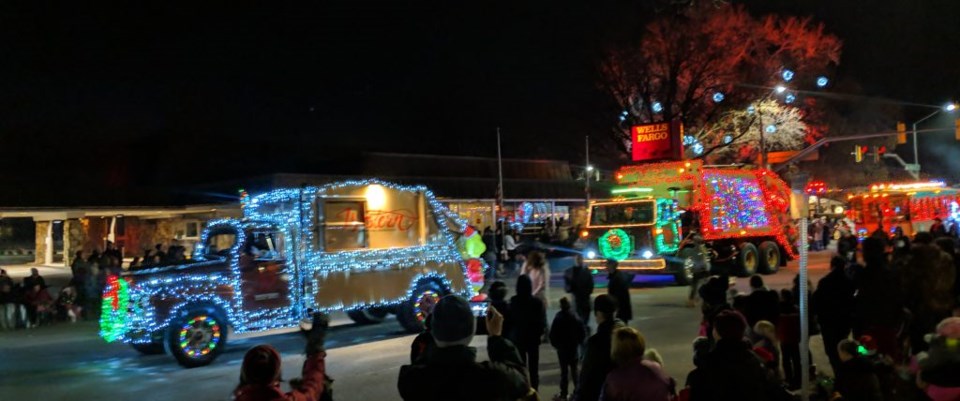 Mike Seader, Western Disposal Services. "We've got our trolley. This truck here is a 1954 International trash truck, last year we built that wagon. We found the truck in Canada, and the trash body I found in Washington. We spent two years restoring it. We do all this for the kids of our employees, we filled that up so this year we put together this trolley. This is a new truck, which haven't even hauled trash yet."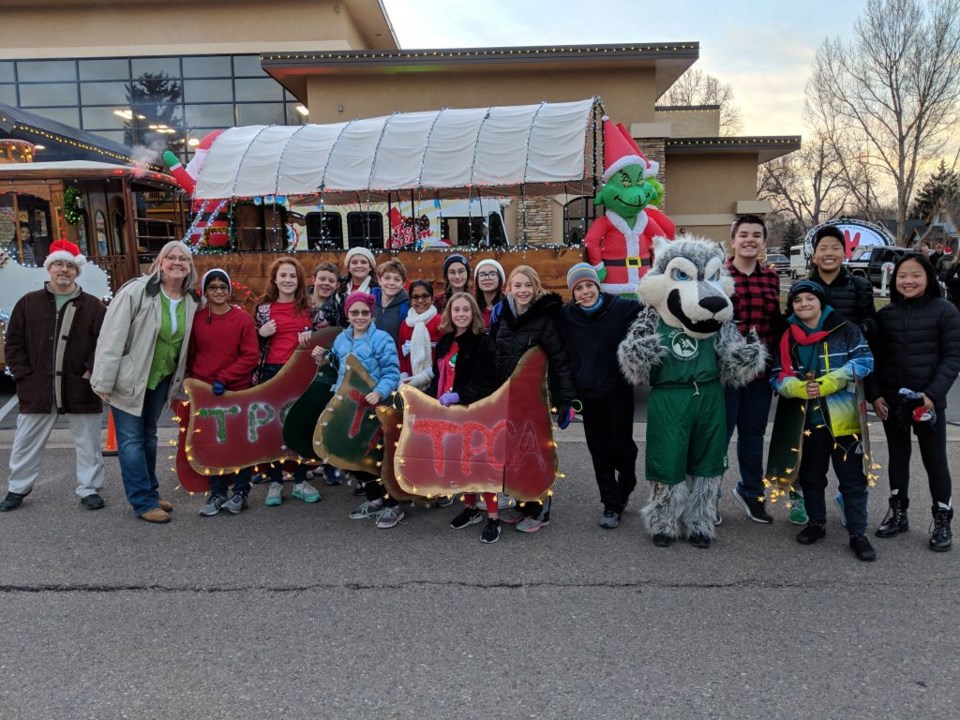 Jackson Rose, Twin Peaks Charter Academy Student Council. "Our float this year we decided not to do one with wheels. We decided to make these sleighs, which we made in about two weeks with spray paint and lights."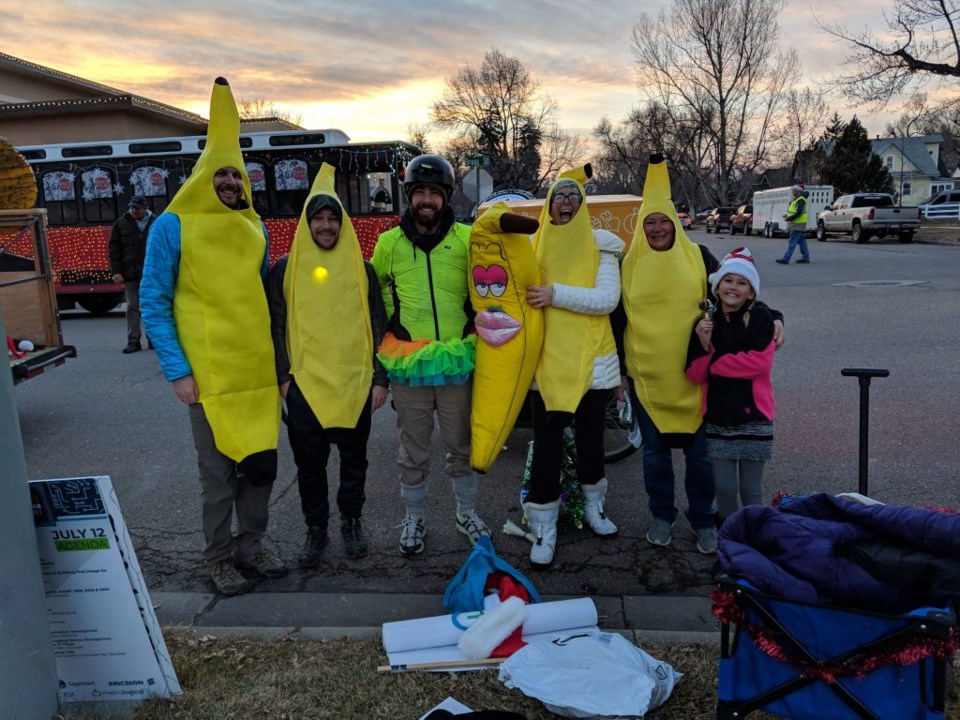 Betsy Bash, Longmont Food Rescue. "We're a food rescue nonprofit in Longmont that helps gets fresh food for no cost. It's a no-cost market for food that normally gets thrown away -- stuff that's totally edible. We also work with farmers and community gardens that have extra that would normally go to waste. One of our programs is Produce in the Park, which changes locations monthly. We set up a mini-farmers market, no questions asked. Our float this year is a refrigeration trike. We use it for Fresh Food Connect, which is to collect community member's surplus food that they might grow in their gardens. We're all dressed as bananas because our theme is 'Food Waste! That's bananas!'"
Cande Lucero, 3 Margaritas Longmont. "3 Margaritas is an authentic Mexican restaurant located here in Longmont, Colorado. There's a bunch of us who are friends who come and support them in a lot of parades all over Colorado. It's a big effort, but it's love for the art. Horse dancing is like anything -- every culture has their own different ways of riding horses and where we're from [in Mexico] it's something that is very popular. We're here with our family and friends to enjoy the parade, we hope everyone enjoys the show."
Mark Voelman and Sarah Rushar, Left Hand Brewing. "We brought out our big sign that we use for lots of our High Five, community driven events here in Longmont. We're pretty stoked about it. This is our fifth or sixth year in the parade. We're handing out candy and pint cards, taking care of the kids and taking care of adults." Jill Preston Director of Marketing, "This isn't the first time we've been involved in the parade. It's a part of the Left Hand Community, something that we're proud to be a part of. This is like Oktoberfest and Leftapalooza for us, just being part of the Longmont Community. I've lived here for 15 years, I've participated in the past as a Longmontian but it's so cool to actually participate in the parade.
Jonathan Cyprowski, Associate Pastor at New Creation Church. "Today we're a part of the Longmont Parade of Lights and Longmont Lights. We've invited folks who are a part of the parade in for hot dogs and hamburgers, feeding the volunteers. After the parade, we're inviting people back for cookies and what we call the Christmas Encounter, which is just a night of Christmas musical favorites so that we can come together as a community and sing. We just love being a part of the community -- I think a lot of people mistake what the church is about as a whole. It's sometimes an unreachable or aloof thing when really it's about calling each other higher every day to be a better part of our community, a better part of what it is that what we do as Christians. For us, that's about serving people and serving the Lord and loving each other and loving him. We're a part of Safe Haven for the Winter, every Sunday night we have a program that brings in the homeless in the area and feed them a hot dinner and a place to stay for the night. We do that all through the winter."