This content was originally published by the Longmont Observer and is licensed under a Creative Commons license.
Tonight, Friday, September 13 opens the 63rd season at the Longmont Theatre Company. This season's opening show is Motherhood The Musical written by Sue Fabisch.
This musical features three women, Brooke (Rachael Brady), Barb (Dana Plunkett), and Tina (Jennifer Littlefield), who share the trials and tribulations of motherhood with expecting mother Amy (Joan Harrold).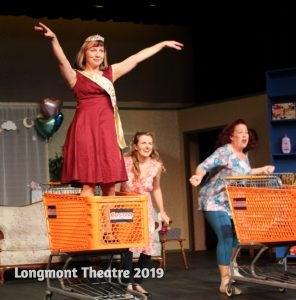 Each woman is experiencing motherhood from her own perspective. Brooke is a single, divorced mom trying to cope with sharing her children with her ex-husband. Barb is a stay-at-home mom who feels unappreciated. Tina is a lawyer with a busy schedule and struggles to find a balanced work-life schedule.
These three women open the show by throwing a baby shower for Amy, who is pregnant with her first child. As most first-time mothers are, Amy is overly optimistic about how life will be with her new bundle of joy. The three experienced mothers use a variety of songs from various genres to try to explain what motherhood is really like to the mother-to-be/.
The songs bring a dose of comedy to the musical that will make you laugh out loud. My personal favorite song of the evening was Ode To Boobs written by Fabisch and Rodgers. It is a song that most mothers can relate to.
For the song Grannyland, written by Fabisch and Rodgers, Melissa Swift-Sawyer makes an appearance as Amy's mother. She added a certain "grandmotherly" quality to her voice and busted out some moves with her dance number. Swift-Sawyer also directed the musical.
The costumes, by Judy Ernst, in the play matched the personality of the mothers perfectly. Tina was well dressed and ready to take on the world, while single mom Brooke was in yoga pants and athletic gear, clothes befitting someone who spends more time just getting by than on herself.
The music was also directed by Swift-Sawyer, with Marcia Hamm on piano, Paul Hartman on guitar, and Evan Jones on drums. The band was cleverly hidden behind the set and did a great job leading the actresses through each of their musical numbers.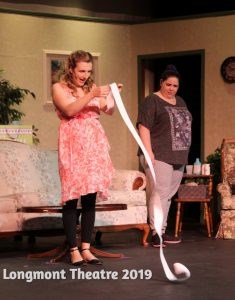 This musical is a whimsical look into motherhood and speaks to parents in all stages of parenting. While motherhood is full of messes, complaints, and crying; these women each learn, that in spite of all of these things, the journey is worth it and they wouldn't trade it for the entire world.
Motherhood The Musical will run at the Longmont Theater Company, located at 513 Main St., September 13-22 on Friday and Saturdays at 7:30 p.m. and Sundays at 2 p.m. Tickets can be purchased here.
This regional premiere is great for a girls' night out, a fun evening with mom, or just an evening full of laughter. Additionally, Longtucky Spirits has mixed special cocktail Mommy's Little Helper that can be purchased at the Longmont Theatre Company's concession stand prior to the show.