This content was originally published by the Longmont Observer and is licensed under a Creative Commons license.
Happy Holidays! If you're like me, you're enamored with the turn of the seasons and the crisp, cool air that greets us as winter looms closer... It's honestly one of my favorite times of the year, which is why I can't help but indulge in the #basic trend of pumpkin spice.
Pumpkin spice, pumpkin spice... We hear and see this combination of flavorings advertised everywhere. And while it might be slightly overdone, there is no denying that the simple combination of spices enhance the tastiest of fall root vegetables (specifically, pumpkin and sweet potato).
For those who agree, I recommend this delicious and filling smoothie that utilizes the October staple. Pumpkin is rich in vitamin A and fiber, which will improve the quality of your skin, hair, and nails. Cinnamon helps to regulate blood sugar, bananas are great sources of healthy carbohydrates and potassium, and turmeric is incredibly beneficial for reducing inflammation.
This is how you make food your medicine and enjoy every slurp. For additional plant-based recipes, visit my blog Life in Bloom. Enjoy!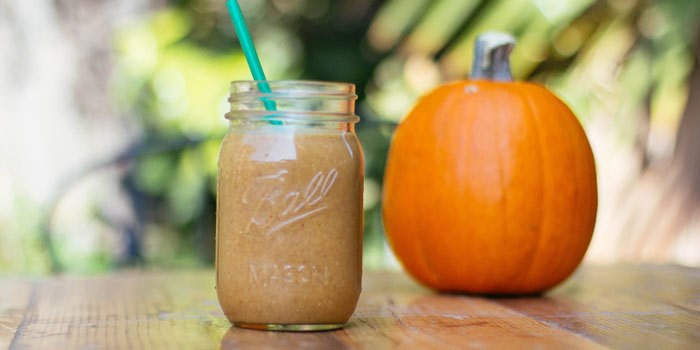 Spiced Pumpkin Pie Smoothie [Vegan]
Serving Size: 2
Preparation Time: 10 Minutes
Ingredients:
1 C Almond Milk
2 Frozen Bananas (peeled, chopped and frozen)
1/2 C Pure Pumpkin Puree
1 tsp Fresh Ginger
2 Pitted Medjool Dates
1 Tbsp Hemp Seeds
1 Tbsp Raw Honey
1 Pinch of Turmeric (Optional)
1 C Ice Cubes (Optional)
Pinch of Sea Salt
Spices:
1/8 tsp vanilla powder
1 tsp cinnamon
1/4 tsp nutmeg
1/4 tsp all spice
Directions:
Combine all ingredients in a high-speed blender and combine until smooth
Enjoy!
Lead image via hotforfoodblog.com