This content was originally published by the Longmont Observer and is licensed under a Creative Commons license.
*Article clarifications: 
Luis Chavez of SVVSD  provided statistics on students suffering from homelessness. Michele Wait, Longmont Senior Services Manager, provided the statistics on the elderly, and Edwina Salazar of the OUR Center and Jackie List of Safe Shelter gave the statistics on families and domestic violence.
To clarify the sentence: "In 2018, one-third of elderly people are homeless for the first time. The biggest reason for this is the increase in housing costs." It's not that one-third of the elderly in Longmont are homeless. It's of the elderly that are homeless, one third are homeless for the first time.
"I doubt there will be a headline. Katherine was homeless." Katherine was a 55-year-old homeless woman who was found dead on September 6th on Main Street. Homelessness is an issue that Longmont is grappling with. Many people have very strong opinions about the topic and what should be done about it.
This is the first installment of a five-part series on homelessness in Longmont. It will give some facts and figures and the perspective of a former homeless person who is finding his way out. The second installment will be on the perspective of people living in Longmont and how they are impacted by homelessness and what they think should be done about it. The third installment will look at homelessness from the perspective of the police. The perspective of charities helping homeless people in Longmont will make up the fourth installment. The fifth, and final installment will summarize everything and list some ideas for effecting positive change in Longmont.
In 2017, there were 11,000 homeless people in the state of Colorado. This includes all age groups, from school-age children to the elderly. A lack of funding for mental health and drug abuse issues is contributing to the problem.
JJ is a recovering drug addict who experienced homelessness off and on for two years due to drug use depleting his resources. Finding a place to sleep was difficult for JJ. "I've slept outside, I've slept in apartment building laundry rooms, I've slept behind dumpsters, I've slept on top of roofs. I've slept on couches, I've slept on people's floor."
In the US, one in 30 kids experiences homelessness. That's 2.5 million kids a year! The number one reason for this is housing affordability. In Longmont, 17% of the families are living under the poverty level. To be self-sufficient, a family of four in Boulder County must make $76,000 annually.
According to the OUR Center, 588 families received homelessness prevention in 2017. When families become homeless, it can seriously disrupt education for the children. The Saint Vrain Valley School District defines homelessness as the lack of "a fixed, regular, and adequate nighttime residence." Already in the current school year, 115 children have been identified as homeless. The 2013-2014 school year was particularly bad due to the flood in the fall of 2013. The majority of homeless kids (80%) are referred for services by the schools themselves. The rest are referred for services by collaborating agencies (17%) and directly from parents (3%). Fees are waived for students that are displaced due to homelessness under the McKinney-Vento Homelessness Assistance Act of 1987.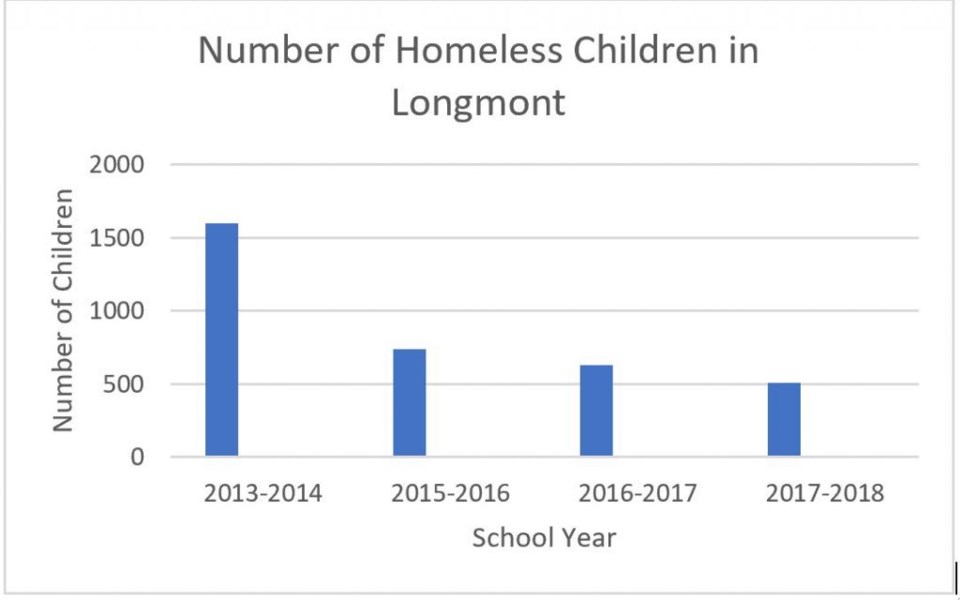 In 2018, one-third of elderly people are homeless for the first time. The biggest reason for this is the increase in housing costs. Currently, low-income housing has a wait list of one to three years. Undocumented older adults are ineligible to use long-term care facilities. The elderly population is increasing, and this is a concern. Helping to contribute to homelessness in the elderly are mental health, substance abuse issues and changes in relationships, such as having a partner pass away. The elderly homeless are at risk because of cognitive decline. In addition, they are often lonely, and this can make them prey to others because of their social security checks and medications that could be sold on the street.
Increased rates of domestic violence contribute to homelessness as well. In Longmont, domestic violence is the third leading cause of homelessness. Half of the women and children on the street are there because of domestic violence issues. Homelessness itself can increase the risk of domestic violence. Safe Shelter of Longmont reports that over 600 families receive services each year. Of those, 200 received emergency housing through the hotline, while the remaining 400 came through the public office. In 2017, approximately 400 domestic violence victims had to be turned away due to lack of funding and available shelters.
For JJ, finding a place to live was the most difficult part of being homeless. "It's hard to move forward when you have the right intent, you have the abilities, the means to help yourself and you're not given that opportunity to do that."
Finding the right place to live was not simply a matter of having enough money and responding to an ad in the paper. For JJ, "…being a single male with felonies, without stable employment and a conviction within the last five years, it's stacked against you. Because they're going to take in the women, they are going to take in the single mother, they're going to take in people who have had a job for six months, they're going to take in people who haven't had a conviction before they even consider me. There's this place I really wanted, and he said he would be willing to rent to me, but I was one out of 50 applicants. So, despite my means, my abilities, my letters of recommendation, all that stuff, I was still unable to get the house that I wanted. And in the long run, I'm at where I'm at for a reason."
As for what JJ would like the people of Longmont to know about homeless people, he has this to say: "We have feelings, we want to be loved, we want to have security, we want the best for our family, we want all these things, we just don't know how to do it. We're working with the best of what we got. How can we love ourselves when we've never been shown love before? A lot of the homelessness that I have experienced is based out of addiction and mental illness."
This article has hopefully provided some background information on the issue of homelessness in Longmont and helped to put a face on the problem. Next week, we will look at how the people of Longmont are being impacted by homelessness as well as what people feel should be done to address the problem. In the meantime, here is a little more about Katherine from Public Safety Chief Mike Butler.
"It is still early in our investigation. It's leaning towards natural causes. Katherine was 55 years young.

I doubt if anyone will say much about this case. Katherine was homeless. I doubt there will be a headline. Katherine was homeless. I doubt anyone will be interested in "celebrating her life." Katherine was homeless. I doubt there will be an outcry from anyone in our community. Katherine was homeless. I doubt anyone will offer flowers or create a shrine for her. Katherine was homeless. I doubt life will change all that much for anyone as a result of her death. Katherine was homeless. I doubt anyone will say we need to do things differently. Katherine was homeless.

She often told us she was afraid of being on the street. It was not safe for a woman.

But to God, she is not homeless. Alas, a spark of his infinite love will guide her to the mansion that awaits her."