This content was originally published by the Longmont Observer and is licensed under a Creative Commons license.
Jeffrey Lockwood, a new Longmont resident, was inspired by a friend to create a nonprofit, the Lockwood Foundation, to help people who suffer from mobile disabilities enjoy the great outdoors.
Tammy Burton has been friends with Lockwood for some time. She has helped run an organization called Wilderness on Wheels and has been an advocate for people in wheelchairs for the last 20 years.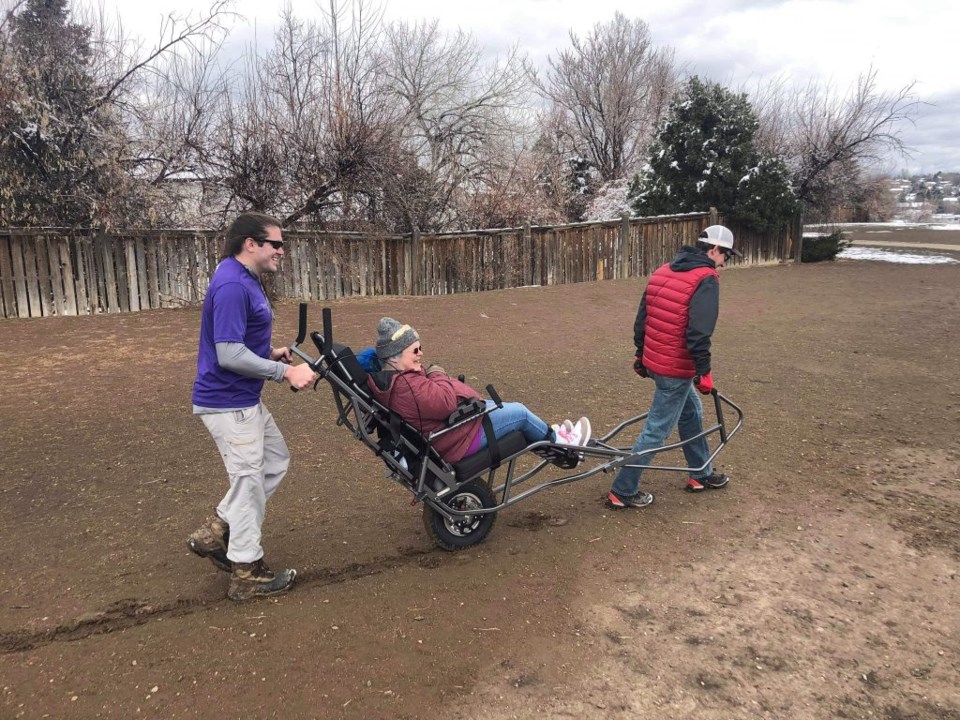 Burton is afflicted with Cerebral Palsy and gets around via a wheelchair. However, she loves exploring nature. The problem is that most trails are not accessible to wheelchairs.
After expressing her love and desire to conquer the heights among the Rockies, Burton and Lockwood designed a plan to start an organization to help people with disabilities get into the mountains.
According to Lockwood, no one else was doing this kind of work because it requires lots of volunteer help.
Together the duo discovered a chair that could take a person, who uses a wheelchair for mobility, and gets them to the top of any mountain or along any trail.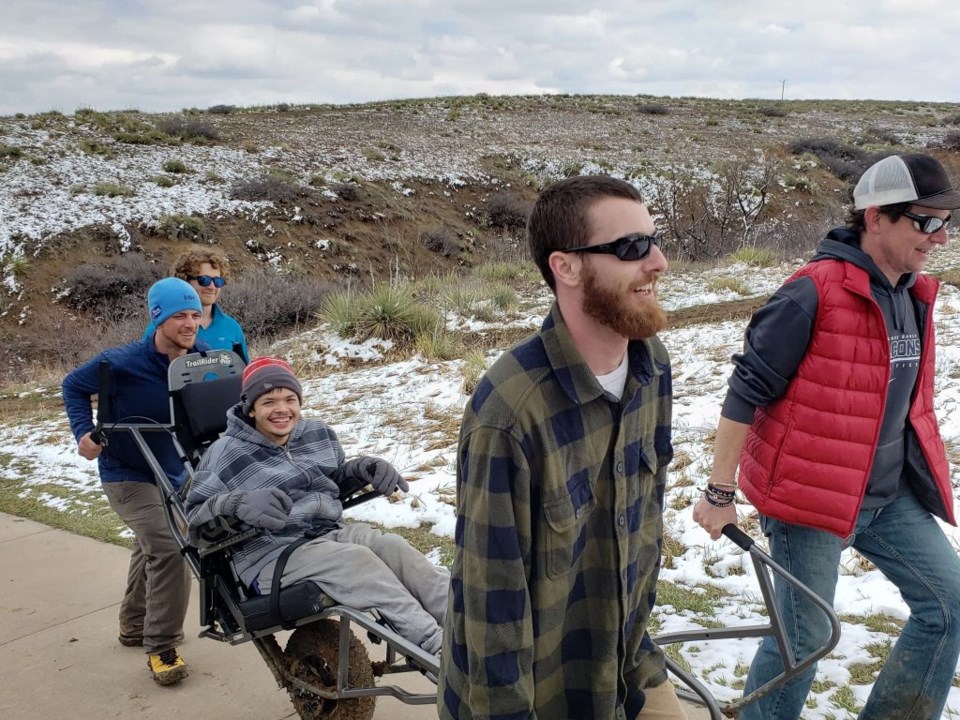 The chair is called a Trailblazer. It allows for five volunteers to help lift, push, pull, and steer the chair over any kind of terrain. It is specially designed to keep the passenger comfortable for the adventure.
Thus far, the Lockwood Foundation team have used the chair on a few short excursions, a trip to summit Green Mountain, and on a hike around Bear Peak.
The organization has never been afraid of going big, even before the availability of the Trailblazer. In 2018, they took a man, who also suffers from Cerebral Palsy, on an adventure through Switzerland Pass and a month later up the 14,000 ft. Mt. Evans.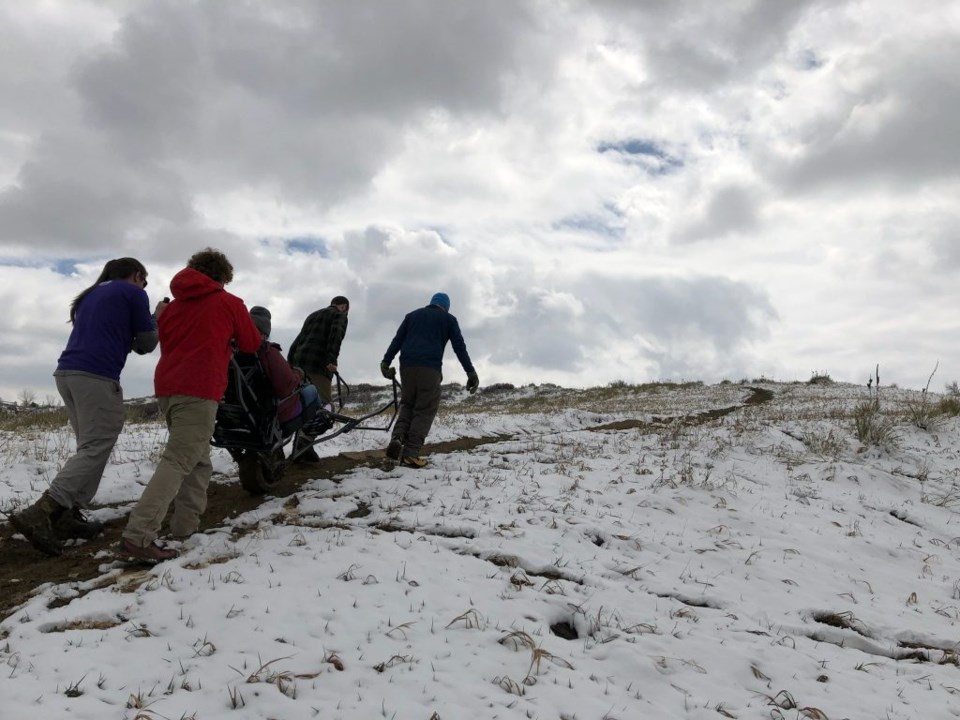 In August, the Lockwood Foundation will use this special equipment to take Burton to the top of Mt. Quandary. This particular trip will take two days but each adventure is planned with the passenger's needs and comfort in mind.
Each hike is guided by a mountain guide and a certified wilderness first responder to ensure the adventurer's safety.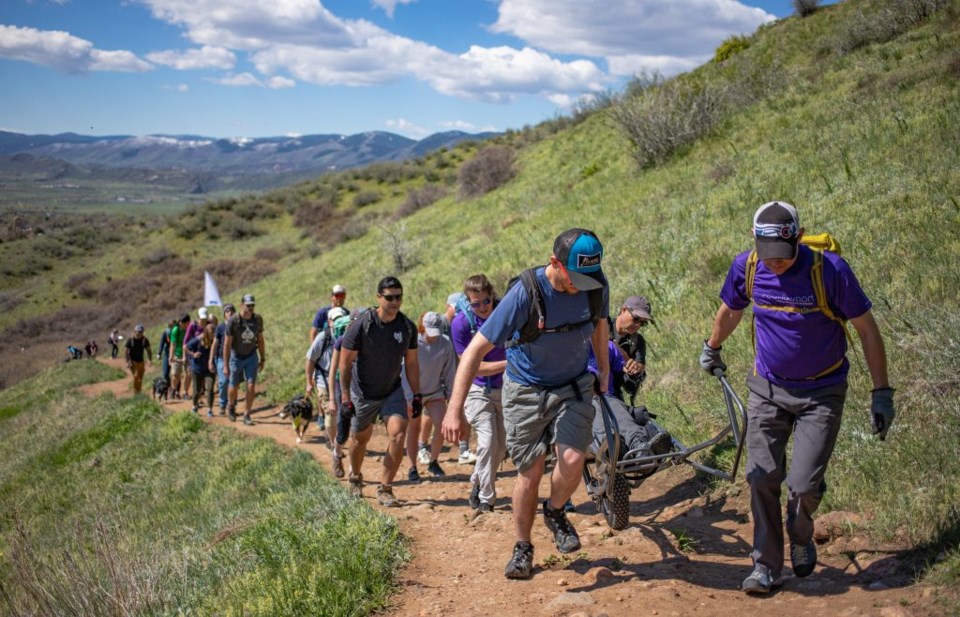 Although, there is a great deal of work that goes into planning and executing each adventure, The Lockwood Foundation, is passionate about helping to make Colorado's outdoor lifestyle accessible and enjoyable to people of all abilities.
Lockwood was not surprised to hear the feedback from the clients about their experiences in exploring mountainous areas that were otherwise closed to people in wheelchairs. These people are always in awe of the beauty that they see for the first time.
What genuinely surprised him was the reaction from the volunteers. These people are giving their time and physical energy to help the clients explore places most hike to without a second thought. According to Lockwood, several of these volunteers get more choked up than the client. It is the feeling of giving back and sharing such an experience that keeps the volunteers returning for more hikes.
The Lockwood Foundation began in Lakewood, but has recently found a new home in Longmont. Lockwood says that many of his clients are from Longmont so it only made sense to move closer to the people he served.