Underneath the warm and welcoming Colorado sun this past weekend, the city of Longmont was draped in a vibrant medley of culture and community spirit as it marked Juneteenth with a celebration of appreciation, music and fashion, demonstrating the power of unity and shared experiences with folks from all walks of life.
Brimming with ideas and thoughts, booths became platforms where people exchanged stories and perspectives about life, the world and the future. Writers shared their stories of transformation, acceptance and resilience. Educators discussed innovative teaching methods and the role of inclusivity in education. Fashion designers celebrated our many different human forms and contemplated how style can challenge stereotypes and unite cultures.
Meanwhile, BBQ specialists shared how food serves as a common ground, a universal language that unites people from different backgrounds. Artists and nonprofits added to this vibrant discourse, showcasing how art and social initiatives can spark conversations and initiate change.
As attendees navigated the crowd, these conversations flowed freely, creating chance encounters and meaningful exchanges. Every interaction, every shared idea and every burst of laughter was evidence of the power of acceptance and unity, proof of the magic that happens when a diverse community comes together to celebrate, learn and grow.
The stage was lit by the fervor of activists and poets whose voices echoed through Roosevelt Park, resonating with a passionate call for equality and action. They painted vivid images with their words, weaving tales of the past, reflecting on the present and imagining a future where justice and equality prevail.
Their powerful verses rang out, each line a discovery of injustice, a plea for understanding or a promise of action. They were met with nods, claps and murmurs of agreement from the interested audience, each individual touched by the fervor of the poets and activists. The spectators took the sparks from the stage and ignited conversations amongst themselves. These discussions reinforced the poets' message, amplifying the call for equality and action.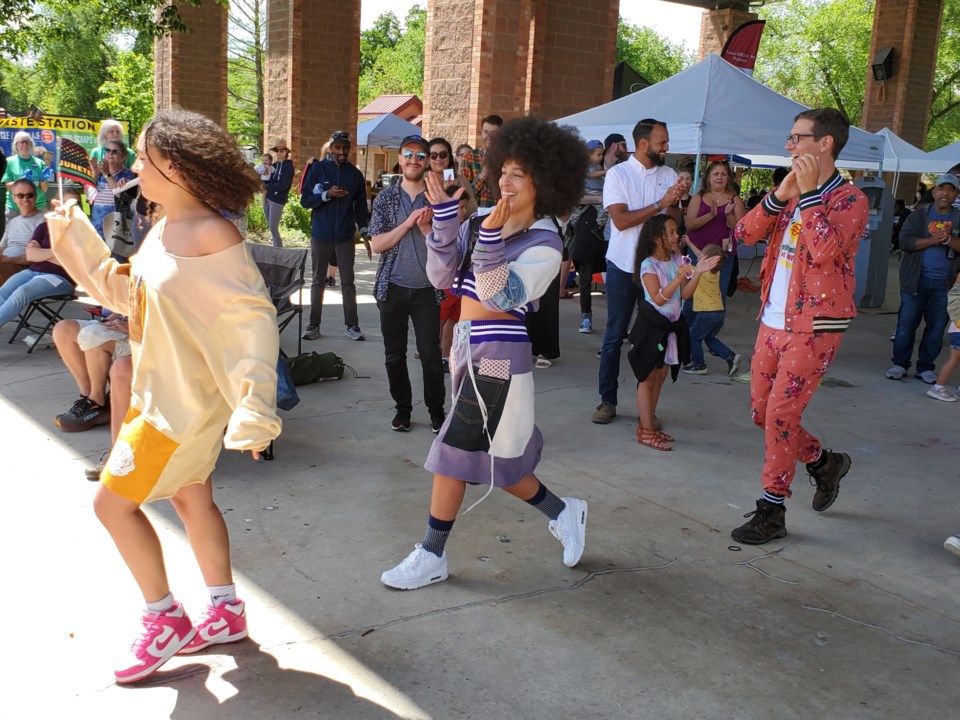 One of the standout shows from the Juneteenth celebration was the dazzling fashion show curated by Prep, the first black collaborator for Banana Republic. Prep, known for his custom celebrity pieces and growing influence in the fashion and entertainment community, transformed the Roosevelt Park platform into a runway of exquisite designs. Models strutted down the runway with confidence clad in Prep's vibrant and innovative designs, which deftly interwove African heritage with contemporary style. The mesmerizing showcase brought together tradition and modernity, reflecting a vision for inclusivity and cultural appreciation in fashion.
Soon after the applause from the fashion show subsided, the melodic tunes of the upcoming band Saridae started to permeate the air. Known for their eclectic fusion of rock, soul and blues, they delivered a spellbinding performance. Their impassioned lyrics and rhythmic beats drew in attendees of all ages, inciting a spontaneous sense of unity and shared joy that brought those in the park to stand closer together.
But beyond the captivating performances, the true heart of the Juneteenth celebration was found in the diverse crowd it drew. Roosevelt Park turned into a melting pot of cultures and backgrounds, with community members from all walks of life converging to commemorate a shared history. The air hummed with laughter and friendly conversation as neighbors exchanged stories, shared food and participated in various activities.