In Brief:
Storm chances for one more day, then summer weather returns.
Sunday update:
Ample moisture and northwest flow brining in short waves aloft will kick off storms through Monday (Figure 1 update). The ridge center wanders towards our state for the rest of the week with above normal temperatures and only afternoon storm chances.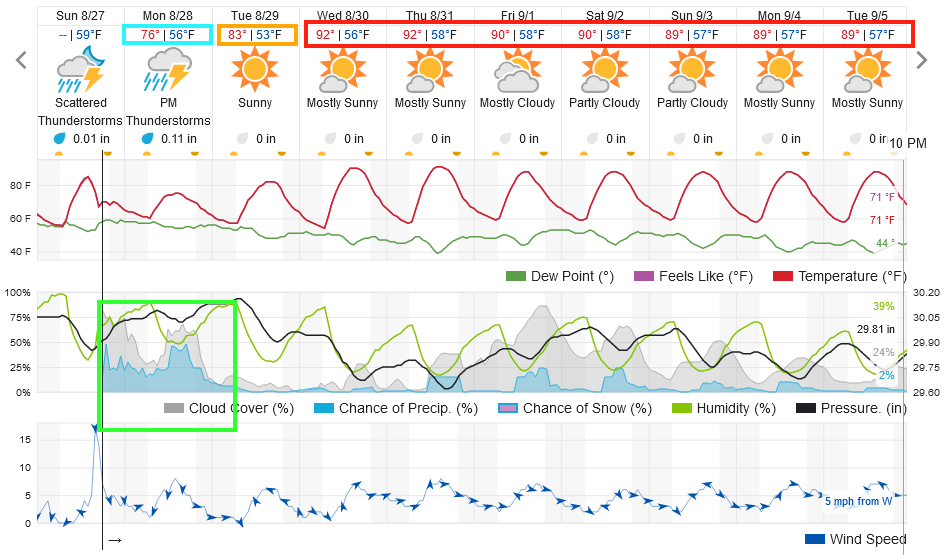 End Sunday update.
Thursday update:
Flood Watch
Issued: 1:54 PM Aug. 24, 2023 – National Weather Service
...FLOOD WATCH IN EFFECT FROM FRIDAY MORNING THROUGH SATURDAY
MORNING...
* WHAT...Flash flooding caused by excessive rainfall is possible.
* WHERE...Portions of central, east central, north central, and northeast Colorado, including the following areas, in central Colorado, Jefferson and West Douglas Counties Above 6000 Feet/Gilpin/Clear Creek/Northeast Park Counties Below 9000 Feet. In east central Colorado, North and Northeast Elbert County Below 6000 Feet/North Lincoln County. In north central Colorado, Larimer County Below 6000 Feet/Northwest Weld County and Larimer and Boulder Counties Between 6000 and 9000 Feet. In northeast Colorado, Boulder And Jefferson Counties Below 6000 Feet/West Broomfield County, Central and East Adams and Arapahoe Counties, Central and South Weld County, Elbert/Central and East Douglas Counties Above 6000 Feet, Logan County, Morgan County, North Douglas County Below 6000 Feet/Denver/West Adams and Arapahoe Counties/East Broomfield County, Northeast Weld County, Phillips County, Sedgwick County and Washington County.
* WHEN...From Friday morning through Saturday morning.
* IMPACTS...Excessive runoff may result in flooding of rivers, creeks, streams, and other low-lying and flood-prone locations. Flooding may occur in poor drainage and urban areas.
* ADDITIONAL DETAILS...
- Slow moving thunderstorms are forecast to develop late Friday morning and continue through Friday night and early Saturday. Heavy rain is likely with these storms. Localized rainfall totals in excess of 3 inches are possible where training storms develop.
PRECAUTIONARY/PREPAREDNESS ACTIONS...
You should monitor later forecasts and be prepared to take action should Flash Flood Warnings be issued.
End Thursday update.
The Forecast Discussion:
Wednesday and Thursday will still sport summer weather with low rain chances (Figure 1). A cold front arrives early Friday AM and temperatures drop to far below normal and the front brings back fairly widespread rain chances (Figure 2) Friday and Saturday (Figure 3). The NWS even thinks locally heavy rain and flash flooding will be possible Saturday.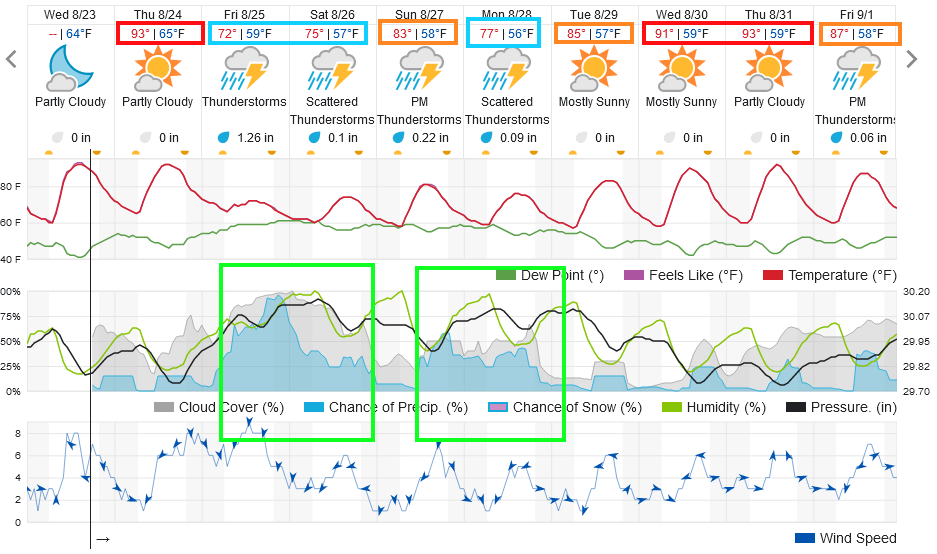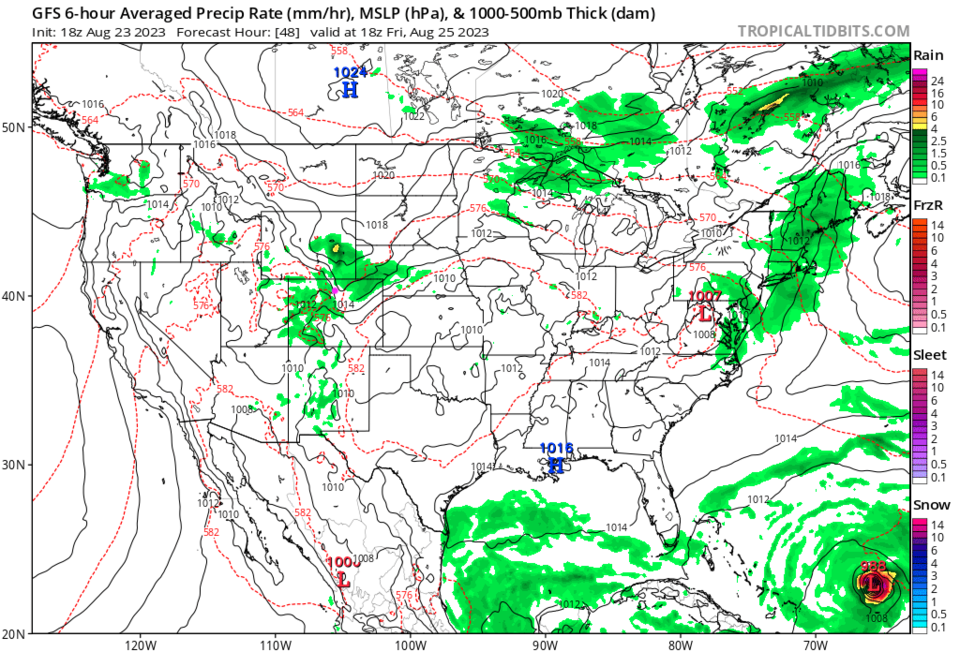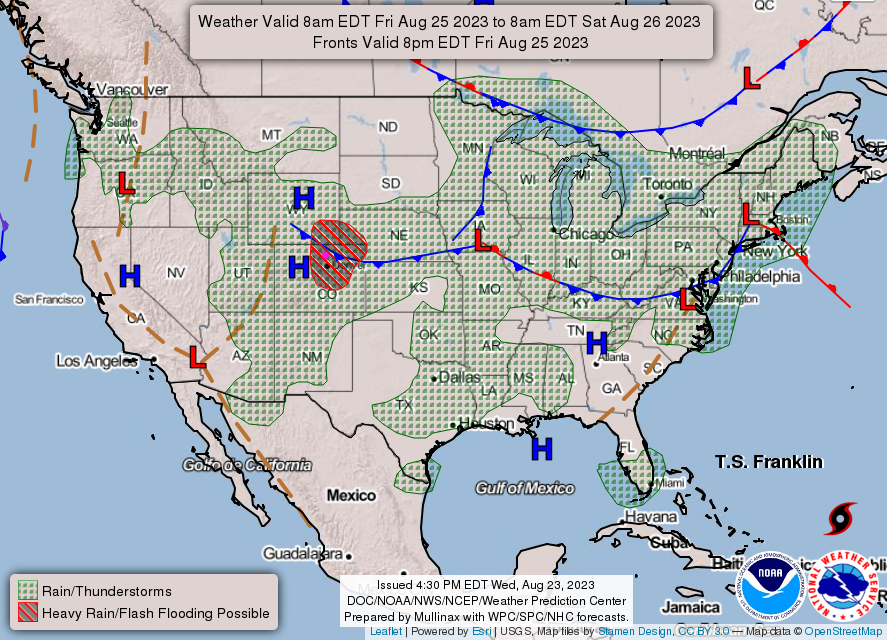 The Longer Range Forecast:
We remain cool for the start of the week with another shot of rain Sunday/Monday (Figure 1). Temperatures will hover around normal next week.
The weatherunderground model (Figure 1) thinks we could get almost 1.5 inches of water over the next week. The GFS gives Longmont a rainfall total more like 0.5 to 0.75 inch of water. A taste of Fall?!?!