In Brief:
Another snowy morning followed by a pleasant warm up.
Wednesday update:
Our last storm delivered with just over 4 inches of snow. The communities from Longmont to Broomfield should see 1-3 inches from this storm. Timing: snow should fall around 4am to 10am or so.
This hazardous weather outlook is for northeast and north central Colorado.
.DAY ONE...This Afternoon and Tonight
Chances for light snowfall increase over the mountains after
midnight tonight, otherwise no significant weather this afternoon
or overnight.
.DAYS TWO THROUGH SEVEN...Thursday through Tuesday
A low pressure system will move across Colorado on Thursday
producing light snow mainly across the I-25 corridor, foothills, and
northern mountains. Snowfall estimates are 1-3" for the I-25
corridor, 1-5" in the foothills and northern mountains, and a trace
to an inch across the far eastern plains.
This snow will impact travel conditions during the morning and early afternoon on
Thursday. Thursday night will see cold temperatures falling below
zero in the Greeley area and the single digits across much of the
plains. Friday through Monday will be mild and dry. The pattern
shifts to cooler and wetter conditions by Tuesday and Wednesday
next week.
End Wednesday update.
Monday update:
The storm discussed below is on track for about 2-4 (maybe 5) inches of snow from Longmont to Broomfield.
The NWS has issued the following Winter Weather Advisory for all of Colorado east of the Divide.
ISSUED: 12:14 PM JAN. 24, 2022 – NATIONAL WEATHER SERVICE
...WINTER WEATHER ADVISORY REMAINS IN EFFECT FROM 5 AM TO 5 PM MST
TUESDAY...
* WHAT...Snow expected. Total snow accumulations from 2 to 5 inches.
* WHERE...Portions of east central and northeast Colorado.
* WHEN...From 5 AM to 5 PM MST Tuesday.
* IMPACTS...Roads will likely become slick and hazardous. Plan on
slippery road conditions. The hazardous conditions could impact
the Tuesday morning and evening commutes.
PRECAUTIONARY/PREPAREDNESS ACTIONS...
Slow down and use caution while traveling. The latest road
conditions for Colorado can be obtained by calling 5 1 1 or by going
to www.cotrip.org
End Monday update:
Forecast Discussion:
The weekend will be mild and dry allowing for some melting to take place. Roads will become dry again (Figure 1). Our next cold front comes in the longer range forecast below...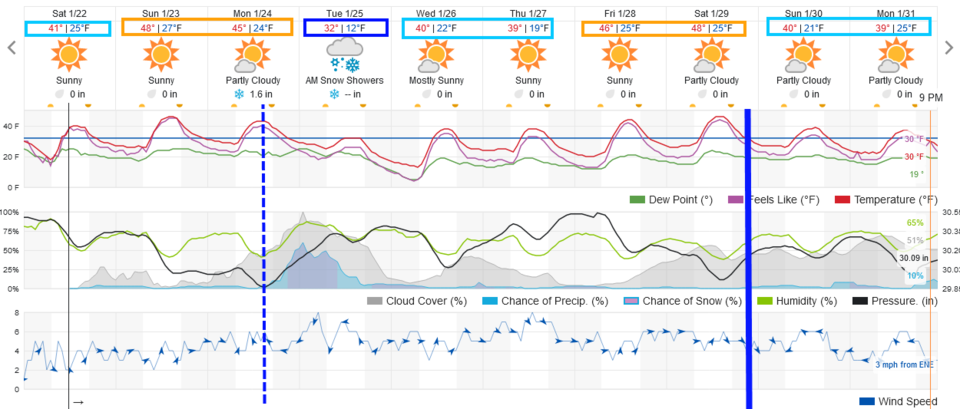 The Longer Range Forecast:
Figure 1 shows a cold front sweeping across the state Monday around 3pm. Snow chances pick up rapidly behind the front as temperatures drop. This will begin an about 16-20 hour period of a good snow chances (Figure 2). This system has a bit of an extra punch as there is a shortwave trough (the L) embedded in a large trough stretching across the nation (Figure 3).
Beyond that, things become quiet and seasonable again.
(Early) Snowfall Roundup for the Longmont/Broomfield areas:
The weatherunderground model 1-3"
The North American Model (NAM) 2.5-4"
The Global Forecast Model (GFS) 2-3"
The NAM and GFS are in more disagreement up around Fort Collins. The NAM drops 1/2-2 inches there while the GFS goes more for 4-6"
Stay Tuned!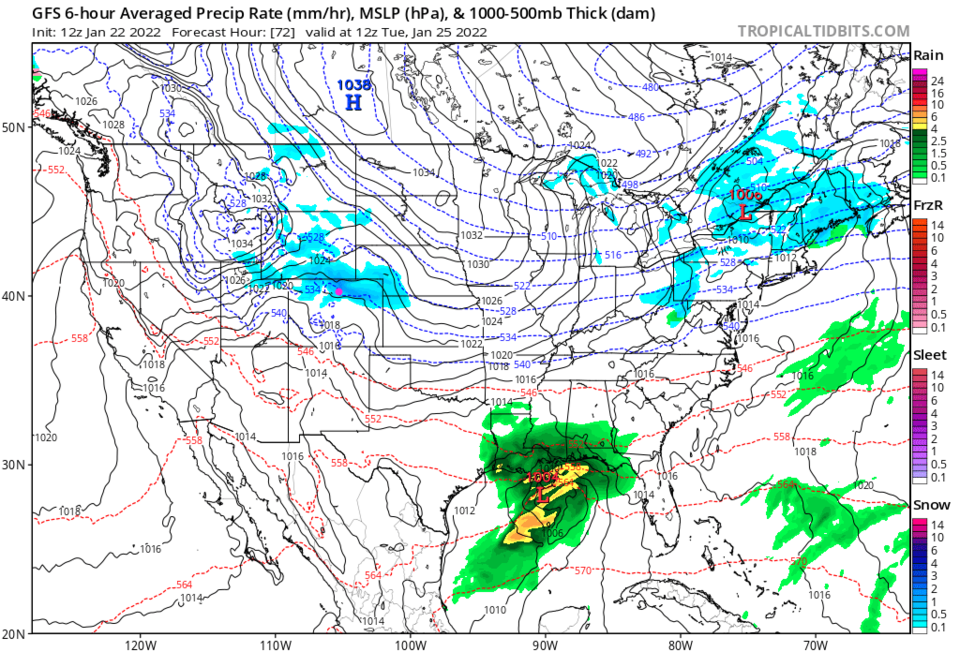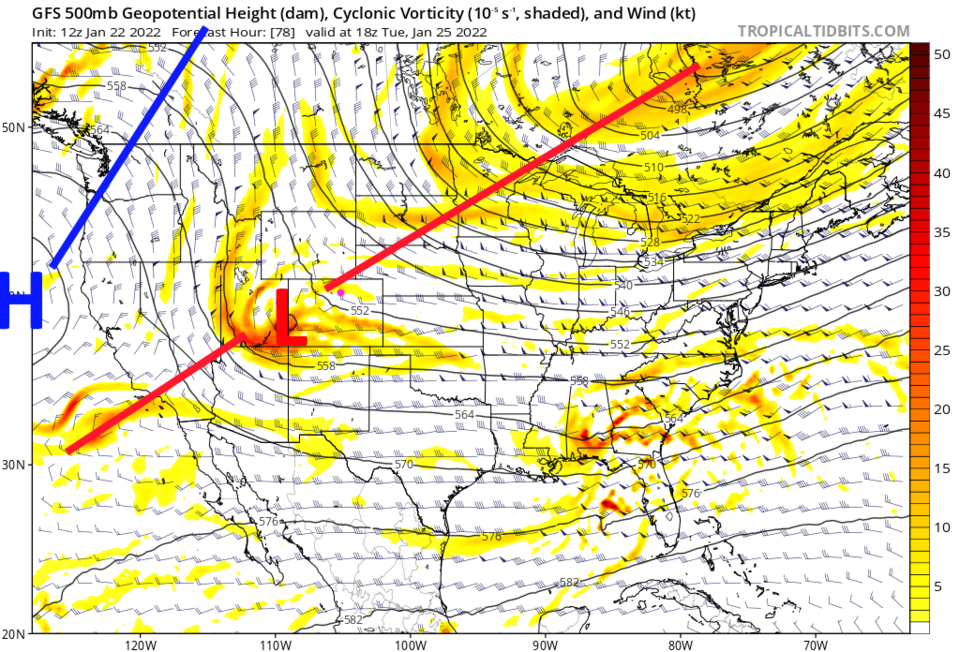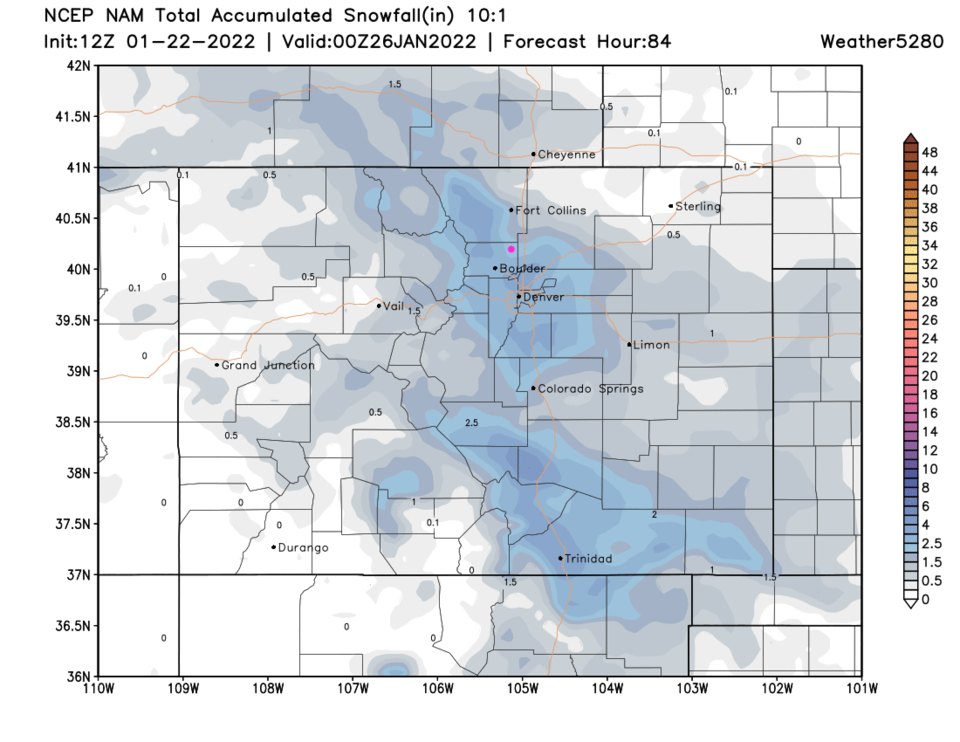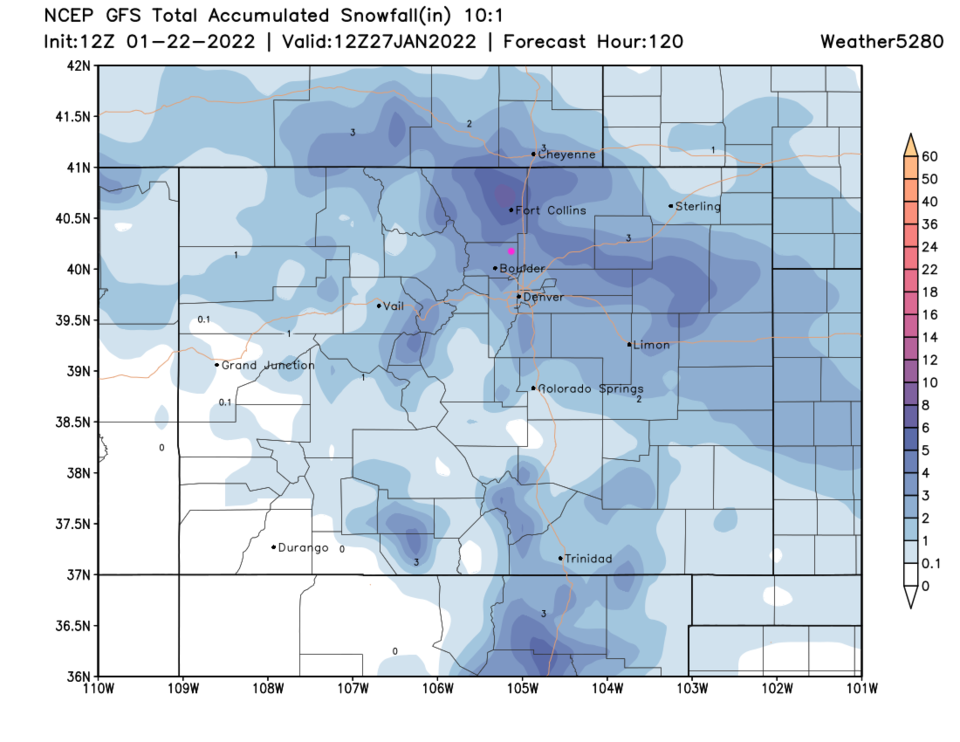 ​