In Brief:
Cool spring-like weather with showers every few days.
Monday Update:
The storm is departing midday Monday. A line of converging air formed over I-25 from Longmont to Ft. Collins. The storm WAY over produced snow compared to expectations (see the GFS below - Figure 1 update). Figure 2 update shows widespread 6-7 inches of snow in town. Further north, there were 11 inch depths reported! Pretty incredible. And great additional moisture.
As an update, Thursday's storm is shrinking in expected strength, but I'll keep an eye on it.
.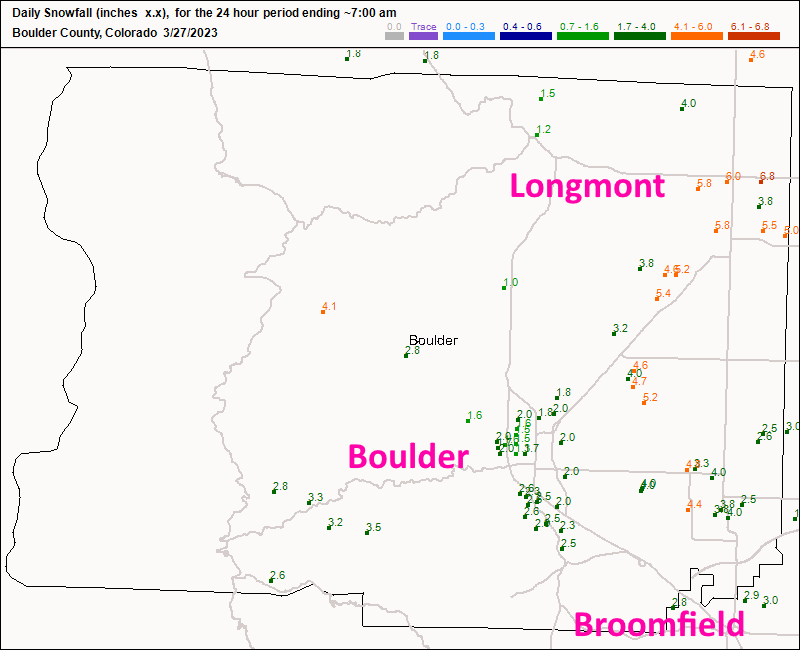 End Monday update.
Sunday Update:
After our 1 inch snow Friday night, another storm approaches for the overnight Sunday/Monday. Ft. Collins and Boulder might see 2-3 (locally 4) inches of snow while places south of Ft. Collins look like they should only see a coating to an inch or two.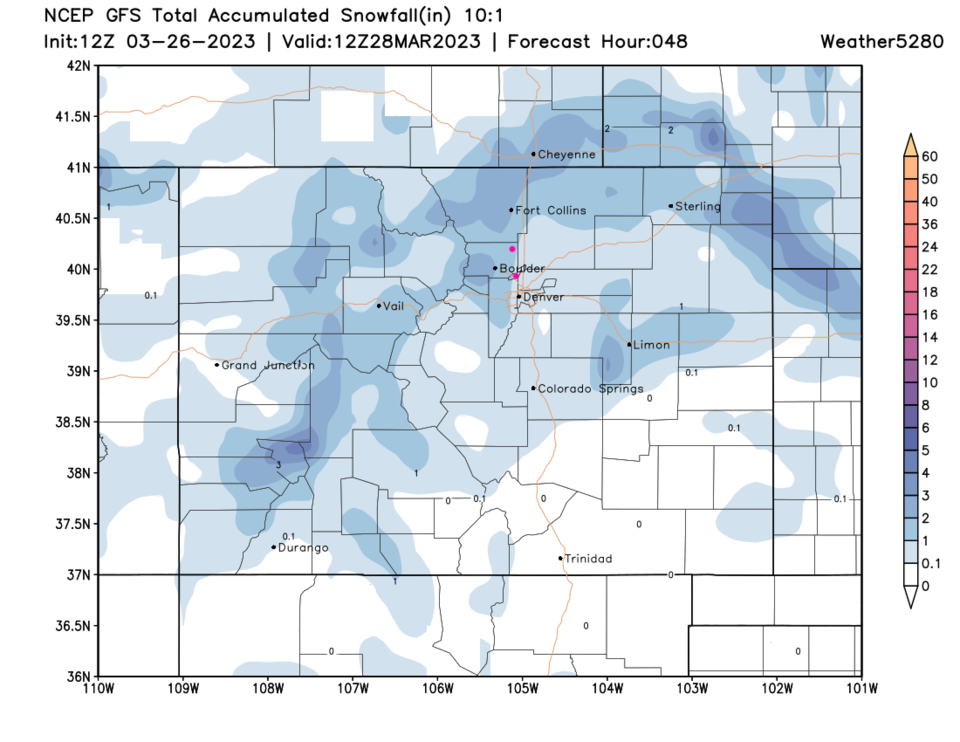 End Sunday update.
Forecast Discussion:
Temperatures have definitely improved recently. The weekend will be unusually cool (compared to the great weekends we've been having).
There is a pretty good shot of moisture coming in Friday PM through Saturday AM. There might be an inch or so of snow on grassy areas after some rain, but roads should remain only wet or slightly slushy (Figure 1). There is another shot of moisture Sunday night into Monday, but is looks less impactful. The surface forecast maps from the National Weather Service (Figure 2 and 3) show snow/rain falling over Colorado (even it it might be a bit overdone).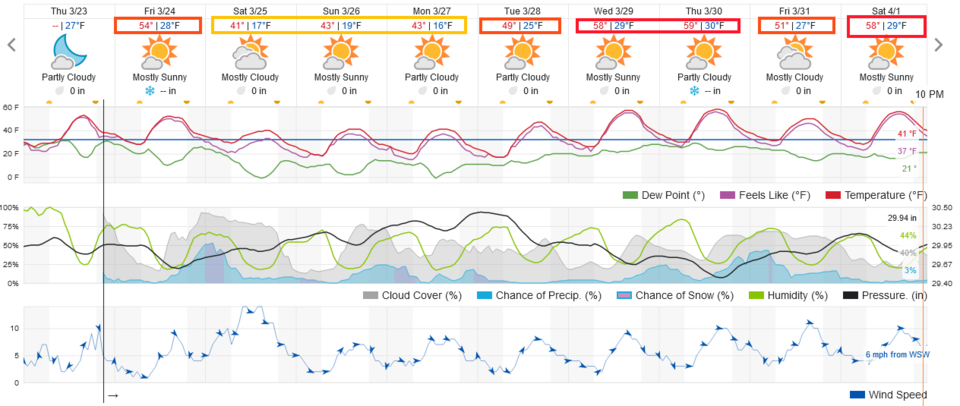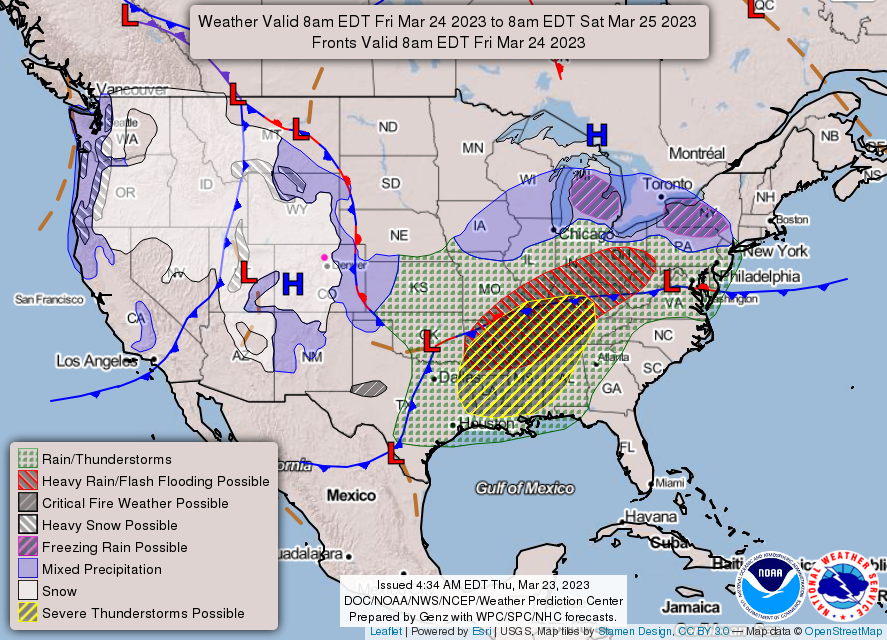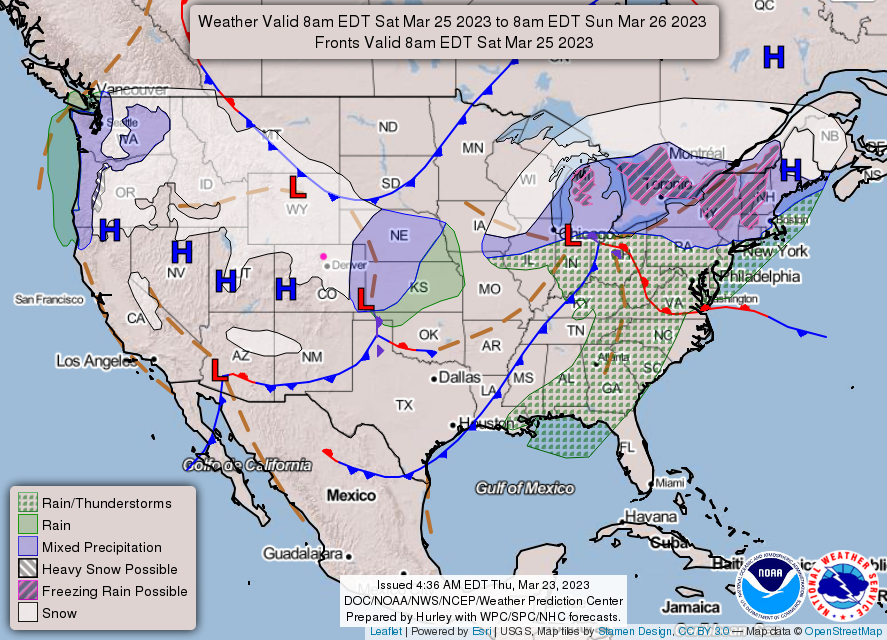 The Long Range Forecast:
Looking out five days, these small systems might drop 1-2 inches along I-25 and a bit more in the mountains (Figure 4). It looks like rain + snow might total up to a liquid equivalent of 0.25 to 0.5 inch of moisture (Figure 5). Every bit helps!