In Brief:
Very Cool start of week, small rain chances, then seasonable early fall sets in.
Sunday Update:
Just a quick note - a good flow of cool air is moving in. Monday and Tuesday will be very comfortable/cool for the beginning of Fall (Tuesday afternoon). There are only 20-30% rain chances before we get dry again and see more seasonable tempeartuers (lower 80's) become our weather story. Enjoy!
End Sunday update.
Thursday Update:
A cold front swept down the Front Range Thursday PM. Temperatures will be remarkably cooler for a day Friday. The ridge brings back the heat for the weekend then a stronger cold front arrives. There will be snow in Wyoming, possibly in the northern Colorado Rockies Monday into Tuesday (Figure 1 update). There are small rain chances at that time. Then seasonal temperatures and dry weather return.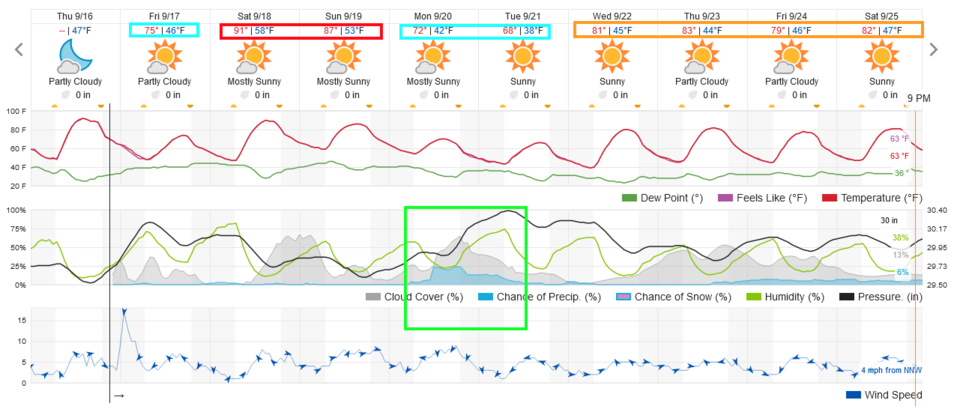 End Thursday update.
Forecast Discussion:
We start the week, this time, with a fair chance of thunderstorms through Tuesday (Figure 1). Temperatures will be close to normal for this time of year as another cold front sweeps down the state around 3 p.m. Monday. This unsettled and cooler weather is caused by a broad general trough that has set up temporarily over the western U.S. (Figure 2). Smaller short waves (shorter red lines) are rippling through to kick off storms at times. This airflow is diverting much of the western fires' smoke around our state for now - hurray! (Figure 3).
The Storm Prediction Center has painted most of northeastern Colorado with a Marginal Risk (1 on a scale of 1-5) for a threat for strong, damaging thunderstorm winds and large hail (Figure 4). Keep an eye on the western sky - especially in the afternoon.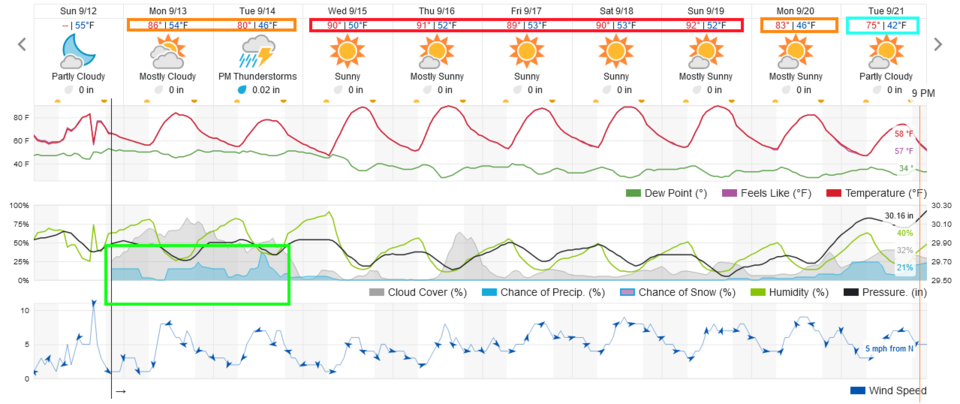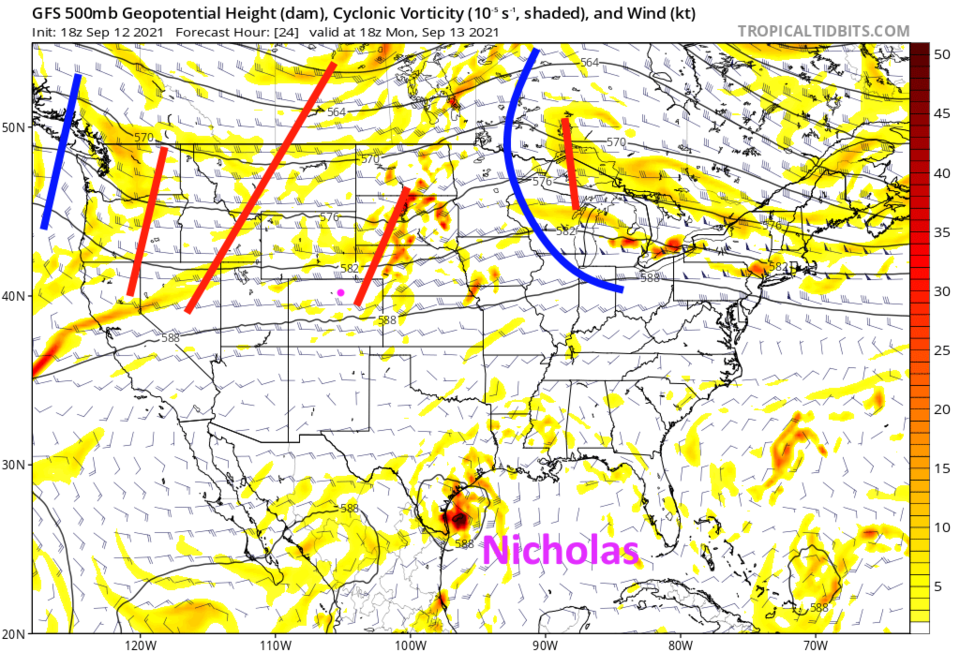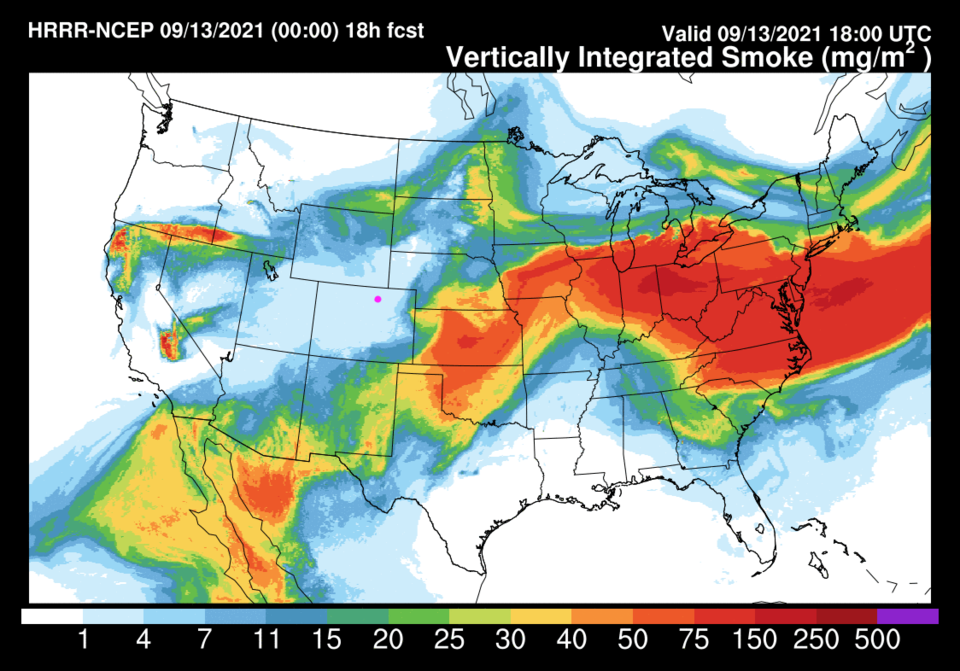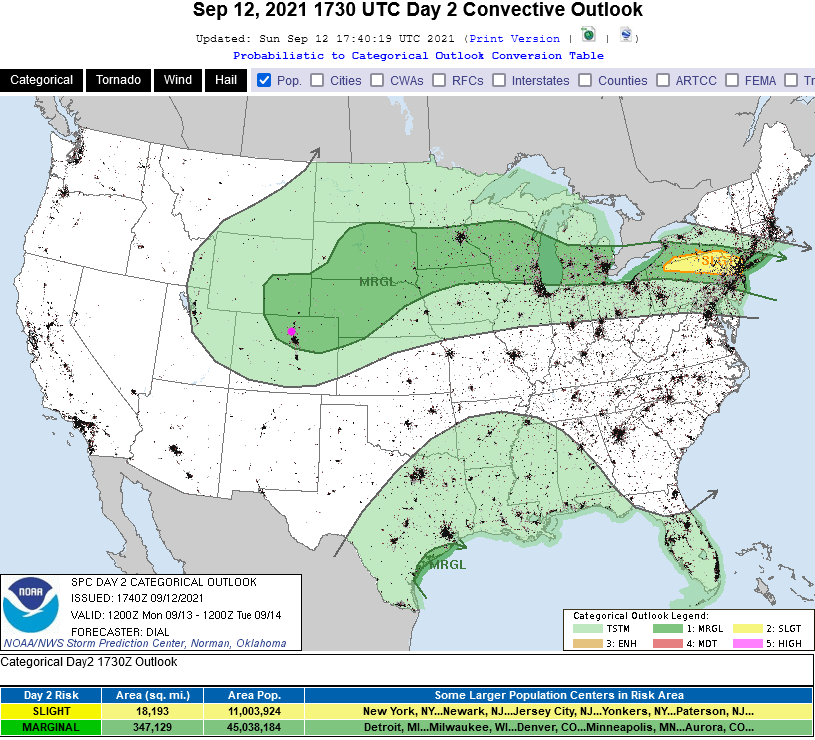 The Longer-Range Forecast:
The storms that do form may give a few neighborhoods or towns significant water, but most folks in Colorado will pick up very little rain over the next five days (Figure 5) and even over the next 10 days (Figure 6).
Tropical Update:
We do have an interesting tropical storm, Nicholas, that formed in the western Gulf of Mexico. Nicholas will graze the Texas coast and come ashore not far from Houston, Tuesday (Figure 7).