In Brief:
Our first cold front brings cooler weather and small rain chances, a second on Thursday brings better rains and a dusting of snow?
Update Monday PM:
Our long anticipated cold front arrives around 2pm on Tuesday (Figure 1 update). With it comes a small chance of on and off showers along I-25. Things remain cooler after that (below normal) until a short wave arrives on Thursday to bring more showers Thursday into Friday. We might see around a 10th of an inch or rain or two and a dusting to an inch of snow early Friday AM. Keep looking for your coats!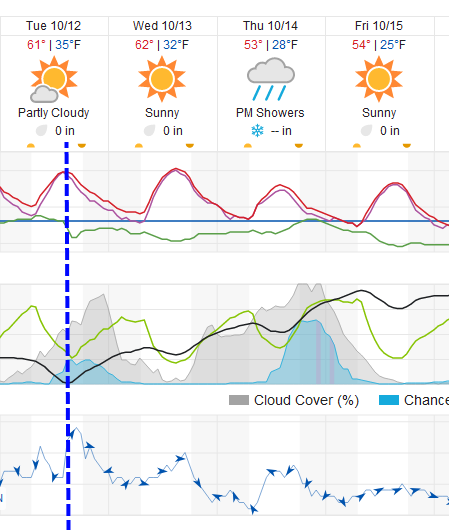 End Monday PM update.
Forecast Discussion:
A front has passed on Saturday kicking off mountain rains and high elevation snow. Sunday and Monday will be very mild/beautiful (Figure 1). A strong cold front arrives midday Tuesday bringing fall/winter weather to much of the state.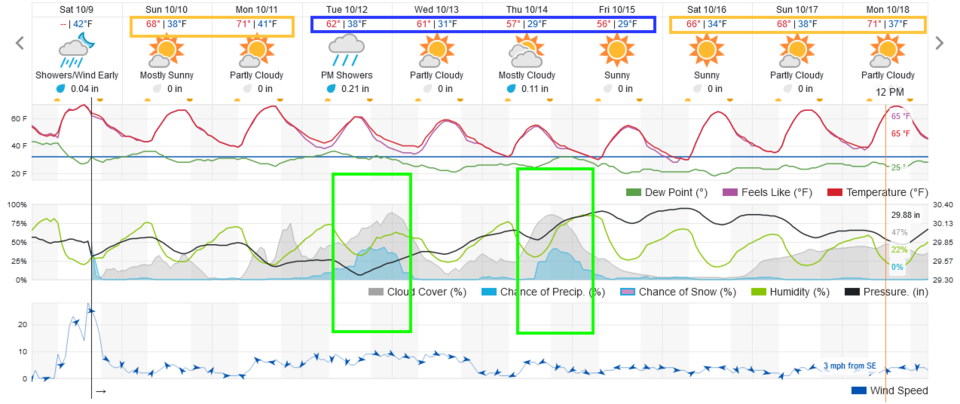 The Longer Range Forecast:
This storm looked like it might bring the first snow to I-25 communities and the eastern plains. Figure 2 is the forecast for midnight Tuesday/Wednesday made on October 4th. Figure 3 is the forecast for the same moment made on October 9th. Precipitation along I-25 is rain now, and there is a strong 'dry slot' pulling into eastern Colorado killing many rain/snow chances. What actually will happen will depend on the position, speed and strength of the upper level low/trough (Figure 4) and the position of the resulting surface low on the plains.
Over the next 6 days, spots in the mountains should get an inch of liquid (Figure 5) while the eastern plains miss out. Snow may fall in Boulder and on the north and west side of Fort Collins, but not much will hit the plains (Figure 6).
What IS notable is how cold it will get. We should see below freezing temperatures in the pre-dawn hours Tuesday, Wednesday, and Thursday (Figure 7). Go find your favorite coats!